AFL2: Micheals win sees Walterstown drop down
July 10, 2018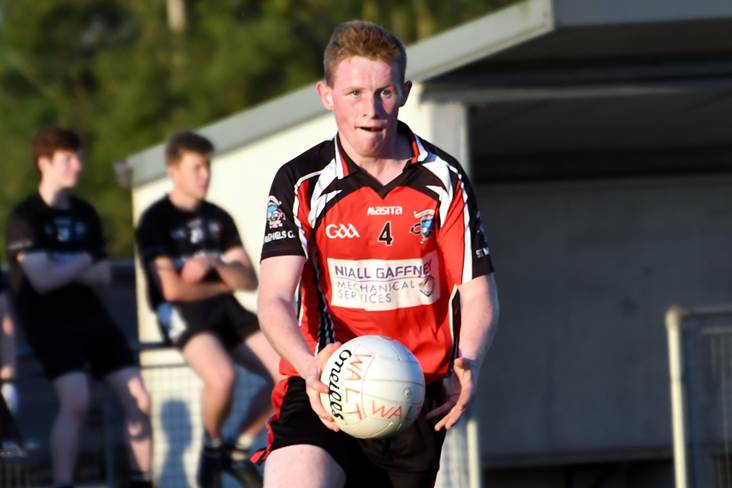 Harry Dunne St Michaels
St. Michaels 1-16  Walterstown 2-05    
St. Michaels completed their league campaign with a deserved victory over Walterstown in Carlanstown last evening as an impressive 9 points without reply in a 26 minute spell in the second half powered them to victory.                        
The visitors got off to a good start with their opening goal coming after only 40 seconds and they followed this up immediately with two points in as many minutes. Peter O'Connell opened the scoring for St. Michaels with a point from a free and Shane McCormack did likewise on ten minutes. Shane McDonnell pointed following some good foraging by Harry Dunne. A ten minute spell followed where neither team troubled the scoreboard operator and on 24 minutes Walterstown were dealt a major blow when their centre half back was sent for an early shower. A point from play from Paddy Clarke and a converted free from McCormack had the sides level after 25 minutes play. However the visitors responded positively with their second major two minutes later, St. Michaels found their rhythm again and points from Christopher Drew who was put through by Davy Lynch and a well worked move which was started on his own end line by Drew and finished to the back of the net by McDonnell to go one in front, McDonnell added his sides last point of the half  before Walterstown pulled one back in the third minute of injury time to leave them trailing by the minimum margin at the break, 1-7 to 2-3.                                      
St. Michaels made good use of the extra space and man in the second period and tagged on a second half tally of nine points whereas Walterstown managed just two points for the half hour as sensing they needed goals they went in search of the three pointers but their luck was out against a very well organised back line led by Sam Briody, Mark Stafford and Harry Dunne. Second half points from McCormack (0-4), and (0-1) each from O'Connell, Clarke, Lynch, Oran Meehan and Ray Reilly kept the clock ticking for the home side.   

The result ensures safety for St Michaels and means that Walterstown will play in Division 3 next year.
St. Michaels: Darren O'Connell; Mark Stafford, Sam Briody, Harry Dunne; Ben Reilly, Christopher Drew (0-1), Paddy Clarke (0-2); Matthew Halpin, J.B. O'Reilly; Shane McCormack (0-6), Peter O'Connell (0-2), David Lynch (0-1); Oran Meehan (0-1), Shane McDonnell (1-2), Ray Reilly (0-1). Subs: Paddy Tobin, Adam O'Brien, Scott Doyle, Ben Tobin.             
Referee: Paul Mooney.
Most Read Stories