AFL4: Kilbride comfortable against Boardsmill
July 10, 2018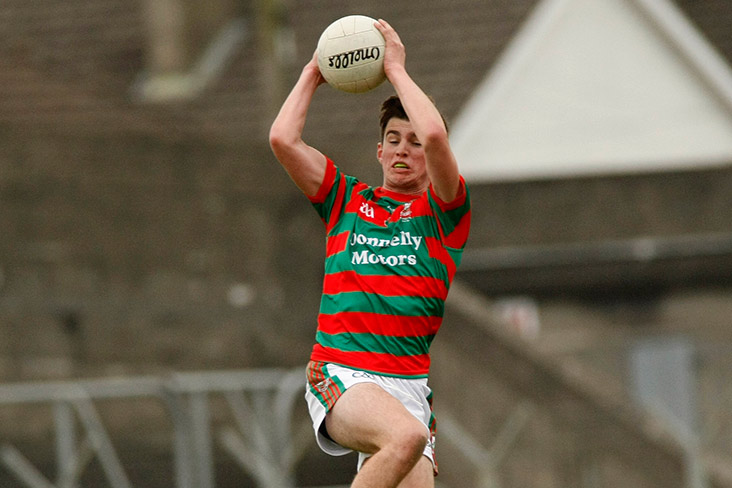 Kilbride's David O'Leary
Kilbride 4 -16  Boardsmill 1-8

Kilbride signed off their league campaign with a comfortable win at home last evening in splendid conditions with debutants sharing the man of the match award with excellent performances..
Kilbride were on top from the start apart from a period of 5 minutes from the 20 to 25 minute mark when the visitors registered 1 -2 with out reply.
Lack of match practice was evident but apart there was encouraging signs from the hosts as the championshipkicks off again. With an outside chance of making a playoff for promotion Kilbride did there bit..leading by 6 pts after 18 minures with six different scoreres in that period and with the visitors still to score things were going well for the hosts,  David O'Leary was covering every inch of grass in the middle and it appeared that at times he had a twin playing, he was everywhere and when Gareth Lynch found the net on 20 minutes it pushed the lead out to 9pts. Finally Boardsmill responded with 1-2 but so too did Kilbride through Davy O'Neill who was making his first team debut... Half time: Kilbride 1-8 Boardsmill 1-2
Kilbride made two changes at the break and they registered the first four scores of the second half to extend there lead. Boardsmill kept the score bord ticking over but they could find no way through the Kilbride defence. 
The deputant Davy O 'Neill was having a massive game and he found the net on 42 minutes. In a period of 5 minutes the corner forward registered 2-1 the second green flag was a thing of beauty as he chiiped the advancing keeper. Another player making his debut was Finn Hughes at full forward who was very effective with the ball in hand setting up alot of the scores. 
Kilbride fourth goal arrived thought Colin Faughan who burst through the defence to find the top corner. Finn Hughes rounded off his hard work with the last score of the game.
Best for Kilbride John Smith, Ronan O'Leary, David O'Leary, Brendan Courtney, Davy O'Neill and Finn Hughes.
Kilbride: Craig Manning; Dean Stapelton, Karl Stapelton, John Smith; Paddy O'Neill, Ronan O'Leary, Jamie McWeeney; David O'Leary (0-3), Paul Donnelly; Gareth Lynch (1-0), Brendan Courtney (0-1), Finbar Clarke (0-1); Davy O'Neill (2-4), Finn Hughes (0-1), Brian White (0-1). Subs: Michael Farrell (0-2), Cadhla McKenna (0-2), Stephen Walsh, Colm Faughan, Colin O'Neill.
Most Read Stories