AFL1: Summerhill Snatch spot in semi-final
July 10, 2018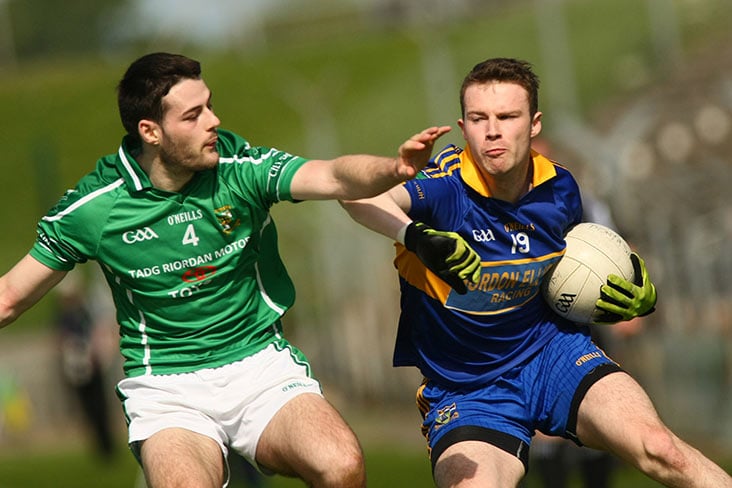 Donaghmore Ashbourne's Thomas McGovern with Barry Dardis Summerhill
Summerhill 4-11  Donaghmore Ashbourne 1-15

Summerhill took on Donomore  Ashbourne on Monday evening in a hard fought battle, both teams playing for the remaining semi final spot against Skyrne.
Summerhill were first on the score sheet with a Conor Frayne free. On the 3rd minute a brilliant pass from Barry Dardis found Davy Dalton unmarked in front of goal who promptly flicked  the ball into the back of the net .1-1 to the Hill ..Ashbourne were slow to get momentum going but when they did points from Andrew Tormey and Stephen Carton kept them within reach of the 'Hill. The Summerhill scores came from Dardis, Frayne and David  Larkin's point on the 28th minute left the Half Time Score Summerhill 1-4, Donomore Ashbourne 0-7.
Ashbourne were quickest on the re -start with an excellent point from Brian Menton and another from Tormey. The Donomore side may well regret some of the wides the kicked but they did push ahead in this third quarter ..out scoring John Lyons men 0-10 to 1-5. The in-form Stephan Husband put in an excellent shift as did Iarla Hughes in defence for Summerhill. Liams Shaw's free and a second goal for the locals coming from Barry Dardis pushed Summerhill ahead again. Ashbourne were awarded a penalty, to the relief of the supporters it went over the bar for a point. Summerhill pushed on again with  Padraig Geraghty finding the back of the net for the Hills 3rd goal after a brilliant assist from Conor Frayne. Ashbourne then with minutes on the clock found the net to bring the game to a draw once again. Captain Willie Ryan led by example and pushed his team forward. Summerhill responded and to the delight of the crowd, Ross Tallons goal in the 59th minute was the boost they needed. Further scores form Dardis And Micheál Byrne left Summerhill five points ahead at the final whistle.
FT: Summerhill 4-11 Donaghmore Ashbourne 1-15. 
A tough encounter for Summerhill, who showed great determination and pride to come out on top of this game and all credit also to John Lyons and his management team, to claim the Semi-Final Spot against Skyrne GFC this coming Friday in Páirc Tailteann .
Summerhill: Tony McDonnell; Iarla Hughes,Willie Ryan, Ronan Ryan; Eamonn Ryan, Stephen Husband, Padraig Geraghty (1-1); Ciaràn Gillispie, Micheàl Byrne (0-1); Kevin Ryan, David Larkin (0-3), Liam Shaw (0-1); Conor Frayne (0-2), Barry Dardis (1-2), Davy Dalton (1-1). Subs: Ross Tallon (1-0) for Husband.
Most Read Stories