AFL1: Simonstown finish off with a win over Na Fianna
July 10, 2018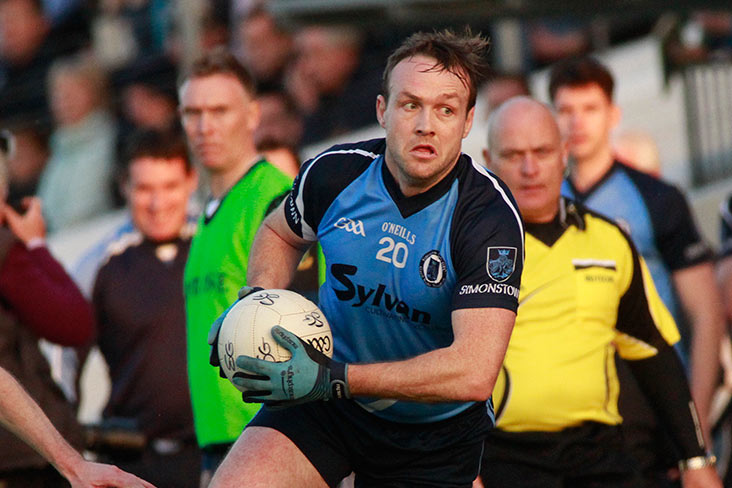 Simonstown's Mickey Brennan
Simonstown 1-14  Na Fianna 1-10
Simonstown finished 7th in the A league after a victory over Na Fianna in thes final round of the A League division 1.
Simonstown had a tremendous first half and led 1-9 to 0-2 at half time. Micky Brennan opened up the scoring with a well taken free after 2 minutes and Andy Kearney opened up his account with a trademark point on the 5th minute mark. Conor Sheridan scored a super goal on the 18th minute. Sheridan received the ball on the 45 yard line and continued his run towards goal as he rocketed his shot past the Na Fianna keeper and score after 20 minutes was Simonstown 1-6 Na Fianna 0-1. The last time 2 brothers started for Simonstown in midfield was when the Meade brothers lorded the sky. The Conlon brothers were impressive in midfield and both of them got brilliant points in the first half. Score at half time - Simonstown 1-9 Na Fianna 0-2. 
Na Fianna improved in the second half and won the second half by 5 points. Micky Brennan had an excellent second half and was Simonstown's top scorer. Simonstown's next game is the championship match vs Seneschalstown on the weekend of the 28th of July. 
Simonstown: Robbie Burlingham; Mark Devlin, Stephen Moran, Ian O'Rourke; Brian McGrath, Mark Gardiner (0-1), Colin Wickham; Sean Conlon (0-1), Brian Conlon (0-1); Joe Lyons, Conor Sheridan (1-1), Michael Brennan (0-5);' Eanna Donoughue (0-1), James Heaney, Andrew Kearney (0-4). Subs: Shane T. Gallagher for Joe Lyons, Aaron Geraghty for Brian McGrath
Na Fianna 1-10  Simonstown 1-14
Na Fianna went down to defending Keegan Cup holders Simonstown on Monday night in Simonstown.
The two in a row Keegan Cup holders were in dominant mood in the first half, opening up Na Fianna at will and defending stoutly to coast to a 1-09 to 0-2 half time lead.
Na Fianna fought back in the second half and a late Shane Walsh goal put some respectability on the result on what was an eye opening night for Na Fianna who have a lot to work on ahead on the SFC clash with Skryne.
Na Fianna: Shane Geraghty; John Baldwin, Daniel Devine (0-1), Sean Coffey; Anthony Neary, Evan Mullaly, Dean Henrick; Brian Queeney, Michael Collins; Oran Smullen, Conor Downey (0-2), Andy Glynn; Jack McNally (0-1), Shane Walsh (1-04), Barry Slevin. Subs: Barry Clancy (0-2), Owen McDonnell, Evan Henrick, Daniel Queeney, Dean Barrett, Damien Downey.
Most Read Stories