AFL2: Curraha lose local derby to Seneschalstown
July 10, 2018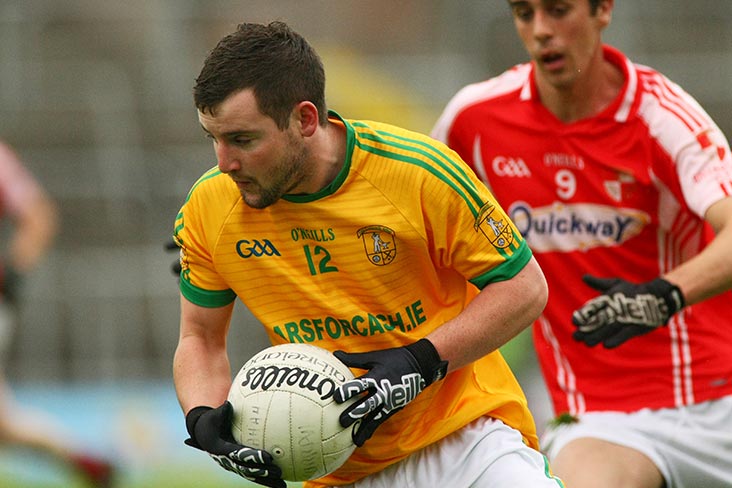 Curraha's David Coyle
Curraha 3-09  Seneschalstown 4-12
Curraha rounded off their 2018 league campaign with a loss after travelling down to local side Senchalstown in this nothing Division 2 finale.
Curraha were very slow out of the blocks and the home side had racked up 1-03 before Jack O'Connor opened the scoring for his side with a free. This was responded with a second goal for the home side before a well taken point from Neil Shortall doubled his sides tally. A pointed effort dropped short and ended up going in for a goal to give Senchalstown their third major. Curraha finally got into second gear after a sluggish start and David Coyle done extremely well to raise the green flag. He followed this up with a point before O'Connor added his second free. Points were traded soon after and Senchalstown had a 3-05 to 1-05 advantage at the break.
Points were traded inside the opening minutes before a Mark Jackson goal gave Curraha some hope. O'Connor got a fine score from open play then to leave three in it. That was as closest Curraha could get to the experienced side as they added 1-04 without reply to put the game beyond doubt. Credit to Curraha though as never gave up and a fine point from Conor O'Farrell was followed by a goal by Seamus Hogan. A late Shortall point finished proceedings with the Senchalstown outfit taking the points on offer.
Curraha: L. McCarthy; M. Jackson 91-0), C. Joyce, E. McGovern; S. Hogan (1-0), G. Coyle, B. Joyce; N. Shortall (0-2), P. Dowling; D. Coyle (1-2), C. O'Hanrahan, J. O'Connor (0-3); A. Battersby (0-1), N. McLarnon, A. Moriarty. Subs: M. Phelan for Hogan, C. O'Farrell (0-1) for G. Coyle, L. Hogan for McCarthy, G. Coyle for O'Hanrahan, S. Hogan for Moriarty, N. Moriarty for D. Coyle
Meath A League Division Two Round Ten Seneschalstown GFC V Curraha  match summary.
Seneschalstown GFC 4-12  Curraha 3-09
In the first half the team attacked from the midfield were they were winning the aerial battle and drove forward to create chances for the forwards.
The first goal came from a run from Niall Hickey and a pass to Robert Wogan who finished to the net.
The second goal came from Niall Hickey who was on the end of a pass from Alan Mulvany.
The third goal came following a pass across the face of the goal for Cathal Finnegan to tap in.
There was points from play by Cathal Finnegan, Alan Mulvany, Joseph Sheridan and Sean Noonan.
Curraha came back into game with a goal and a number of points to reduce the deficit to six points at the break.
At half time the score was Seneschalstown 3-05 to Curraha 1-05
In the second half the team created multiple chances and but for the excellent goalkeeping of the Curraha net minder there would have been additional goals in the game.
There was points from play by Robert Wogan (2), Niall Hickey, Cathal Finnegan and Brian Sheridan(2). Brian Sheridan also got a point from a free.
The goal in the second half came from Sean Noonan who finished to the right hand side of the net with a left footed shot.
Curraha stayed in contact with two goals from play along with four points to keep the gap to the same as applied at half time.
Seneschalstown GFC: David Gordon; Mark Fox, Dylan Doyle, Brian Maguire; Niall McCabe, Joe Cowley, Niall Groome; Niall Hickey (1-1), Sean Noonan (1-1); Alan Mulvany (0-1), Joseph Sheridan (0-1), Dylan Keating; Cathal Finnegan (1-3), Brian Sheridan (0-3), Robert Wogan (1-2). Subs: James Meade for Cathal Finnegan, Ryan O'Dowd for Alan Mulvany, Neill Darby for Joe Cowley, Peter Tierney for Mark Fox, Niall Lyons for Niall Groome
Most Read Stories