ACHL3: Win puts Dunderry into final
July 10, 2018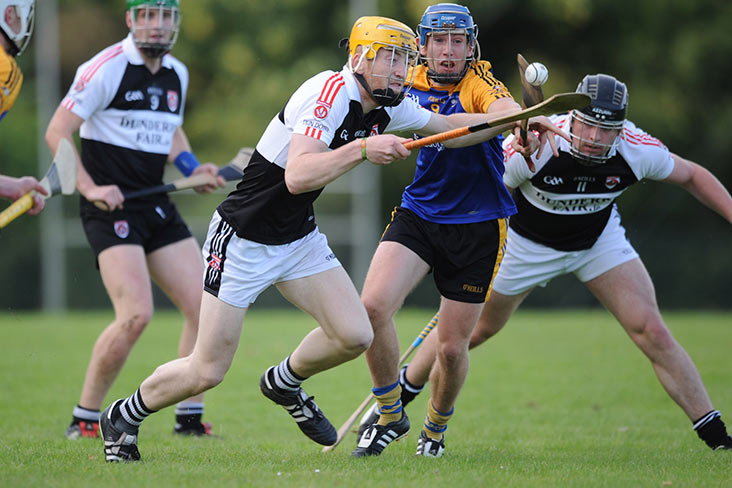 Dunderry's Luke Martyn
Kilmessan 0-13  Dunderry 5-14
Dunderry knew that victory on Saturday evening would qualify them for the league final, they were coming off their only loss in the league against Kildalkey and 2 losses in the Championship and needed a confidence boosting performance.
In the opening minute Dunderry keeper Danny O'Doherty pulled off a point blank save but the home side opened the scoring in the 4th min. Dunderry replied when Luke Martyn won a high ball and found the net only a minute later. Then in a 10 minute spell Dunderry scored 4 unanswered points from Jordan Martin, Conor Farrell, Jamie Leavy and Martyn. The forward partnership of Martyn and Dylan Keenan were causing problems with their movement and high fielding and Keenan got onto the scoring with 2 goals and a point in the 25th 29th and 30th mins followed by a point from Martyn in added time.
Dunderry continued in the same ruthless vein and after good work from Liam Dempsey Martyn got his 2nd goal of the game. This was followed by points from Farrell, L.Dempsey and C.Dempsey, the home side made a small inroads into the score line but Dunderry were never in trouble and kept the scoreboard ticking over with a goal from Farrell after good work from B.Wright and L.Dempsey, 2 free's from Keenan, 2 points from Martyn and a point from sub M.Dowdall too leave the final score 0-13 to 5-14 and a league final against Kildalkey.
Dunderry: D.O'Doherty; D.McCormack, B.Wright, A.Feeney; C.Fitzgerald, J.Martin (0-1), J.Leavy (0-1); L.Dempsey (0-1), C.Dempsey (0-1); J.Moran, C.Farrell (1-2), G.Dooley; D.Keenan (2-3), L.Martyn (2-4), R.Brady. Subs: D.Kelly for G.Dooley, M.Dowdall (0-1) for R.Brady.    
Most Read Stories