AFL Div 3: Meath Hill make quick return to Division 2
July 09, 2018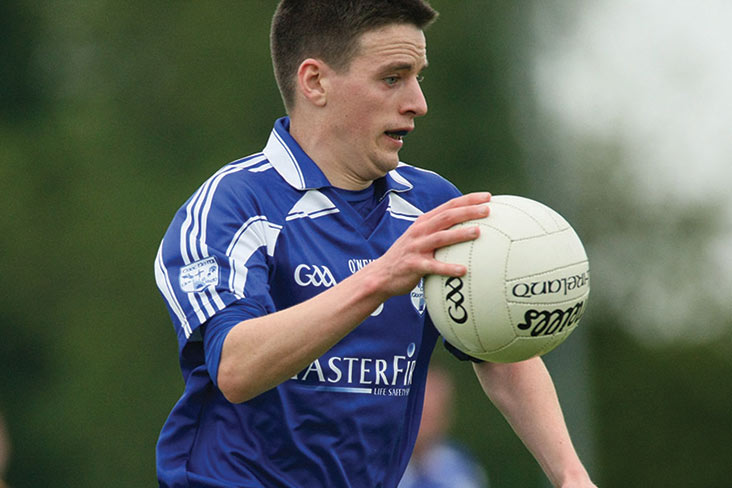 Meath Hill's Christopher Yorke
Meath Hill 1-13  Carnaross 2-7
Meath Hill secured promotion back to Division 2 after just a year's absence, when they beat Carnaross in sweltering conditions at home on Sunday evening.
Knowing a win would only be enough, Meath Hill started brightly and Chris Yorke had the ball in the net in the first minute. The first half was a tight affair though and Carnaross got their own goal after 16 mins. The sides were level at 1-4 apiece at the break.
Meath Hill improved in the second half and despite kicking some wides, they found themselves two points up with 9 minutes of normal time to go. Carnaross were not done though and they worked a goal, giving them a 2-7 to 1-9 lead.
Carnaross would fail to register again as Meath Hill took control around the middle and showed composure to score 4 points from the 29th minute into the 5th minute of added time.
A good team performance in tough conditions from Meath Hill and they now have a final to look forward to on Sat 14th July against Bective. 
Only two defeats all year in league, one in late January to fellow finalists Bective and the second after a late injury time goal in Drumbaragh, means Meath Hill are worthy finalists.
Meath Hill: Dominic Yorke; Simon Martin, Martin Tully, Conor Marry; Ryan Carry, Kieran Slavin, Thomas Carolan; Keith Ginnitty (0-1), Paddy Matthews; Tomas Smith (0-1), Ian Malone (0-4), Chris Yorke (1-0); Pierce McGrath (0-2), Tommy Rooney (0-1), Jack McMahon (0-4). Subs: Ryan Owens, Donnchadh Boyle.

 
Meath Hill 1-13, Carnaross 2-07
A League Division 3 Round 11, 08/07/2018 in Meath Hill
Carnaross made the trip to Meath Hill on a scorching Sunday evening to take on the hosts in the final round of the A league. The two teams entered the game level on points and the stakes were high with a final spot and automatic promotion on offer for the winners.
The home side got off to the best possible start as they worked the ball forward from the throw in and created a one-on-one which was dispatched to the back of the Carnaross net. Despite the setback, Carnaross responded with points from Dermot McGee and a pair of frees from Frank O'Reilly while Meath Hill also kept the scoreboard ticking over. Carnaross then burst into life when an incisive run from Sam Reynolds and some neat interplay set Killian Porter through on goals. The wing forward made no mistake with an emphatic finish. Carnaross enjoyed a decent spell of possession for the remainder of the half but were guilty of some poor finishing. A Charles Brogan effort left the sides level at the break at 1-4 apiece after an intense first half.
The two sides traded points after the break with O'Reilly, McGee and Porter adding a point each for Carnaross, while Meath Hill opened up a two point lead with 5 points. Carnaross then responded as they had done in the first half with Dermot McGee sparking a move from midfield which was finished to the back of the net by his brother John L after some sharp passing. The goal gave Carnaross a one point lead, however, this proved to be as good as it got for the visitors. Meath Hill added 4 straight points and held on for a three point win on a score line of 1-13 to 2-7.
It was a disappointing result for Carnaross who were coming off a seven game winning streak. They can, however, console themselves with a playoff game providing a chance at promotion to division 2 as well as their on-going championship campaign.
Carnaross: Conor Kenny; Ian Donoghue, Peter Farrelly, Peter Carpenter; Sam Reynolds, Cian O'Reilly, Liam Brogan; Dermot McGee (0-2), Tomás Plunkett; Killian Porter (1-1), Frank O'Reilly(0-3, 2f), Niall McDonnell; Charles Brogan (0-1), Thomas Nugent, Patrick McDermott. Subs: Cormac O'Reilly for Plunkett, John L McGee (1-0) for McDermott, Declan Reilly for Nugent
Most Read Stories