AHL Div 4: Trim's league ambitions ended by Gaeils
July 09, 2018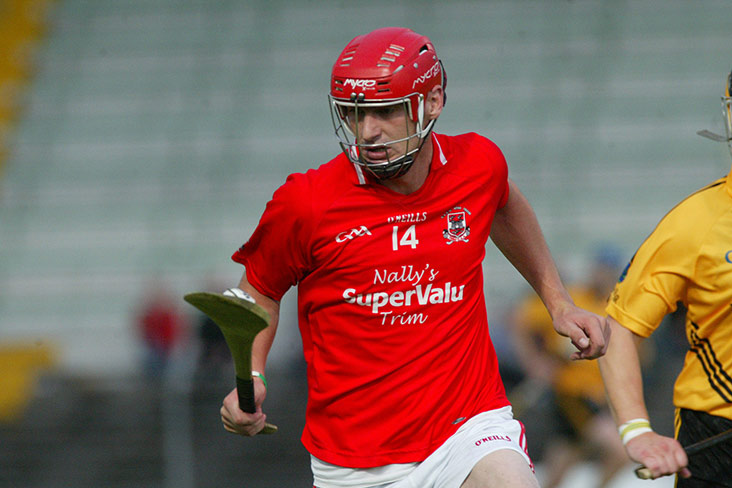 Trim's Joey Toole
Trim 0-9
Gaeil Colmcille 3-13
Trim's league ambitions were ended in St Lomans Park last night (Saturday) when they were comprehensively defeated by a much stronger Kells intermediate team. 
Kells were always in control and had 1-7 on the score board before Trim got their first score in the twenty second minute from Captain Stephen Doyle. Trim to their credit added five more points before the half time whistle with these points coming from the sticks of the very impressive Joey Toole who got two, Doyle added two more and the hard working Andrew O'Brien notched a point just before the half time whistle. 
Half Time Score: Trim 0-6 Gaeil Colmcille 1-10.
Kells kicked on after half time and added two quick goals after just ten minutes of the second half played. Toole hit three great points but these were canceled out by the Kells team who responded with three great points from play. The game then petered out with Kells in control and the ran out easy winners. 
Final Score: Trim 0-9 Gaeil Colmcille 3-13.
Trim Team and Scorers: Eoin Thompson, Mickey McDonaghish, Darragh Kennedy, Neil Cole, Jamie Lee, Gary Conroy, Pauric Payne, Cian Lee, Rory McGrath, Andy O'Brien (0-1), Joey Toole (0-5), Mark Murray, Sean Thornton, Stephen Doyle (0-3) Aaron McGee. 
Sub: John Delaney for Murray H/T.
Most Read Stories