FL Div 1: 'Hill' worthy winners
June 11, 2018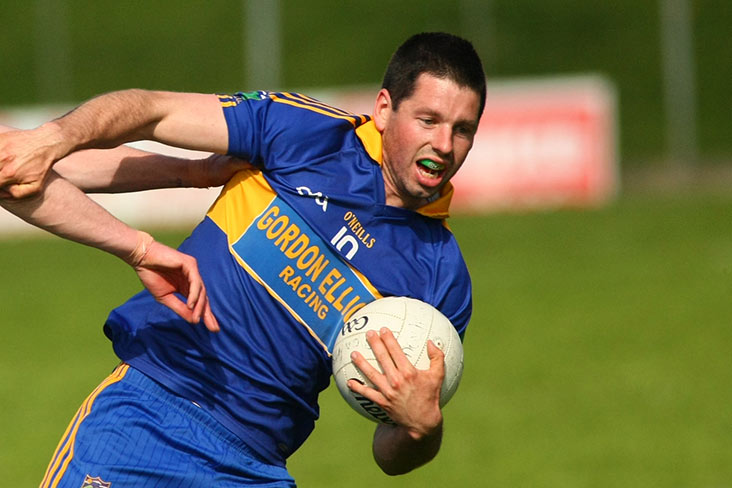 Summerhill's David Larkin
Summerhill 4-11 Moynalvy 0-9
Summerhill were worthy winners of this local encounter against neighbouring rivals Moynalvey on a hot Sunday evening last.  Two goals in each half for John Lyons' men proved to be the deciding factor.
David Larkin's point from the very first attack would set the tone of the match where Summerhill led throughout. Points from Liam Shaw followed and on the 11th minute Davy Dalton scored his first goal to put Summerhill 1-3 to 0-0 up. 
The home side did get on the scoreboard at the end of the first quarter with a brace from from David McLoughlin. Summerhill answered with a well worked goal by Donal Feeley and further points from Larkin. 
While Moynalvy did gain some momentum their possession was not converted thanks to excellent pressure applied by defenders Caolan Young and Willie Ryan. Following a near perfect pass by John Keane, Larkin was unlucky not to find the back of the net -the  resulting free scored effortlessly by Shaw. The Hill led 2-6 to 0-4 at the break.
Moynalvy started stronger in the second half with McLoughlin  once again scoring, they failed to convert their penalty shot in the 4th minute as Tony McDonnell saved it and cleared the ball. Cian Devlins goal on the 7th minute was a further boost for Summerhill. A second goal in the final minutes from Dalton following an assist by Eamon Ryan and a final point from Ryan left the visitors ahead 4-11 to 0-9.
A good nights work for Summerhill in very warm conditions for both sides.. 
Summerhill: Tony Mc Donnell, John Lavelle, Caolan Young, Willie Ryan, Iarla Hughes, Ronan Ryan, Padraig Geraghty, Micheaàl Byrne, Paddy McGrath, Cian Devlin (1-0), David Larkin(0-4), John Keane, Donal Feeley (1-3), Liam Shaw (0-2,3f), Davy Dalton (2-0). Subs: Stephan Husband for Devlin (51), Eamonn Ryan for John Keane (53), Rod McAuliffe for Paddy McGrath (55).
Moynalvey Report
Moynalvey slumped to their seventh A league defeat when going down to neighbours Summerhill on a 4-11 to 0-9 score line on Sunday evening 10th June.

Moynalvey 0-9
Summerhill 4-11

Trailing by eight points at the break, effectively a five minute period after the restart defined Moynalvey's evening. Firstly a David McLoughlin point blazed over the cross bar when perhaps a goal chance was on and then a McLoughlin penalty was saved by Summerhill 'keeper Tony McDonnell, with the visitors breaking up the field to score their third goal with the game's next score, leaving Moynalvey trailing by 10 points eight minutes into the second half.

The half time score read 2-6 to 0-4 in favour of the 'Hilll, with Moynalvey's first half scores coming from David McLoughlin (3) and John Donoghue.

Davy Dalton added a fourth goal for Summerhill leaving the final score line 4-11 to 0-9, with Moynalvey's five second half points coming from David McLoughlin (3), James Weldon and Stephen Donoghue.

Moynalvey: D. Brennan, F. McCabe, D. Brennan, B. Harnan, S. Tuite, S. Donoghue (0-1), D. Brannigan, D. Smith, J. Donoghue (0-1), J. Weldon (0-1), D. McLoughlin (0-6, 3f), D. Treacy, C. McCabe, S. Lenehan, P. Kelly.
Subs: E. Walsh for D. Treacy, B. O'Reilly for P. Kelly, C. Harnan for S. Tuite.    
Most Read Stories