FL Div 3: Comprehensive win for the 'Ross'
June 11, 2018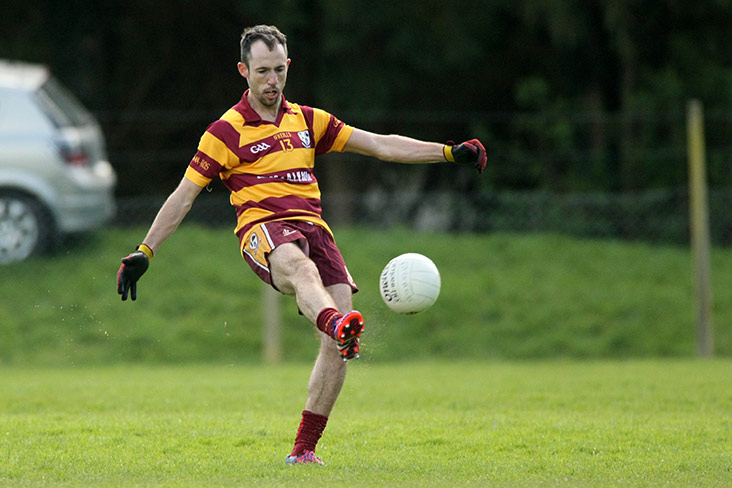 Junior D championship debut for John L.McGee of Carnaross
Carnaross 4-18, St Ultans 1-06
Carnaross recorded a comprehensive victory over St. Ultans in an A league game played in ideal conditions on the impressive surface of Páirc Naomh Chiarán. The home side have put together a string of victories recently and carried that momentum into the game.
Full forward John L McGee made his return to the starting line-up and he didn't take long to leave his mark on the game landing 1-3 in the opening stages. St Ultans had no answer to the relentless running and ruthless finishing of Carnaross and found themselves behind on a score line of 2-5 to 3 mid way through the first half, centre back Cian O'Reilly grabbing the second goal after an enterprising run. McGee then pulled out all the stops with a spectacular left foot volley, reminiscent of Robin Van Persie, to raise the green flag for a second time. Despite losing centre forward Charles Brogan to a black card, Carnaross added a further 4 points to give them a 3-9 to 5 lead at the break.
The second half began in a similar vein as the home side sent over the first two points. St Ultans responded and created several goal-scoring chances before finding the back of the net after the ball crossed the line despite the best efforts of keeper Ollie Murphy. Carnaross regained control over proceedings and the introduction of substitutes seemed to have a steadying effect. McGee capped a fine display with a pointed free to leave him with a personal tally of 2-5. A virtuoso performance from substitute Declan Reilly yielded 1-4 in the final minutes and helped Carnaross secure the win on a score line of 4-18 to 1-6.
The win leaves Carnaross on 16 points alongside Meath Hill in the table and sets up a winner-takes-all showdown between the two teams in the final round as both sides strive for automatic promotion and a spot in the final.
Carnaross: Ollie Murphy, Peter Carpenter, Peter Farrelly, Ian Donoghue, Liam Brogan, Cian O'Reilly (1-2), Sam Reynolds (0-1), Tomás Plunkett, Dermot McGee (0-3), Niall McDonnell, Charles Brogan, Killian Porter, Stephen Flattery (0-2), John L McGee (2-5), Cormac O'Reilly. Subs: John Brogan (0-1), Declan Reilly (1-4), Thomas Nugent, Shane Casserly, Cian Yore, Brian Comaskey
Most Read Stories