Div 1 FL: Depleted Gaels too strong for 'Cilles'
June 11, 2018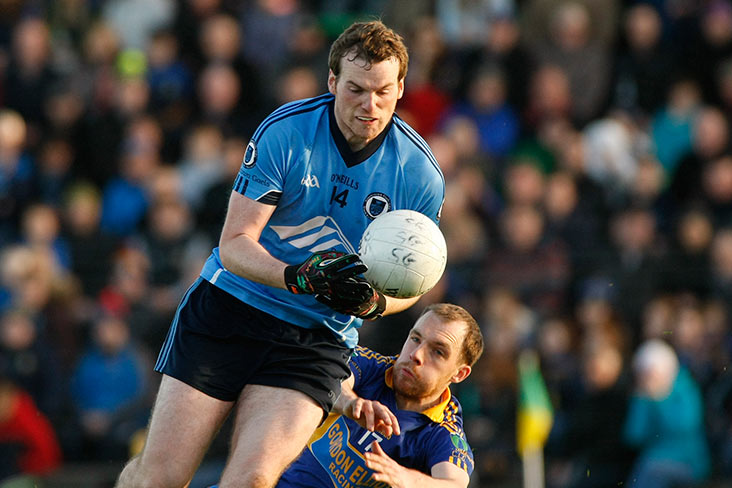 Simonstown's Conor Sheridan
Simonstown 1-15 St. Colmcilles 1-9
Simonstown played against St Colmcilles in Pilltown. Simonstown players Sean Tobin, Padraig McKeever and Nathan O'Brien have all departed to America to play football for the summer so the Gaels were without 3 of their main forwards. Chris O'Neill is also sidelined for a period of 2 months and Nicky O'Brien was unavailable. Ben Brennan of St. Colmcilles made himself available less than 24 hours since the defeat to Tyrone. 
Simonstown scored a goal after just 2 minutes. The ball was sent precariously in by the returning Conor Sheridan and Crouchy McCabe was there to fist the ball past Jordan Brown. Andy Kearney and Ben Hoey added to the Gaels tally with points from play. Colmcilles responded with a goal from their talisman Ben Brennan. Brennan showed strength and finesse to push Stephen Moran off the ball, this left him one on one with Robbie Burlingham. Brennan audaciously chipped the ball over Burlingham. The Gaels answered quickly back with 2 scores in a row by Niall Kane. Kane is the GPO for St. Colmcilles and he showcased his playing abilities to his development club. The Navan men registered more scores through Conor Sheridan, James Kilcullen and Ben Hoey. The Gaels ended the second half tremendously well and this was their best period of the game. Simonstown had very few wides in the first half and were very clinical. 
Conor Sheridan marked his return back to football after a spell on the sidelines with 3 points. Kearney also showed his trickery when he pointed from distance in the 21St minute. Mark McCabe scored s super individual score from distance and Niall McMahon scored which was a rare occurrence for the corner back. It was his first point since the Leinster quater final vs Rapps Starlights. Score after an impressive first half was Simonstown 1-13 St. Colmcilles 1-3.
The second half was poor from a Simonstown perspective. The clinical shooting of the first half deserted the Gaels and it was replaced with wides and misplaced passing. The Gaels only recorded 2 points in the second half,both coming from Andrew Kearney. St. Colmcilles played well with the aid of the breeze but the deficit of the first half was too much. Full Time score Simonstown 1-15 St. Colmcilles 1-9.
Simonstown: Robbie Burlingham, Stephen O'Reilly, Stephen Moran, Niall McMahon(0-1), Brian McGrath, Brian Conlon, Neil Kane (0-3), James Kilcullen (0-1), Roz O'Connor, Ben Hoey (0-2 1 free), Shane Barry, Mark McCabe (1-2), Mark Gardiner, Conor Sheridan (0-3), Andrew Kearney (0-4 1 free)
Most Read Stories