Ladies U14 FL Div 6B: Shield title for Michaels
June 11, 2018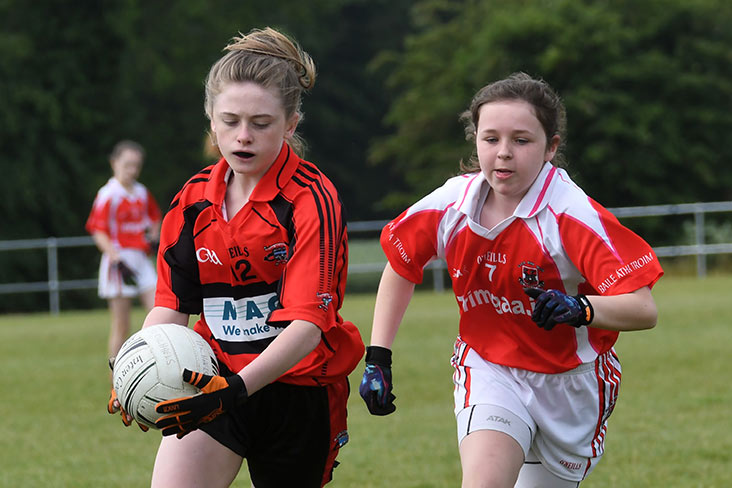 Katie Smith gains possession for St. Michaels against Trim during the U14 Shield final at Dunganny
St. Michaels 4-05, Trim 2-04                                                                            
Three second half goals were worth their weight in gold as far as St. Michaels were concerned as they claimed the Division 6 Shield following a titanic tussle with Trim in Sundays thrilling final in sunny Dunganny on Sunday morning.        
The St. Michaels girls displayed tremendous battling spirit to overturn a six  point deficit in the opening half after the Trim girls went into an early 2-1 to 0-1 lead. Brioch Meehan opened the winners account with a point after eight minutes. Trim had fired home their sides opening goal two minutes earlier and they looked unplayable as they surged ahead 2-1 to 0-1 by the end of the opening quarter. However the St. Michaels recovery process appeared in full operation when points from Brioch Meehan and Claire Reilly preceded an excellently executed goal from Reilly which left her side trailing by just a point at the interval, 1-3 to 2-1.  
Anne Behan replaced Kellie Harten at half time in the St. Michaels goals who was herself deputising for regular 'keeper Ori-Anne McConnell who had gone on a family vacation earlier that morning.
Katie Smith got the new half off to a great start with a well taken point for St. Michaels to level the match for the first time and another minor from top scorer Claire Reilly edged her side in front. Trim proved difficult to shake off and they pulled one back to level the match once more but substitute Edel Reilly combined with her sister Claire and tucked away an nice effort to the back of the net to give her side some breathing space at 2-5 to 2-2 with a quarter of the match remaining. Her sister Claire stretched the lead to six points a couple of minutes later, Trim pulled one point back but St. Michaels were firing on all cylinders at this stage and their fourth major came on the stroke of full time and although Trim managed another point in the fourth minute of injury time, it was all too little too late.   
St. Michaels got excellent performances from all their players right across the pitch as everyone put in a trojan effort to ensure the shield went back to north Meath. The Trim girls had the potential to cause problems up front but every time they got into the danger zone they were snuffed out by the St. Michaels back six, led by Anna Cunningham, the winners midfield kept the supply going into their forwards who all worked hard to create chances, running with pace and power at the Trim defence. Both teams played all out attacking football in very hot conditions for the entire hour and credit must go to both sets of players for maintaining such high standards right up to the final whistle.                                                                                                                                                                                                          
St. Michaels: Kellie Harten: Ciara Reilly, Anna Cunningham, Bebhinne Dolan; Shauna Murphy, Grace Keoghan, Cara Smith; Rosin Dolan, Chloe Reilly; Lauren Murphy, Brioch Meehan (0-2), Katie Smith (0-1); Ciara Finnegan, Claire Reilly (3-2), Kate Mulligan. Subs: Anne Behan for K. Harten, Edel Reilly (1-0) for C. Finnegan, Jane Mulligan for R. Dolan, Ella Armstrong for B. Dolan, Emily Everard for K. Smith.                      
Referee: Barney O'Rourke
Most Read Stories