HL Div 1: 'Ducksey' on fire as Kildalkey down holders
June 11, 2018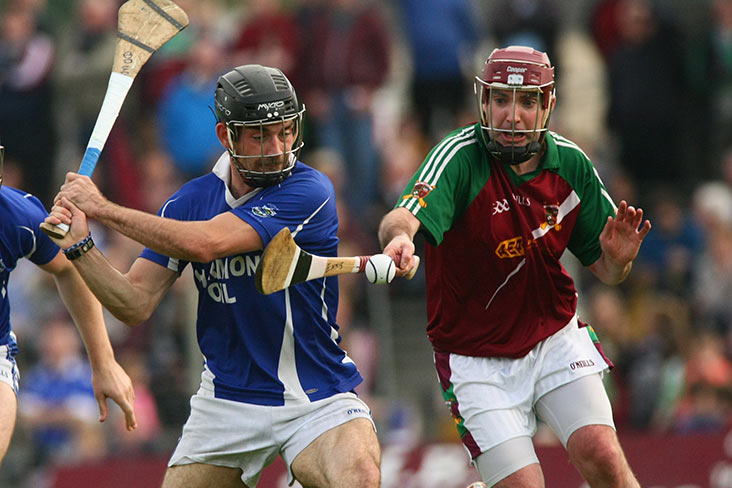 Kiltale's Ciaran Ennis blocks Derek Doran's (Kildakey) shot
Kildalkey 6-11 Kiltale 3-9
Last years County finalists and League finalists Kildalkey and Kiltale met in this years League fixture at Kildalkey.
With the pitch in perfect condition and the sun shining with not a breeze in sight conditions couldn't have been better for hurling.
Both clubs fielded without their country players along with a number of regulars but still produced an entertaining game for the crowd.
Kiltale were first to hit the front as a mistake in the Kildalkey backs allowed the Kiltale forwards to capitalize and hit the front but the men in blue hit back with points from Ross Flynn, Derek Doran, Sean Heavey (2) and  2 more from Flynn from frees.
Kiltale hit back with 3 Peter Durnin points 2 from frees but Johnny Greville's men finished the half well with Ducksy Doran rifling to the net twice in 5 minutes and further points from Gary Kelly Doran again and Heavey they finished on a high to lead 2-9 to 1-3.
Kildalkey started the second half the same way they finished the first as they went at it he'll for leather again going for ever ball. The younger Doran brother Francie then latched onto a breaking ball and soloed in from 35 yards before unleashing a rocket to score a great goal to open up a good lead. Kiltale rallied and hit 3 points on the bounce and then 2 quick goals to narrow the gap to 6 points at one stage but with Enda Keogh, Brendan and Kevin McKeon, Mark Healy and David Harmon all playing their part in the backs cutting out Kiltale attacks chances of scores were scarce.
Up the other end Ducksy was still causing problems and after scoring another point he then caught a long ball in and offloaded to the onrushing Brian Coneely to finish to the net Gary Kelly then hit his second point of the game before Ducksy hit another 2 goals and a point before the final whistle to leave the scoreboard reading Kildalkey 6-11 Kiltale 3-9.
Martin Healy and Ross Flynn put in a serious shift in midfield while up front Sean Heavey and Doran along with the hard working Brian Coneely and Andy Fagan all contributed to the win.
One aspect of the game that deserves a mention was the performance of long serving Kiltale goalie Ollie Reagan who made at least 4 point blank saves and done his bit to keep the Kildalkey forwards at bay.
With the championship starting next week this was great preparation for both teams but both will move on now and the focus is now on next Friday night where Kildalkey take on Kilmessan and Kiltale take on Dunboyne 
Kildalkey: C Flynn, E Potterton, S Corrigan, B McKeon, Mark Healy, E Keogh, D Harmon, R Flynn (0-3(2f), Martin Healy, G Kelly(0-2), S Heavey (0-3), A Fagan, D Doran (4-3), F Doran (1-0), B Coneely (1-0). Subs: K McKeon for Corrigan (inj), C Hayes for Fagan, S Reilly for F Doran 
Kiltale Report
Kiltale 3-8  Kildalkey 6-11
Kiltale came up short against a strong Kildalkey due to circumstances outside of our control in what was effectively a league semi-final between the sides that resulted in a facile victory for the home side as Kiltale were without their county players and had to use intermediate and junior players
Kiltale started strongly with an early goal from Shane Lenehan, and a pointed effort from Fergal McCabe with Peter Durnin adding another from a free Andrew Jackson battled hard in the air and caught and broke numerous balls and launched many attacks for Kiltale. Lenehan was full of running and caused havoc in the Kildalkey defence all through the match and linked up well with Peter Durnin and Fergal McCabe but midway through the first half kildalkey began to get a grip on the game and converted most of their scoring chances with some great points before going for goal with Derek Doran getting in for goal twice before the break the Kiltale defence struggled with Doran who looked almost unstoppable but the young Kiltale backs never gave up and battled hard to until full time  
Kiltale started the second half with some points from play but it was hard going for Kiltale as the home side dominated the half and got some fine scores with goals and points from play but Kiltale forwards continued to attack and got some fine scores of their own with two goals and got some fine points from play also  
Kiltale backs were under pressure throughout but had some good displays from Iarla Hughes Padraig Kelly and Ronan Ryan but it was a hard evening for Kiltale and they tried hard and just didn't have enough on the day
Kiltale: O. Regan C. Ennis I. Hughes C. Brien S. Dunlevy Ronan Ryan P. Kelly E Ryan, S. Donoghue P. Durnin, S. Cummins B. Dixon F McCabe A. Jackson S. Lenehan. Subs: David Kane, Padraig Donoghue  
Most Read Stories