FL Div 2: Rowe keeps Syddan's unbeaten run intact
June 11, 2018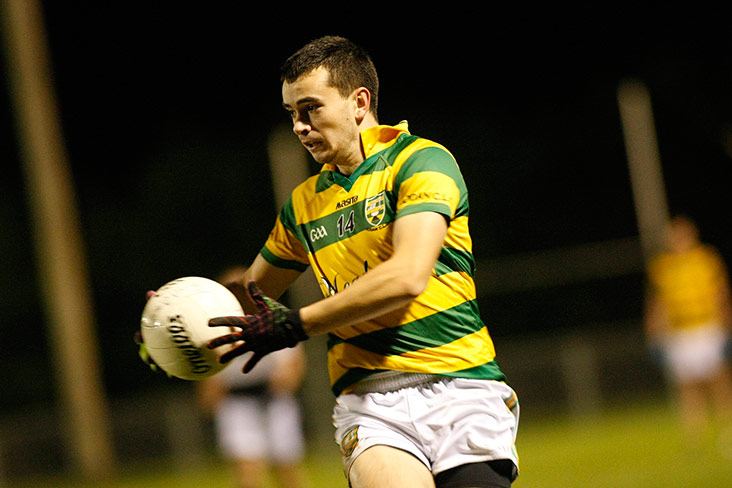 Killary Emmets' Daire Rowe in action for Syddan.
SYDDAN 3-11 WALTERSTOWN 0-18

IT took a dramatic goal in added time from Daire Rowe to preserve Syddan's remarkable unbeaten league run at Walterstown.

Understrength Walterstown seemed headed for a shock win after Cormac Madden pointed them ahead from a 35-metre free as the clocked ticked over the hour mark. However a move started in their own backline ended with Rowe shooting to the net via the butt of a post a minute into added time.

Following a slow start Syddan led by five points in the opening half but they could never shake off their tenacious opponents who edged ahead at one stage before Syddan eventually enjoyed a 1-8 to 0-9 interval lead.

Syddan were never headed in the second half until that late Madden point, which was the Walterstown man's ninth of the game.

Rowe also accounted for Syddan's opening half goal after taking a pass from Brian Dillon and they led 1-4 to 0-2 following a rare point from Andrew Garland.

Madden and Ruairi O'Dowd were particularly prominent for the Blacks as they kept the scoreboard ticking over throughout the half.

Points from Aaron McLoughlin and O'Dowd had Walterstown level within three minutes of the restart but then Mark Fedigan got forward and produced an exquisite finish to the Walterstown net. 
The sides were back level towards the end of the third quarter before Brian Dillon and Andrew Garland - his second point - edged the visitors ahead again. However Walterstown responded to regain parity by the 49th minute.

Both sides were reduced to 14 with the dismissals of Paddy Farrelly and Davy Reynolds 10 minutes from the finish. Brian Dillon and O'Dowd then swapped points before the dramatic finale with the win edging Syddan a step closer to promotion.

SYDDAN - Ciaran Farrelly; Mark Fedigan 1-0, Ronan Mooney, Jack Reid; Stuart Fedigan 0-1, Andrew Garland 0-2, Michael Fedigan; Sean Clare 0-1, Kevin Traynor; Paddy Farrelly 0-1, Daire Rowe 2-3, Graham Garland; Brian Dillon 0-2 (1f), Cathal Dardis, Cormac Rowe 0-1. Sub - Michael Smith for Dardis.

WALTERSTOWN - Darragh Keegan; Conor McGuinness, Conor Cullen, Dan Halligan; Cathal McGuinness, Brian McGrane 0-1, Peter Reynolds; Davy Reynolds, Mark McCormack; Conor O'Sullivan, Ruairi O'Dowd 0-4, John Geoghegan 0-1; Aaron McLoughlin 0-2, Kevin Devine 0-1, Cormac Madden 0-9 (5f).

REF - Richard Morris (Blackhall Gaels)
Walterstown Report
Walterstown hosted the unbeaten Division 2 A League leaders, Syddan, before a healthy crowd on a sunny evening.
Missing a number of regulars, the lads started brightly, with two points from Cormac Madden. Syddan responded with 1-4, before the home team regained control. From the 15th minute, the Blacks reeled off six unanswered points, from Cormac Madden (3), Ruairi O'Dowd, John Geoghegan and Kevin Devine, to take a one point lead. Syddan then scored the next four points, before Ruairi O'Dowd kicked the final score of the half, on the stroke of half-time.
Half Time - Walterstown 0-9 Syddan 1-8
The home team again started well, with points from Cormac Madden and Ruari O'Dowd, before Syddan scored a second goal, against the run of play. Walterstown soon cancelled out the goal, scoring the next three points, one from Brian McGrane and two from Cormac Madden. Two points in a minute from Syddan, at the midway point of the half, put the visitors back ahead. However, Walterstown struck back, kicking the next four points, from Cormac Madden (2), Aaron McLaughlin and Ruari O'Dowd and held a well earned one point lead going into injury time. A third goal for Syddan, with the assistance of the post, gave them a decisive two point lead, which was their reward for going for the net, rather than taking a point to level the game. Walterstown deserved at least a share of the points and had one further attack on the away goal, unfortunately without success.
Final Score - Walterstown 0-18 Syddan 3-11
Walterstowns Manager Eoin Carroll whilst disappointed with the result was delighted with the team performance and hard work the lads put in and was very pleased with the performance of the new additions to the team. 
Walterstown: Darragh Keegan; Conor McGuinness; Conor Cullen; Dan Halligan; Cathal McGuinness; Brian McGrane (0-1); Peter Reynolds; Davy Reynolds; Mark MacCormack; Conor O'Sullivan; Ruari O'Dowd (0-4); John Geoghegan (0-1); Aaron McLoughlin (0-2); Kevin Devine (0-1); Cormac Madden (0-9, 0-5f). Substitute:  Colm Reilly  for Brian McGrane.
Most Read Stories