FL Div 2: Blow to Curraha's promotion prospects
June 08, 2018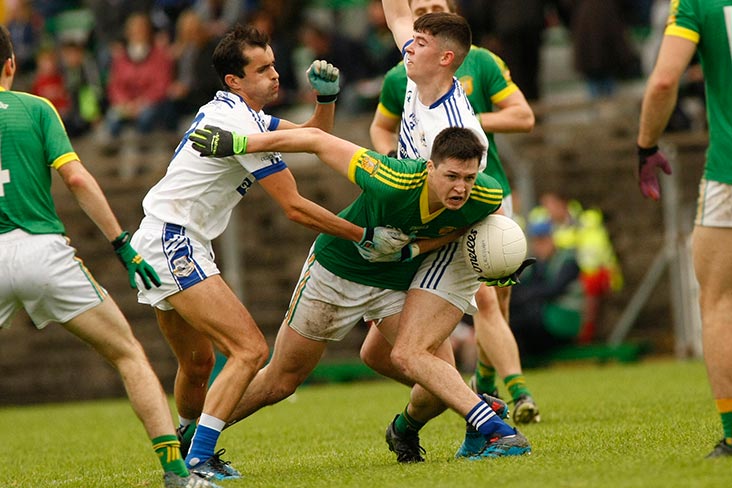 Curraha's Brian Joyce is under pressure against Oldcastle
Curraha 1-13 Oldcastle 2-15
Curraha's chances of promotion to the top level of the league suffered a blow last night when travelling side Oldcastle moved into second place after taking the two points on offer.
Although Curraha were missing two thirds of their panel they really showed a great attitude and could of easily came away with the points only to come up short against a tough side. The away side opening the scoring with a brace of points before Jack O'Connor and Evan McGovern brought their side level after ten minutes. Oldcastle then got in for their first major and despite the best efforts of Luke McCarthy the rebound fell nicely to the Oldcastle forward who slotted to the net. Points were traded then on two occasions as Neil Shortall and a Sean Keogh '45' cancelled out two scores. Two further frees from Keogh had his side trailing by one at half time on a score line of 1-04 to 0-06.
Curraha got the dream start in the second half when Robert Reid punched the ball to the net after great work from David Coyle but Oldcastle responded with four unanswered points with the influential Paddy Gilsenan becoming more into the game. Another free from Keogh brought it back to the minimum but a fisted effort from Gilsenan was followed by another Oldcastle score. Suddenly the away side were four points to the good but Curraha were still in touch and were soon awarded a penalty after great work from Brian Joyce. There was a bit of aftermath and it was a few minutes later before Jack O'Connor could set himself up and the wait didn't seem to help him and his side came away with a point to bring the deficit back to three with ten remaining. A point from play from Keogh cancelled out a free from Oldcastle but as Curraha chased the game Oldcastle added their second major on the stroke of injury time and despite three late points from Andrew Coyle, Robert Reid and Phelim Dowling it was Oldcastle who came away with promotion still in their grasp.
Curraha: L. McCarthy, M. Phelan, P. Dowling 0-1, C. Joyce, I. Battersby, A. Coyle 0-1, G. Coyle, N. Shortall 0-1, B. Joyce, A. Battersby, S. Keogh 0-6, J. O'Connor 0-2, D. Coyle, R. Reid 1-1, E. McGovern 0-1. Subs: C. McCann for I. Battersby, J. Mangan for D. Coyle (BC)
Most Read Stories