FL Div 2: Second half goals deny understrenght Nobber
June 08, 2018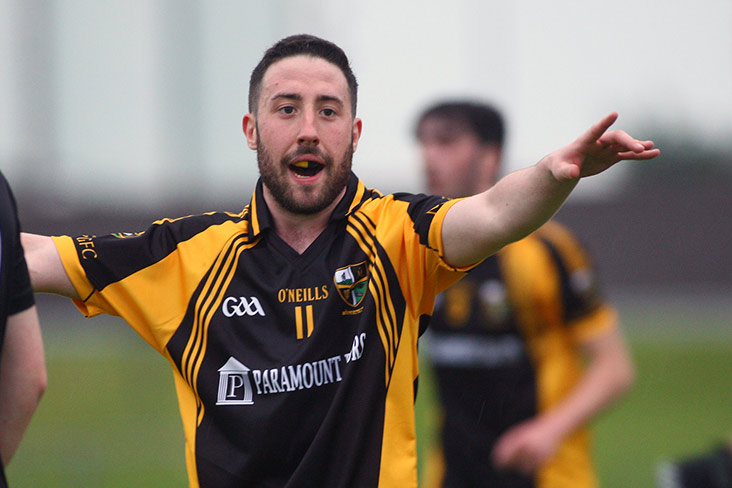 Nobber's Dale Larkin
Nobber  1-16 Castletown 3-11
An understrenght Nobber outfit put in a credible performance but just came up short in this Division 2A League match at Nobber on Thursday evening.
The concession of goals by Nobber in the 40th, 49th, and 51st minutes proved to be the catalyst were Castletown built their victory.
The first half was evenly enough contested as Nobber led by one at the break.N obbers top scorer in this period was Dale Larkin with 4 points aided by Karl Casserly  and Gavin Farrelly.
On the resumption Nobber were again to the fore through Larkin (2), Darren Lambe (2), Dean Halpin and Casserly and opened up a 5 point gap after 39 minutes.
But then the game took a dramatic change, first Castletown goaled in the 40th minute, Nobber replying  through a Casserly major but further goals and points for Castletown saw them lead by 3 going into injury time.
Nobber reduced the deficit to one through Fiachra McEntee and Larkin and indeed had a chance to draw level but a Larkin '45 went narrowly wide.
Nobbers other scorers in this second period were Larkin and,Ger Campbell. The home teams  problems were further compounded with injuries to Jack Condra, Eanna Fagan and Gavin Farrelly.
Nobber scorers: Dale Larkin 0-8, Karl Casserly 1-2, Darren Lambe 0-2, Gavin Farrelly, Dean Halpin, Ger Campbell and Fiachra McEntee  0-1 each
Nobber: D Hutchinson, E Fagan, D Halpin, B Cassidy, S O Brien, P Meade, G Campbell, A Farrell, J Condra, D Larkin, F McEntee, D Lambe,T Murtagh, G Farrelly, K Casserly. Subs: Declan Shields for Condra (Injured), Dara Cassidy for Farrelly (Injured), Gordon Weldon for Fagan (Injured)
Most Read Stories