B FL Div 4: Ultans dig deep
May 16, 2018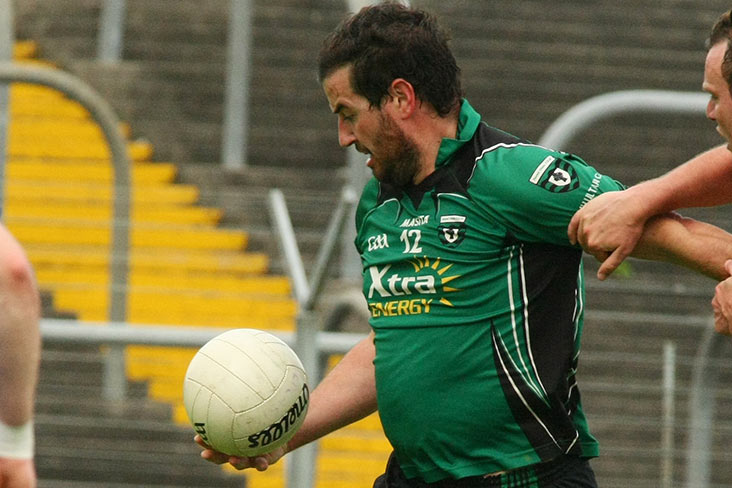 St. Ultans Paul Murray
St Ultans 2-14  Moynalty 2-12
St Ultans took on Moynalty in this division four B-league game on a lovely Tuesday evening in Sean Newman Park.
It was the home side who opened the brighter. Full-forward Tadgh Ratty continued his good scoring form by scoring an early goal. Moynalty replied with two points. Ultans pushed and pushed but kicked bad wides. Eventually the period of dominance was rewarded with three points, Lee Hennessy and Stephen Quirke, two, getting the scores.
Moynalty then had their own phase of dominance where they scored 1-1 without reply. Ultans responded well with points from Eoin Kavanagh and Tadgh Ratty. Moynalty rallied before half-time though reeling off the final three points of the half. It could have been worse for the home side only for a fine save by Keith Hennessy in goals.
That left Moynalty one up at the break, 1-07 to 1-06.
Ratty was at it again at the start of the second half scoring the first point. Ultans faded out of the game for the next ten minutes, failing to score. Moynalty took advantage scoring 1-02 without reply. Ultans dug in though with great work from the likes of Paddy McLoughlin, Luke O'Reilly and Kevin Galligan. Ratty's second goal of the game plus a point from Kevin Rogers stopped the rot.
The two teams went point for point heading into the final minutes of the game. Ultans had the advantage of bringing on experienced subs like Declan Galligan, Paul Murray and Greg McKeever. The subs worked a treat. A point from Paul Murray levelled the game and the point to sneak the men in green and black ahead was scored from a free by Eoin Kavanagh. Paul Murray scored the insurance point deep into injury time.
Moynalty had one last attack to snatch the win. A high, long, looping ball landed into the Ultans square and it was Man Mountain Shane Mulroe who went highest to catch the ball and was fouled on his way out, much to the relief of everyone involved.
Full time score St Ultans 2-14 and Moynalty 2-12.
Next up for St Ultans are Clann na nGael in the A-league on Sunday and Dunderry in the B-league on Monday evening.
Best wishes to Alan Martin on his recovery as well after a nasty looking injury.
St Ultans: Keith Hennessy, Eoin McLoughlin, Darren Mallon, Shane Mulroe, Lee Hennessy (0-01), Alan Martin, Luke O'Reilly, Kevin Galligan (0-01), Stephen Quirke (0-03), Paudin Boggins, Ciran Rogers, Eoin Kavanagh (0-03, 2 frees), Paddy McLoughlin, Tadgh Ratty (2-4), Kevin Rogers Subs: Greg McKeever for Martin, Declan Galligan for C Rogers, Paul Murray (0-02) for Boggins.
Moynalty Report
MOYNALTY 2-12, ST ULTAN'S 2.14
Moynalty played St Ultan's in B League on Tuesday 15th May.
Moynalty had just the 15 players for this league game. St Ultan's got an early goal, was replied to quickly by Moynalty with Christy Cahill and Gavin Lynch getting a point each. This game was close the whole way through. Ultan's got three unanswered points. Kyle Cussen & Paddy Byrne got a point each back, before Christy Cahill got a goal to put Moynalty one ahead. Both teams got three points each scorers for Moynalty were Christy Cahill (2), Kyle Cussen (1), Moynalty were one point ahead again going in at half time Moynalty 1-07, St Ultan's 1-06. 
The second half was much the same with both teams sharing point for point and a goal each. Moynalty scored 1-05, to St Ultan's 1-08. Moynalty scorers Paddy Byrne (1), Christy Cahill (1), Cathal Reilly (1-01), Gavin Lynch (2). Leaving full time score Moynalty 2-12, St Ultan's 2-14. 
Moynalty scorers: Christy Cahill 1-04, Cathal Reilly 1-01. Gavin Lynch 0-03, Kyle Cussen 0-02, Paddy Byrne 0-02.
Moynalty: Shaun Nevin, Richard Gilsenan, Alan Brogan, Matthew Mc Kenna, Michael Collins, Niall O' Connor, Barry Nevin, Paddy Byrne, Damien Coldrick, Gavin Lynch, Christy Cahill, Adrian Maguire, Kyle Cussen, Cathal Reilly, Adrian Lynch. 
Most Read Stories