FL Div 2: All square in Castletown
May 16, 2018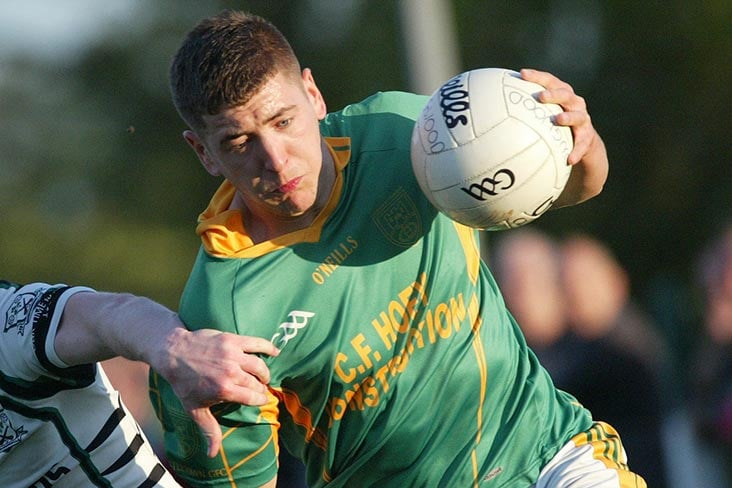 Castletown's Declan Cribben
Castletown 1-09 Dunderry 0-12
Castletown recorded their second draw in a row in the All County League Division 2 played in ideal conditions at Castletown.
The home side started off on the front foot and were ahead 1-01 to no score after 5 minutes with scores from Kevin Ross (0-01) and Declan Cribbin (1-00). Dunderry then scored their first point of the game and Shane Hoey replied with Castletowns second point. Darren Finney got on the scoresheet with Castletowns third point while Dunderry kicked a free and scored a point from play to leave the score 1-3 to 0-03 with almost twenty minutes played. Castletown scored three unanswered points (Shane Hoey, Kevin Ross and Darren Finney - scorers) Castletown were dealt a blow when young full back Evan Hoey got his second yellow card. Dunderry ended the half by scoring a free to leave the half time score 1-06 to 0-04.
The home side came out in the second half and scored two points one from a free (Kevin Ross) and the other from play (Darren Finney). Dunderry then hit their purple patch and scored 7 unanswered points to leave the game level with 62 minutes gone. It looked as if Darren Finney had given Castletown the win when he scored his fourth point with 64 minutes on the clock but Dunderry had other ideas as they levelled the game again in the 66th minute with a point from play. The full time score was 1-09 to 0-12.
Castletown: Jonathan Ginnitty, Jamie McMahon, Evan Hoey, Stephen Duffy, Noel Smyth Gerard Farrelly, Paul Cribbin, Damien Ginnitty, Shane Hoey (0-02), Wayne Donegan, Declan Cribbin (1-00), Darren Finney (0-04 (1f)), Kevin Ross (0-03 (1f)), Francis Hoey and Mark Kelly.
Subs: Killian Markey for Jamie McMahon (Halftime) and Robbie Hoey for Francis Hoey (47 minutes)
Dunderry Report
Castletown 1-09 Dunderry 0-12
Dunderry were looking to bounce back from the defeat to Syddan in round 7 of the League with a re-arranged trip over to Castletown this week. A mild evening greeted the players with a heavily sanded pitch having an effect on the play in the very well turned out grounds in Castletown. Dunderry were without the suspended Aaron Newman and county men Paddy Kennelley, Luke Martyn & Conor Dempsey. Colm McManus was on ref duty.
Castletown stormed into an early lead and were 1:01 to no score ahead after 5 minutes. Dunderry replied through Jordan Martin, though things did not look promising. Some excellent possession play lead to the score of the game from Shane Hoey put Castletown further ahead. Dunderry replied with scores from Dermot Kelly (free) and another fine strike from Martin leaving it 1:03 to 0:03 after 20 mins.
This was followed by three unanswered points from the home team leaving Dunderry further adrift. The heavy pitch took its toll on Liam Dempsey who retired early with a hamstring injury. Coming up to half time, ref McManus showed the Castletown full back his second yellow card. Stephen Coogan had been a handful all evening, and things began to look promising for the black and whites. Coogan ended the half with another point leaving the scoreline 1:06 to 0:04.
Castletown started the second half in great form clipping over 2 points to leave the small travelling crowd wondering where we would get a break. The extra man was beginning to tell however, and the next 7 points went to Dunderry drawing level on 62 mins. Coogan (3), Kelly (2) & Martin (2) would share the Dunderry scores. Castletown were not finished however, and Darren Finney capped a very impressive outing by tagging on a fourth score to look like sealing the points until 2017 player of the year Alan Watters popped up on 66 mins to level the scores for the last time.
All over in Castletown and the points were shared. An opportunity lost to get the 2 points, but with the equaliser coming 6 mins into overtime, no one can complain. Dunderry's star men were O'Shea, Watters, McCormack, Coogan & Martin with Martin Garry showing very well when introduced early on.
In this month of May madness with the games coming thick and fast there won't be long until round 9 of the league away to Rathkenny.
Dunderry: D Jennings, A Feeney, C O'Shea, R Brady, D McCormack, M Callaghan, E Dempsey, L Dempsey, C Farrell, O Martin, D Kelly (0.3), A Watters (0.1) , J Martin (0.4) , S Coogan (0.4) , M Kane. Subs: M Garry for L Dempsey, J Brady for O Martin, K Bruton for M Kane, Michael Garry for M Garry
Most Read Stories