B FL Div 4: Second win for Simonstown
May 16, 2018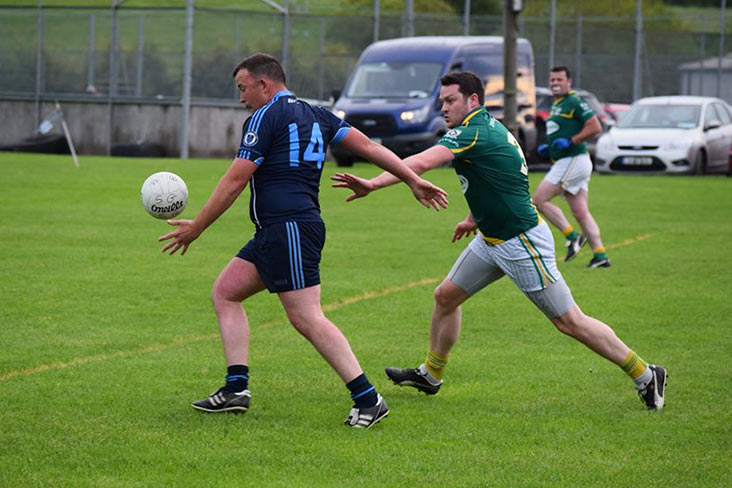 Simonstown's Brian Brady shoots against Cortown during the B FL Div 4 clash at Simonstown.
Simonstown 0-17 Cortown 0-6
Simonstown had 11 points to spare over  Cortown in this B league Division 4 clash. The game was played in windy but dry conditions.
Simonstown gained the advantage of the wind from the coin toss and found themselves with possession througout the first half. However the Gaels were ponderous in attack throughout the first half and only for Ben Tracey and Shane McEnery they may have found themselves with less of a winning margin at half time. Tracey and McEnery impressed by taking responsibilty and by getting much needed scores.
The Navan men looked solid in defencees with Bary Fox and Robbie Quinn cutting out long balls from Cortown. The experience of Mick Fitzpatrick and Willie Stynes enabled Simonstown to lead from the back. Andrew Burlingham displayed powerful running but unfortunately picked up an injury before the half time mark. Score after a solid first half display with the wind was Simonstown 0-9 Cortown 0-2.
The Cortown men came out the second half and registered two quickfire points. However this would be their last points of the half with Simonstown taking control of the midfield battle. The Gaels used the tactic of running with the ball and Sean Gough was the most instrumental man for this tactic. Brian Brady was super in the full forward ,tracking up and down the pitch. Brady summed up Simonstown's Hunger and Desire by winning a 50/50 ball.
It was a hospital pass by Evan Burlingham in the goals but Brady ensured he was not going to be the one in hospital. Thankfully the Cortown player was fine but this moment was a hallmark of Simonstown's tenacious and steely display. Aaron O'Connell impressed in midfield and looks a real find for the Gaels this year. Barry Flanagan, manager, can also be happy with the huge numbers for the game. Unfortunately some lads did not feature but the hunger and encouragement from each player in the squad is something to be admired.
Next up for the Summerhill is Meath Hill away next Tuesday. 
Most Read Stories