B FL Div 3: Goals win it for Michaels
May 15, 2018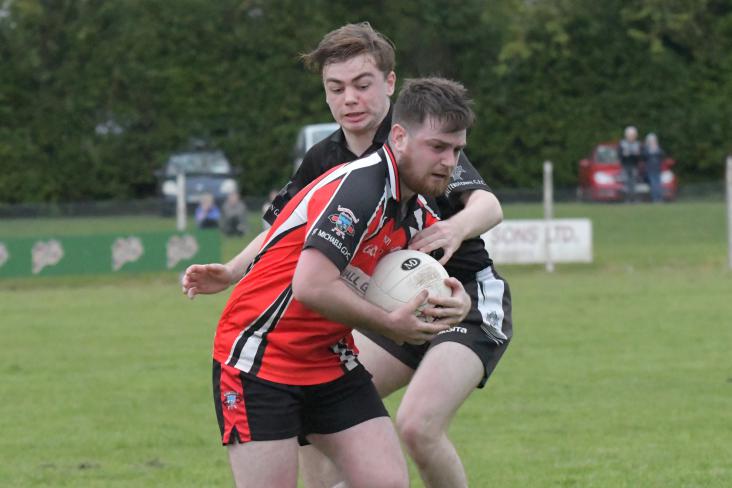 St. Michaels Kevin Cassidy with Stephen Davis Walterstown during the B FL game at Walterstown
St. Michaels 4-11, Walterstown 1-16           
There wasn't a lot in it for three-quarters of the proceedings in Walterstown last evening but a brace of goals in a 5 minute spell, both pile-drivers from Kevin Cassidy and Philip Rogers were the platform for the St. Michaels lads to go on and win with 4 points to spare.

St. Michaels who could only muster up 16 players for this fourth round match were full value for their win as all 16 players gave it their all to secure a hard earned victory. Although they made a very slow start and didn't get on the scoreboard until the fourteenth minute with a nicely taken point from the boot of Mark Stafford by which stage the home side had 1-3 on the board. Then two goals, the first from the penalty spot from Paddy Tobin turned the game on its head and a point apiece from substitute Philip Rogers, Ben Farrell (free) and Tobin gave St. Michaels a slender 2-4 to 1-6 interval lead.                                
Philip Rogers who had made an immediate impact to the game on his first half introduction split the posts two minutes into the second period however the home side drew level four minutes later before Kevin Cassidy smashed home his sides third major to regain the lead once again. Four minutes later Rogers raised another green flag for a four point lead. Walterstown kept plugging away and whittled the deficit down to just two points with 10 minutes remaining however St. Michaels had other ideas and Farrell, Tobin and Cassidy each added two notches to their bedposts for a six point lead which they never relinquished although Walterstown did pull two back to complete their scoring.       
St. Michaels: Gavan Sweeney; Scott Doyle, Daithí O'Reilly, Harry Dunne; Ciaran O'Reilly, Patrick Clarke, Ben Reilly; Mark Stafford (0-1), Jason O'Donnell; Patrick Tobin (2-3), Kevin Cassidy (1-2), Rory O'Driscoll; Ben Farrell (0-3), Paddy Callaghan, Lee Morris. Sub: Philip Rogers (1-2) for P. Clarke 24 minutes.                                                              
Referee: Paul Mooney.       
Report and photo: Pascal Reilly.
Most Read Stories