B FL Div 1: Gaels withstand late Gaeils rally
May 15, 2018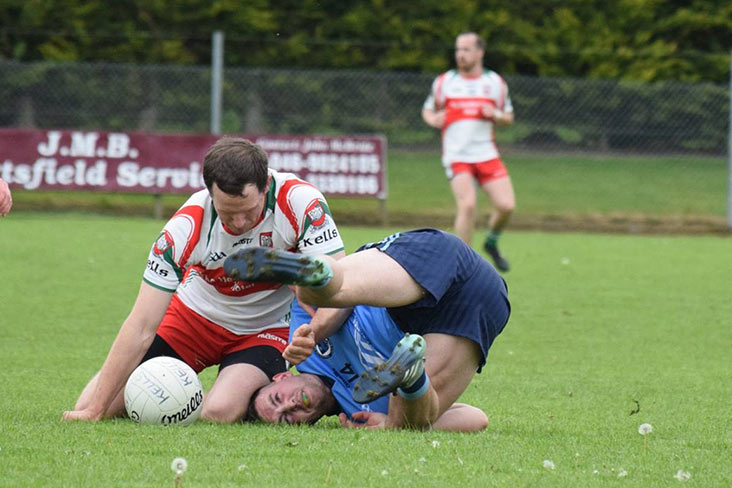 Gaeil Colmcille's Mickey Foley with James Heaney Simonstown during the B FL Division 1 clash at Simonstown. Pic courtesy Simonstown Gaels GAA
Simosntown Gaels 3-17 Gaeil Colmcille 2-16 
Simonstown were well in control of this B League Division 1 contest for large parts of the game but a late Kells fightback left it uneasy for the Gaels.
The Gaels started better with a Micky Brennan goal after just 4 minutes. Brennan rattled the top corner giving the Kells keeper James Flanagan no chance. The Gaels extended their lead through our potent corner forwards Chris O'Neill and Andrew Kearney. Kearney and O'Neill amassed 9 points for the first half and this meant the Gaels were well on top. Ben Hoey finished expertly at the near post to give Simonstown a commanding and what looked like an insurmountable lead. Scoreline after a very good first half display was Simonstown 2-11 Gaeil Colmcille 0-8.
The Navan men quickly began the second half in the same manner as the first. O'Neill added to his tally with a Thierry Henry like finish, opening up his foot and finishing past the holpless James Flanagan. In truth Simonstown should have been well out of sight but for the shot stopping abilities of Flanagan in the Kells net. The Kells men never gave up and were rallied by their supporters. barry Farrelly scored a goal near the death which gave the Kells men hope and Simonstown ere beginning to panic. Unforced errors were getting punished and remarkably the Kells men outscored Simonstown by 10 points in the remaing 20 minutes. This meant the Simonstown men were holding on but the calmness and leadership of Ian O'Rourke, Joe Lyons and Micky Brennan ensured that Simonstown got the well deserved points.
Simonstown: Gary Lynch, Robbie Quinn, Colin Wickham, Stephen O'Reilly, Ian O'Rourke, Eanna O'Donoughue,Aaron Geraghty, Micky Brennan (1-0), Dean Curran, Shane McHugh (0-1), Ben Hoey (1-1), Joe Lyons (0-2), Andrew Kearney (0-7), James Heaney (0-1), Chris O'Neill (1-2 (1 free). Subs used - Alex Brady  (0-1) for Shane McHugh, Cillian Farrell for Robbie Quinn, Andrew Burlingham for Chris O'Neill.
Gaeil Colmcille Report
Simonstown 3-17 Gaeil Colmcille 2-16
In what was an very enjoyable attacking game of football, Simonstown came out the better side of this 38 score thriller in this B League Division One fixture in Navan on Monday evening. 
Simonstown forwards were proving to be a handful for Kells when in the opening four minutes they scored 1-01 without to a Kells point from Gary Arkins. Simonstown lead was growing throughout the first half and only for some accurate shooting from Arkins (who promised his 6 year old he'd score 1-05) kept Kells in the game. Another goal 16 minutes from Simonstown seen daylight between the sides and they would go into the break 2-11 to 0-08 to the good.
Like the first half Simonstown were out of the blocks the quickest and a goal within the opening 30 seconds looked like lights out for Gaeil Colmcille. James Flanagan produced what looked a certain goal when the Simonstown player looked to tap the ball into an open net only for Flanagan to save on to the crossbar. On 40 minutes there was 15 points between the sides before Arkins got Kells First goal of the match. This started a revival and with points from Evan Sheridan, Barry Farrelly (2) saw the scoreline become respectable, A cry out from Farrelly of the 90s classic tune by Grace "It's Not Over Yet" seemed to lift the Kells men. Arkins went on to make the sons day when he pointed his fifth point of the match, and when Farrelly pounced on a free kick that dropped short the unlikely comeback seemed on. A sixth point by Arkins left four between the sides and a last minute free kick into the square came to nothing and meant that it would be Simonstown that would take the two points on offer. Overall a good attacking performance by Kells who had nine different scorers on the night. 
Gaeil Colmcille: J Flanagan, C Arkins (0-01), M Foley, O Carolan, A Muldoon, D Muldoon (0-01), C Courtney (0-01), E Sheridan (0-01), S Bennett, S Reddy, D Roche (0-02), N Williams (0-01), B Farrelly (1-02), G Arkins (1-06), G McGovern. Subs: E Doogan (0-01), E Ryan, D Tormay.
Most Read Stories