HL Div 1: Holders back on track
May 14, 2018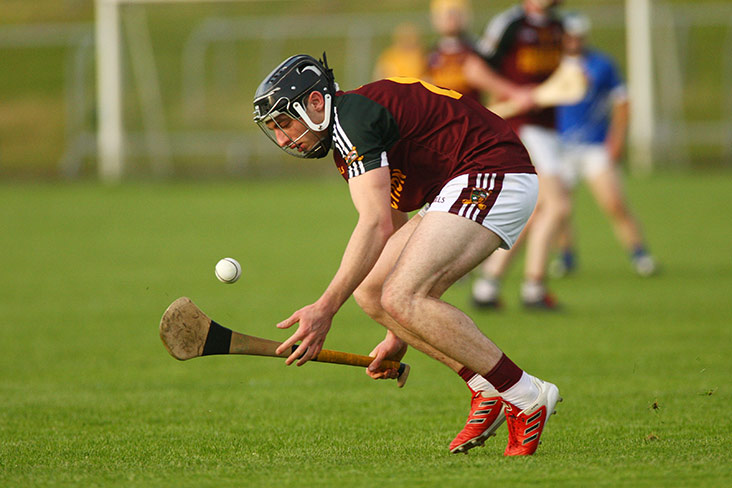 Kiltale's Anthony Forde
Kiltale 4-17 Kilyon 0-7 
Kiltale got their league campaign back on track with a very impressive display against Killyon at a wet Kiltale.
The O'Growney Cup holders started brightly with points from Ross Ryan, Anthony Forde, Peter Durnin and Fergal McCabe. Kiltale controlled the early play and created a lot of scoreable chances and converted most of them with slick passing moves and confident finishing.
The Kiltale backline were solid throughout with good displays from captain Philly Garvey, Iarla Hughes, Ennis and Sean Dunlevy. The half back line of Conor Shirren and Ronan Ryan were solid under the aerial ball and ensured a good supply of ball into the threatening Kiltale forwards.
Kiltale finished the first with three goals two from McCabe and one from Ross Ryan. The sides exchanged scores early in the second half and for the following 10-15 minutes until Kiltale began to pull away with well taken points from Durnin placed balls to extend the distance between the two sides.
Stephen Donoghue and Benny Dixon battled hard in the half forward line along with Lenehan Kiltale were in cruise control all the way and got some fantastic scores Both sides were missing players due to inter county commitments. Anthony Forde back at midfield and he looked very sharp and played very well and Kiltale's other county players, football and hurling, were on the line doing water and sticks which was great to see. David Troy and Padraig Donoghue should be very pleased with the performance which was the best so far this year
Kiltale: O Regan, I Hughes, P Garvey, C Ennis, C Shirren, Ronan Ryan, S Dunlevy, A Forde, E Ryan, S Donoghue, P Durnin, B Dixon, Ross Ryan, S Lenehan, F McCabe.
Most Read Stories