U16 HL Div 2: Rathmolyon remain unbeaten
May 14, 2018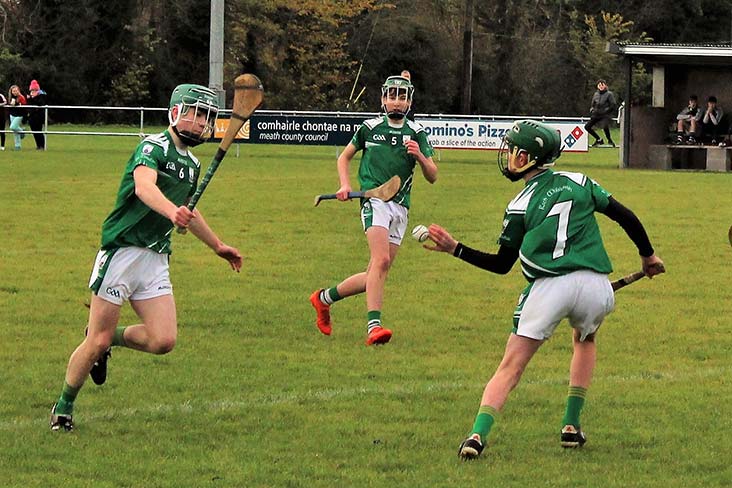 Rathmolyon were too strong for Boardsmill
Rathmolyon  7-20 Boardsmill  1-12
Rathmolyon have sealed the top spot in the qualifiers taking maximum points from the five rounds with another big scoring win, this time over neighbours Boardsmill in Boardsmill.
The 'Village' got off to a flying start from the word go with Kevin Mulligan opening the scoring. It was a hot morning with the sun beaming down on the home goalie in the first half which Rathmolyon were able to use to their advantage. Boardsmill lost one of their strong players Niall Bagnell in the first half due to injury which didn't help their cause.
Rathmolyon came in at the half with a score of 2-14 to 0-03. The second started where the 1st left off with Rathmolyon scoring a further 5-06. Boardsmill came back with a late flurry of scores getting 1-09 but it was too late to catch the 'Village' at that stage. Final score 7-20 to 1-12.
Rathmolyon: Ryan Douglas (Capt.), Thomas Cullen, David Cosgrave, Sean Maguire, Robert Ennis (0-01), Jamie Doonan (2-01), Gavin Halton (1-03), Sean Mulligan, Evan Keogh, Ben Morgan (1-03), Kevin Mulligan (0-09), Mark Hennessey, Val Griffin, Eoin Grehan (3-03), Dylan Doonan, Robert Morgan.
Most Read Stories