SFC: Late, late Sheridan penalty denies Dunshaughlin
April 23, 2018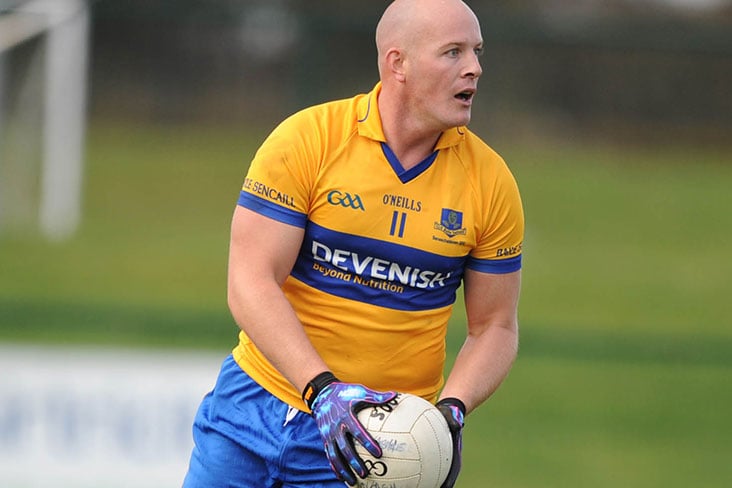 Seneschalstown's Joe Sheridan
Seneschalstown GFC 2-7 Dunshaughlin  1-8
Similar to the junior game that preceded this was a game of two halves with the wind.
Seneschalstown got off to a quick start with points from play by Bryan Clarke and Dylan Keating. This was followed by a pointed free by Brian Sheridan. Dunshaughlin registered there first point before Adam Carey extended the Yellow Furze lead to three. Bryan Clarke pointed but before the break Dunshaughlin hit 1-2 to take a 1-5 to 0-5 lead to the dressing rooms.
The winners got a great start to the second half with a Clarke point quickly followed by a goal from Dylan Keating.
Dunshaughlin levelled matters soon after. Stephen Finnegan pointed from play to push his team in front again. Dunshaughlin went a point ahead as injury time loomed but Seneschalstown created one more chance.
After a scramble in the penalty area the referee consulted with his umpires and awarded a penalty. Joe Sheridan took responsibility and his powerful drive down the middle rattled the Dunshaughlin net to earn Seneschalstown their first victory of the campaign.
Seneschalstown scorers: Dylan Keating 1-1, Bryan Clarke 0-3, Joe Sheridan 1-0, Brian Sheridan, Adam Carey and Stephen Finnegan 0-1 each
Seneschalstown: David Gordon, Mark Fox, John Smith, Brian Maguire, Niall Groome, Joe Cowley, Niall McCabe, Niall Hickey, Stephen Finnegan,  Adam Carey,  Joseph Sheridan, Bryan Clarke, Cathal Finnegan, Brian Sheridan, Dylan Keating. Subs: James Meade for Brian Sheridan, Sean Noonan for Joe Cowley, Robert Wogan for Niall McCabe, Niall Lyons for Cathal Finnegan 
Dunshaughlin Report
Dunshaughlin 1-08 Seneschalstown 2-07
A Joe Sheridan penalty with the last kick of the game gave Seneschalstown a two-point victory over Dunshaughlin in round two of the SFC, played in windy conditions in Ashbourne.
Dunshaughlin thought they had done enough when Cian Gallogly slotted over a close range free with time up. However, referee David Gough gave Seneschalstown one more chance. A free was awarded, which the referee moved forward. The free was taken and hit the post. A goal mouth scramble occurred and to the surprise of most people in Ashbourne a penalty was given. On the kickout Gough blew the full time whistle.
Dunshaughlin can feel hard done by, but the truth is, they never really got into a rhythm throughout the hour. There were a number of changes to their line up from their round 1 defeat to Simonstown. Playing with the strong breeze, the black and amber men missed many chances early on. Ball handling, shot selection and passing was poor. Seneschalstown to their credit worked hard as they played against the elements and scored 5 first half points with Joe Sheridan getting on plenty of ball around the middle. Dunshaughlin relied on frees in the early part of the game until Tommy Johnson found the back of the net to give them a boost coming up to half time.
Seneschalstown began the second half well and scored a goal to get them back in contention. Dunshaughlin struggled against the wind and didn't create a whole lot. They only managed one point from play in thirty minutes. Two Cian Gallogly frees looked to have won the match for Dunshaughlin but then came the controversial decision from the referee and up stepped Joe Sheridan to smash the ball to the net. A poor, lacklustre display leaves Dunshaughlin with an uphill battle for the remainder of the year.
Dunshaughlin: A. Smith, A. Doyle, C.King, O. Foley, D. Dunne, R. Geraghty, N. Murphy, R. Maloney, B. Duggan (0-1), T. Johnson (1-2), A. Kealy, T. O'Dushlaine, S. Gallogly, F. Toolan, C. O'Dwyer (0-3). Subs: C. Gallogly (0-2), W. Goodwin, M. Moyles, J. Crimmins, E. Casserly
Most Read Stories