IFC: Ballinabrackey with three to spare
April 23, 2018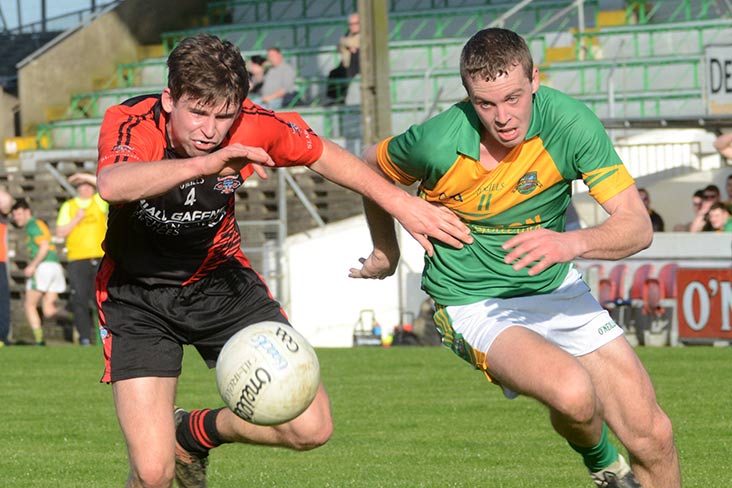 St Michaels Sam Briody and Danny Quinn Ballinabrackey in a race for possession during the Meath IFC game at Pairc Tailteann.
St. Michaels 3-10, Ballinabrackey 3-13          
St. Michaels travelled to Pairc Tailteann seeking their first win of the campaign against a Ballinabrackey side looking for two wins from two on Saturday evening last.
Playing into a stiff cross wind St. Michaels started on the front foot with a very early point on 30 seconds from Peter O'Connell but it didn't take Ballinabrackey too long to find their feet adding 1-2 in a five minute spell, the goal coming after a good run from midfield. Ray Reilly and Oran Meehan brought it back to a two point game after ten minutes play, however three minutes later the St. Michaels defence was carved open as Ballinabrackey sent home their second major for a six point lead. They added a further three unanswered points before luck changed for the men in black and red, a rasping shot from Shane McDonnell came off the upright and fell kindly for Davy Lynch to blast to the back of the net. O'Connell, McDonnell and Ciaran Lynch all added unanswered points to cut the deficit to to two points at the break, St. Michaels 1-6, Ballinabrackey 2-5.
The Brack's got off the mark in the second half with a point straight from the throw-in and they restored their six point lead when bagging their third goal two minutes later. Oran Meehan made good work for his second point after receiving from O'Connell and some good pressure from St. Michaels paid off with Ciaran Lynch finding the net on 36 minutes however they fell apart for the next 15 minutes as Ballinabrackey fired over four unanswered points to lead by six entering the final 10 minutes. Lynch stopped the rot momentarily with a pointed free but the Brack's came back at them again adding their final 4 scores of the match. As the game entered injury time Ray Reilly split the posts with his second point, Ciaran Lynch converted another free and as his side battled to the end they were rewarded with their third goal as both sides scrambled to gain possession in the Ballinabrackey goalmouth Alan Reilly snuck in unnoticed to send the loose ball over the line but it was all too little too late as Jack Gordon blew the long whistle on the resulting kick-out.
St. Michaels: Darren O'Connell, Alan Reilly (1-0), Jamie Reilly, Sam Briody, Christopher Drew, J. B. O'Reilly, Matthew Halpin, Shane McCormack, Peter O'Connell (0-2), Cian Sheridan, Ciaran Lynch (1-3), Davy Lynch (1-0), Oran Meehan (0-2), Shane McDonnell (0-1), Ray Reilly (0-2). Subs: Ciaran O'Reilly for O'Reilly, Philip Rogers for McCormack, Ben Tobin for Sheridan.                                                                                    
Referee: Jack Gordon.
Report and photo Pascal Reilly PRO.       
Most Read Stories