SFC: 'Hill' goalfest downs Skryne
April 23, 2018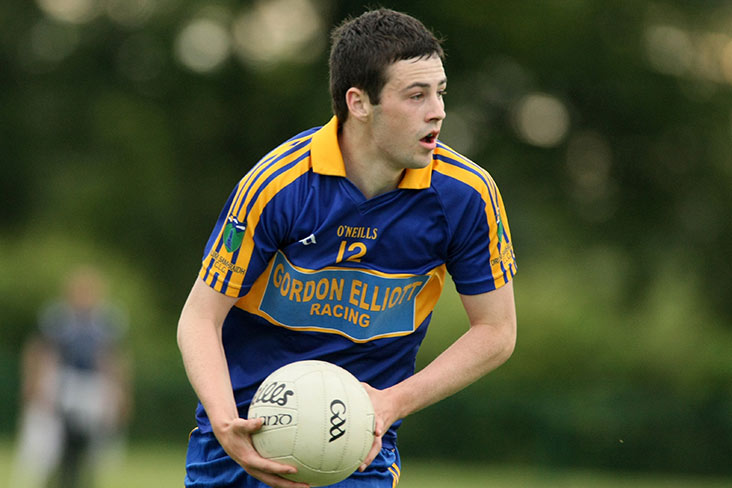 Summerhill's Conor Lyons
Summerhill 3-11 Skryne 1-12
John Lyons' men made the trip to Bohermeen for this Fairyhouse Steel SFC second round clash against Skyrne with sheer determination to put their loss in the first round behind them. This they did in an emphatic manner.
Skyrne started strongly scoring 1-1 in the opening two minutes, Summerhill were rattled. It took a Barry Dardis point to settle them but Skyrne pulled away and were 1-3 to 0-1 ahead when a David Larkin pass dropped to an on form Conor Freyne who fisted into the back of the net. This was the boost the Summerhill needed. Frees from Conor Lyons and a well worked point from Man of the Match John Keane on 25th minute had Summerhill leading 1-8 to 1-4 at the break. 
Skyrne began the second half with a point from the throw-in. The next attack for Summerhill resulted in a penalty after Barry Dardis was fouled. Up stepped defender Willie Ryan to convert the spot kick and the Hill lead was extended to 2-8 to 1-5. 
Points from play for Larkin and Dardis and Conor Lyons '  frees kept the Summerhill ahead of the ever chasing Paddy O'Rourke  who scored eight of Skyrne's points and Harry Rooney. 
John Lavelle and  Caolan Young's firm hold on the defence was invaluable in this tough encounter as was John Keanes phenomenal work rate.
Substitute Liam Shaw's goal in the last minute of the game was a fitting end as Summerhill earned a well deserved win.
Summerhill: T.McDonnell, J.Lavelle, W.Ryan(1-0pen), R.Ryan, P.Geraghty, C.Young, R.Ryan, M.Byrne, P.McGrath, J.Keane (0-1), D.Larkin (0-1), C.Lyons (0-6f), D.Dalton, B.Dardis,(0-3), C.Freyne (1-0). Subs: C.Devlin for John Keane 54, I.Hughes for P,Geraghty 57, L.Shaw (1-0) for C.Freyne 59
Skryne Report            
Summerhill 3-11 Skryne 1-12
Skryne travelled to Bohermeen today for their second game in this year's Fairyhouse Steel Senior Football Championship against Summerhill in front of a good crowd of supporters from both sides. There was a stiff breeze which favored Summerhill in the opening half, but overall didn't effect the outcome of the game. 
Skryne started off at lightning speed and had the Summerhill men reeling as they chalked up 1-01 inside the first minute of the game with Paddy O'Rourke grabbing the opening score, a point from play. Ciarán Lenehan fielded the kickout and offloaded to Darragh Campion who burst through the middle of the Summerhill defence and dispatched the ball low past the Summerhill keeper Tony McDonnell. Barry Dardis pulled one back for the Hill, but Skryne continued to overrun the Summerhill defence at this point and added a further 3 points from O'Rourke(2) and Campion again. Skryne were rampant at this stage. However, a pointed effort from Barry Dardis dropped dangerously into the Skryne penalty area where Conor Frayne was on hand to palm the ball to the Skryne net for a goal which finally settled the Summerhill men. The goal was quickly followed by points from John Keane and 2 pointed frees from Conor Lyons. All of a sudden the match was level and Summerhill were now the dominant team. Barry Dardis got his second point as Summerhill took the lead. 3 more pointed frees from Conor Lyons with no response from Skryne saw Summerhill close the half with a 4 point lead. Half time: Summerhill 1-08, Skryne 1-04. 
Skryne looked to have regrouped at half-time and opened the second half scoring straight from the throw in when the ball was fed to Mark Battersby who fired over a fine point to give Skryne hope of a fightback. However, they suffered a setback a minute later when Summerhill were awarded a penalty after Barry Dardis was fouled in the penalty area. Summerhill full-back William Ryan made the long run upfield and tucked the penalty away for Summerhill's second goal. A Conor Lyons free and a point for David Larkin extended Summerhill's lead to 8 and Skryne looked dead and buried. However, Skryne dug deep and chipped away at Summerhill's lead scoring the next 4 in a row from Paddy O'Rourke(2), a second for Batts and one for Skryne's best player Conor O'Brien. John Keane stopped the rot briefly for Summerhill but Skryne continued with their fightback as the game entered the closing stages with Batts registering his third and Paddy O'Rourke with 2 more, Skryne were beginning to believe that they could pull a victory out of the fire. However, a Summerhill counter-attack in injury time which resulted in a goal was the straw that broke the camel's back as Summerhill ran out winners on a scoreline of Summerhill 3-11, Skryne 1-12.
Skryne - Ian Gillett; Robbie Clarke, Eoghan Greene, Declan Morley; Stephen O'Brien, Donal Ryan, Eoin Smyth; Ciarán Lenehan, Harry Rooney; Conor O'Brien (0-1), Mark Battersby (0-3), Darragh Campion (1-1); Patrick Fox, Paddy O'Rourke (0-7, 5fs), Bryan Davis. Subs: Colm Craigie, David McGoldrick, Ronan McCabe
Most Read Stories