IFC: Bragging rights for the 'Hill'
April 23, 2018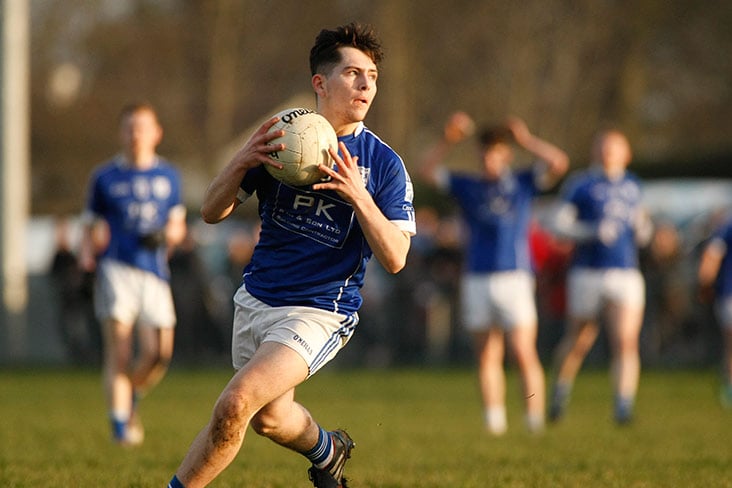 Meath Hill's Jack McMahon
Meath Hill 0-14 Syddan 0-8
A week after drawing with Kilmainham in their first game back in Intermediate, Meath Hill were convincing winners in this keenly contested local derby with Syddan, played in Drumconrath on Saturday evening.
From the first whistle, Meath Hill played with an intensity all over the pitch. Pierce McGrath and Jack McMahon combined for four first half points between them as the 'Hill led 0-7 to 0-5 at the break. Dominic Yorke, Tomas Smith and Ryan Carry accounted for the rest of the Meath Hill first half scores. 
As the first half, Meath Hill started the 2nd half in positive fashion and only some poor early finishing kept Syddan in the game.  However Meath Hill eventually made their superiority count and great scores by Tomas Smith and Tommy Rooney, along with further frees from McMahon and Carry meant the Hill ran out merited victors. 
The Meath Hill crowd showed their appreciation to the players at the end of the game and it really was a brilliant committed performance from a young team who showed they can more than hold their own at this level. 
Meath Hill: D Yorke (0-1), T Carolan, M Tully, C Marry, J Mooney, K Slavin, R Carry (0-4), K Ginnitty, R Owens, B Kieran, P Matthews, P McGrath (0-2), T Smith (0-2). T Rooney (0-1), J McMahon (0-4). Sub: D Boyle. 
Syddan Report
MEATH HILL 0-14 SYDDAN 0-8

LAST year's junior champions Meath Hill brought high-flying Syddan back to earth with a crash in this IFC tie at Drumconrath last Saturday evening.

The 'Hill produced a sparkling display of exciting football, especially in the second half, as they brushed aside the challenge of their neighbours in emphatic fashion

Syddan were unable to match the greater determination of their opponents who were sharper and faster in most aspects of the play.

The eventual winners raced into a 0-4 to 0-1 lead in the opening quarter before having to settle for a 0-7 to 0-5 lead at the break. They doubled that advantage in the third quarter and were well worthy of their six point margin of victory.

Syddan who are unbeaten in Division 2 of the league and comfortably defeated Drumbaragh in the opening round of the campaign were well short of their best throughout the hour. They never led at any stage and failed to make much of an impression on a well organised 'Hill rearguard, only managing three points in the second half, all of which came from placed balls.

A fine long range effort from Pierce McGrath had the 'Hill off the mark before Daire Rowe converted a free at the other end.

Keeper Dominic Yorke restored the lead from a long range free and McGrath and Jack McMahon added further scores before Syddan responded with successive points from Gary Farrelly (two) and Padraic Dillon to be level at 0-4 each.

Syddan added only one more point before the end of the half from Cormac Rowe while Jack McMahon, Tomás Smith and Ryan Carry were on target for the 'Hill.

Further points from McMahon (free) and Smith extended the lead by the 40th minute. Gary Farrelly had a chance of a goal for Syddan but his tamely hit effort was deflected out for a '45 which Daire Rowe converted.

Meath Hill's dominance stemmed from midfielders Keith Ginnity and Ryan Owens both of whom were outstanding while veteran Barry Kieran all got trough some great work in the middle third of the pitch.

As a unit the 'Hill rearguard also excelled and was well marshaled by Martin Tully and Kieran Slavin.

A Daire Rowe free was Syddan's only response to further points from Carry and McMahon and the lead stretched to six after Tommy Rooney opened his account.

Brian Dillon and Carry swapped scores before the final whistle and it's the Hill who go into the championship break much the happier of the teams with three points from their two outings so far.

MEATH HILL: Dominic Yorke 0-1f; Tomás Carolan, Martin Tully, Conor Marry; Paddy Matthews, Kieran Slavin, Ryan Carry 0-4fs; Keith Ginnity, Ryan Owens; James Mooney, Barry Kieran, Pierce McGrath 0-2; Tomás Smith 0-2, Tommy Rooney 0-1, Jack McMahon 0-4 (3f). Sub: Donnacha Boyle for Smith (60).

SYDDAN: Ciaran Farrelly; Mark Fedigan, Kevin Traynor, Kevin Garland; Jack Reid, Andrew Garland, Stuart Fedigan; Sean Clare, Cathal Dardis; Michael Fedigan, Daire Rowe 0-3 (2f, 1 '45), Graham Garland; Cormac Rowe 0-1, Gary Farrelly 0-2, Padraic Dillon 0-1. Subs: Ronan Mooney for Reid (33), Ryan Summersby for G Garland (42), Brian Dillon 0-1f for P Dillon (45).

REF: David Coldrick (Blackhall Gaels)
Most Read Stories