IFC: Ennis leads the way for Longwood
April 23, 2018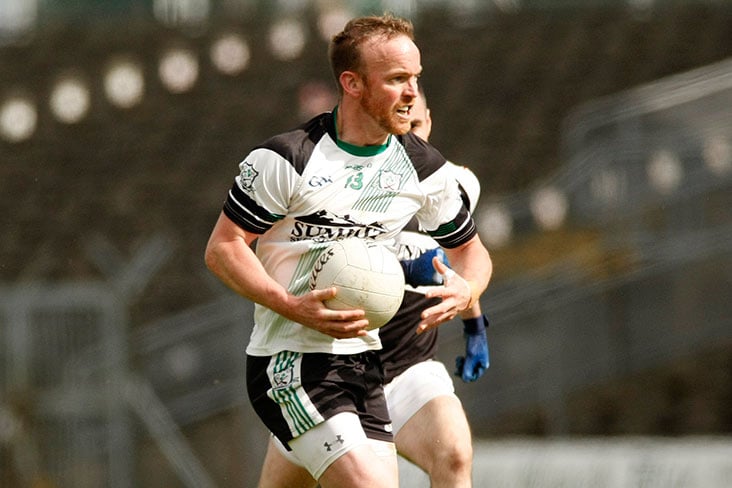 Longwood's Aaron Ennis
Longwood's good run in the Intermediate Football Championship continued with this two point win over Kilmainham palyed in ideal conditions at Paddy O'Brien Park.
Longwood 2-13 Kilmainham 2-11
Aaron Ennis was the toast of the Village ecoring two goals. The corner forward had the ball in the Kilmainham net in the opening minute with an assist from Wayne Leonard. Points from Ennis, Evan Coyle, Mickey Burke, Chris Lynch and Rtan Moore gave Longwood a 1-7 to 0-6 interval lead.
Ennis Moore and Eoin Lynch extended that lead early in the second half as Longwood opened up a nine point lead. Kilmainham came right back in to the game with two goals but Ennis' second major against  the run of play sealed the win for the Wood.
Best for the winners were keeper Darragh Maguire, Chris Lynch, Eoin Lynch, the Healy brothers Damien and Anthony, Mickey Burke Karl Ennis, Wayne Leonard and man of the match Aaron Ennis.
Longwood: Darragh Maguire, Joe Stenson, Damien Healy, John Furey, Bob Maguire, Eoin Lynch 0-1, Chris Lynch 0-1, Niall Mulvey, Anthony Healy, Mickey Burke 0-2, Ryan Moore 0-2, Evan Coyle 0-2, Aaron Ennis 2-6, Karl Ennis, Wayne Leonard. Subs Paul Gill for Leonard and Gavin Griffith for Chris Lynch
Most Read Stories