SFC: Dunboyne down champions
April 22, 2018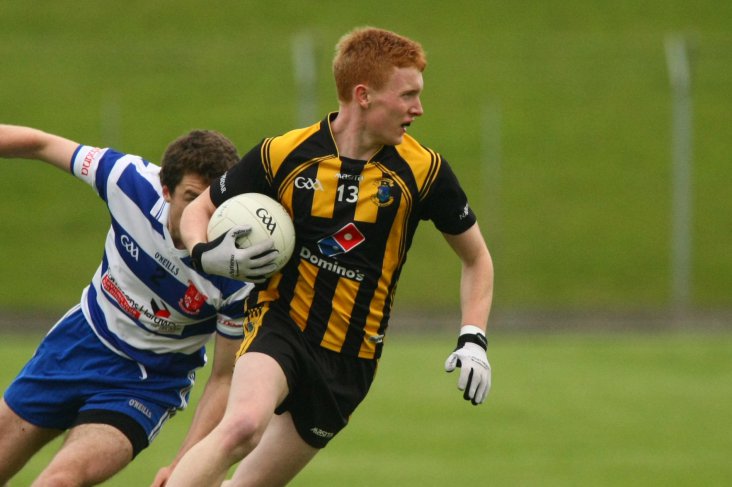 Dunboyne's Shane Comiskey
Simonstown Gaels 0-6
Dunboyne 1-12
Beautiful summer like conditions yesterday in Trim for this second round of the senior championship in group A. The game was played on the wonderful surface of Trim GAA. 
The first half was extremely tight with both teams trading blows and exchanging scores throughout. Dunboyne started quickly and had an early shot saved from Burlingham. Sean Tobin was inspired form for the Gaels in the first half. His long range shooting over the blanket of Dunboyne defenders was a particular highlight of the first half. Padraig McKeever was able to score from two frees. The pivotal moment of the first half occurred after 20 minutes when Donal Lenihan cushioned a ball down for the incoming Shane Comiskey who shot early past Robbie Burlingham. Donal Lenihan and Shane Gallagher had a great contest throughout with the Meath forward being very clinical from frees. At half time the Navan men were still in the game with Dunboyne 1-6 Simonstown 0-5.
Simonstown had great territory in the second half but found it difficult to break down the Dunboyne men. The Gaels made a lot of self inflicted errors and struggled to create space for shots. Things were made more difficult with the sending off of James Killcullen on the 48th minute. For that 18 minute period there was only 1 point scored between the two sides. All hope was evaporated when Dunboyne scored 5 points on the trot in the remaining moments of the game. Niall Kane registered Simonstown's first point of the second half in the 62nd minute. 
Dunboyne: C Flynn, C O'Dwyer, S McEntee, S Ryan, C Finn, G McCoy, C Lowndes, N Jones (0-1), D Gallagher, S Lavin, S Lowndes, L Byrne (0-1), R McCarthy (0-4), S Comiskey (1-2), D Lenihan (0-4, 1f).
Subs: M Dunne for L Byrne, J Donnelly for S Comiskey.
Simonstown: Robert Burlingham, Shane Gallagher, Stephen Moran, Niall McMahon, Brian McGrath, Brian Conlon, Niall Kane (0-1), James Kilcullen, Mark McCabe, Nicky O'Brien, Shane Barry, Mark Gardiner, Sean Tobin (0-3), Padraig McKeever (0-2 (f)), Nathan O'Brien. 
Subs: Chris O'Neill for Nicky O'Brien, Rory O'Connor for Shane Barry, Stephen O'Reilly for Brian Conlon, Joe Lyons for Nathan O'Brien.
Most Read Stories