IFC: Thriller in Carlanstown
April 16, 2018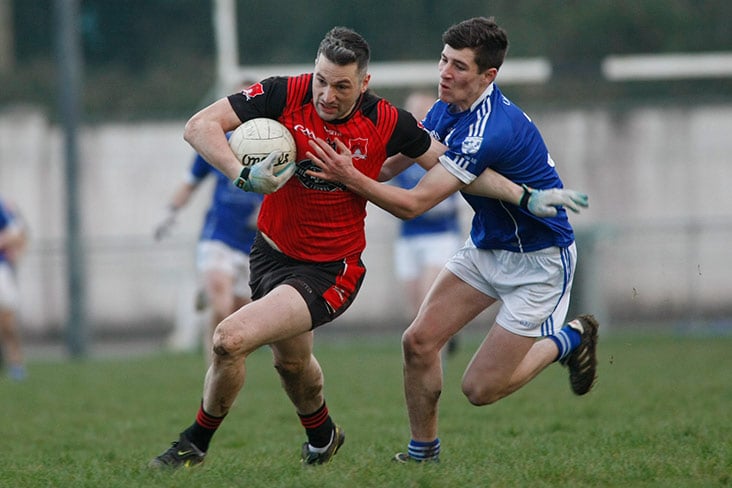 Kilmainham's Mickey Newman with Kieran Slavin Meath Hill during the Meath IFC at Carlanstown
Meath Hill 1-17 Kilmainham 3-11

Meath Hill and Kilmainham served up a thrilling IFC first round match in Carlanstown on Saturday evening. The Hill in their new surroundings since lifting the Junior title last year started the match with two quick points from Ian Malone and Tomás Smith. Kilmainham responded well with two points of their own. Jack McMahon was next on the scoreboard before Michael Newman found the net for Kilmainham in the 8th minute. Pierce McGrath and Keith Ginnitty slotted over the bar either side of a Kilmainham point. Ian Malone wriggled through the Kilmainham defence to hit the net in the 21st minute to leave the Hill 1-5 to 1-4 in front. Both teams finished the half four points each, the Hill's coming from Jack McMahon (2), Ryan Carry and Pierce McGrath.

Half Time: Meath Hill 1-09 Kilmainham 1-08

Jack McMahon got the first score of the second half with a pointed free. However it was Kilmainham who took a stronghold in the 3rd quarter of the game by adding 2-02 without reply to leave the score, 1-10 to 3-10 on 47 minutes. The Hill would then start to get to grips around the middle of the field aided by the large Hill following starting to find their voice. Another pointed free from McMahon would be the start of the Hill's revival with a total of seven unanswered points. The Hill's points coming from McGrath (3), McMahon, Barry Kieran and Tommy Rooney. The final Hill point coming in the 64th minute of the game. Everyone in Carlanstown was expecting the final whistle to follow, but this would not happen until the 69th minute of the game after the referee would give Newman a chance from a 50m free in front of the goal. Newman duly obliged for the Kilmainham men with the last kick of the game to level matters. 
Both teams provided a thoroughly entertaining affair on a very muddy surface. The Hill showed great fighting spirit to turn around a six point deficit in the final quarter. 
Next Saturday evening will see us taking on Syddan in Drumconrath. 

Meath Hill: Dominic Yorke, Thomas Carolan, Kieran Slavin, Conor Marry, Paddy Matthews, Martin Tully, Ryan Carry (0-01), Keith Ginnitty (0-01), Ryan Owens, James Mooney, Ian Malone (1-01), Pierce McGrath (0-05), Tomás Smith (0-01), Tommy Rooney (0-01), Jack McMahon (0-06, 0-04 frees). 
Subs; Barry Kieran (0-01) for Ian Malone, Donnacadh Boyle for Tomás Smith, Emmet Matthews for Tommy Rooney.
Kilmainham Report
Kilmainham 3-11 Meath Hill 1-17

Kilmainham and Meath Hill  played out a thriller in Carlanstown on Saturday evening.
Kilmainham started brightly and playing against the slight breeze in to the Clubhouse end and were 1-4 to o 0-3 up after fourteen  minutes with their goal and two points coming from Michael Newman. Meath Hill then found their rhythm and led at the break 1-9 to 1-8.

With further goals after the resumption from Michael and Mark Newman and with 12 minutes remaining  and leading by 6 points Kilmainham looked to be home and dry, but in all fariness to Davy Cahills men they never gave up and fired over  seven points on the trot to lead by one on the stroke of full time.
But cometh the hour cometh the man Michael Newman scored the equalising point with a free out of his hands from 48 mts.

Best for Kilmainham were; Michael Newman, Harry Newman, Mark Newman, Barry Lynch, Seanie Mahon  & Ger Morgan.

Kilmainham; Kevin Jordan. Joe Mahon Richie Brady Stephen Newman; Fergal Black Harry Newman Paul Farrelly; Barry Lynch Ger Morgan 0-1, Seanie Mahon Michael Newman 2-8 ( 0-6) frees Pat O Sullivan; Mark Newman 1-0 Freddie Newman 0-2 Shane Morgan. Subs; Shane Butler for Pat O Sullivan; Paddy Heneghan for Shane Butler (inj.) Pat O Sullivan for Ger Morgan (inj.).

Referee Pat Clarke Senechalstown.
Most Read Stories