IFC: All square in Drumconrath
April 09, 2018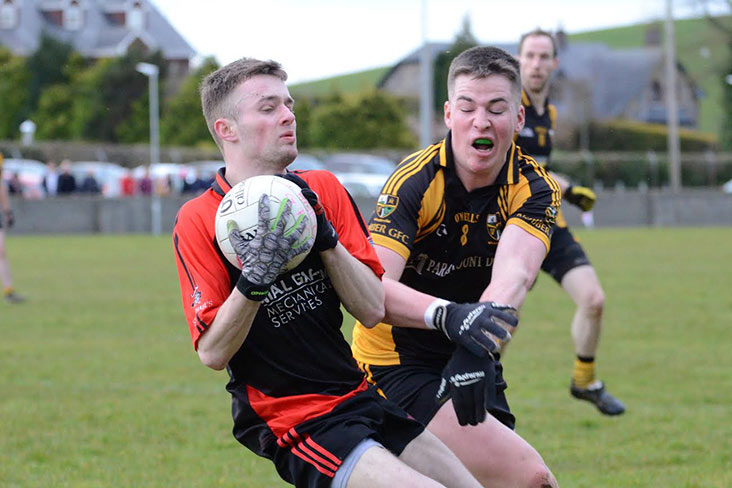 Alan Reilly gains possession for St. Michaels as Nobbers Jack Condra closes in during the Meath IFC game at Pairc Tailteann.
St. Michaels 0-09, Nobber 0-09          
St. Michaels clung on to a one point lead as the game entered injury time in heavy underfoot conditions in Drumconrath on Sunday evening last, however having won a sideline kick in the Nobber half of the pitch, for some strange reason they opted to play the ball back into their own half and with the greasy conditions that existed the inevitable happened, a Nobber turnover and they headed for Darren O'Connell's goal with haste and won a free that levelled the match in the third minute of injury time.     
This game will not live long in the memory of those in attendance, scores were hard to come by and conditions were difficult especially after the second half rain as the ball spilled and turned over with many unforced errors by both sides throughout the proceedings.  
Nobber were first out of the blocks with two points in the opening seven minutes, Shane McDonnell opened the St. Michaels scoring after been put through by Oran Meehan a minute later. Ray Reilly levelled matters with a great effort from out on the left. Ciaran Lynch opened his account with a pointed free at the end of the opening quarter. Ray Reilly stretched the lead to two points on 20 minutes, however Nobber replied immediately to reduce the deficit to a point. Peter O'Connell sent over a mighty effort from a '45, but again Nobber found the target before Ciaran Lynch converted his own free to leave it 0-6 to 0-4 to St. Michaels at the break.
Nobber opened the second half with two points to draw level for the second time but they failed to work the scoreboard operator for the next 20 minutes as St. Michaels posted three points all from Ciaran Lynch for a three point advantage with 14 minutes remaining. The momentum was then taken out of the St. Michaels sails with a stoppage for a J.B. O'Reilly injury, substitutions were made however although they had chances to put the game to bed it was St. Michaels turn to enter sleep mode as they failed to register another score while Nobber on the other hand whittled away at the lead and their perseverance paid off as they forced the St. Michaels lads into the error that led to the equalizer.
St. Michaels: Darren O'Connell, Alan Reilly, Jamie Reilly, Sam Briody, Christopher Drew, J. B. O'Reilly, Matthew Halpin, Shane McCormack, Peter O'Connell (0-1), Ben Tobin, Ciaran Lynch (0-5), Davy Lynch, Oran Meehan, Shane McDonnell (0-1), Ray Reilly (0-2). Subs: Cian Sheridan for Tobin, Ciaran O'Reilly for J.B. O'Reilly 50 minutes, J.B. O'Reilly for McCormack 57 minutes.                                                           
Referee: Hugo Whoriskey.
Report: Pascal Reilly PRO.
Nobber Report     
Nobber 0-9 St Michaels 0-9
Nobber put in a storming finish to share the spoils with their championship semi final conquerors from last year.
Down 3 points with 8 minutes to play Nobber dug deep and thanks to the accuracy of Jack Condra, Jordan Morris and Sean Meade who sent over the leveller they got a deserved draw.
Great credit is due to both teams for serving up football of the highest order in dreadful underfoot conditions.
Nobber were first on the board in the first and seventh minutes through Jordan Morris and Sean Meade. The Michael's replied in the 8th,11th,15th and 20th minutes to assume control. Fiachra McEntee and Morris again kept the scoreboard ticking over for Nobber before the Michaels scored 2 further points to go in leading by 2 at the break.
Indeed Nobbers plight could have been worse but for a brilliant save from goalkeeper Dary Hutchinson in the 21st minute.
On the restart Ger Campbell and Jack Condra drew the sides level,but the Michaels controlled the the following 20 minutes with scores in the 36th, 40th and 46th minutes before Nobbers fightback.
Nobber scorers: Jordan Morris 0-3, Sean Meade 0-2, Jack Condra 0-2, Fiachra McEntee 0-1, Ger Campbell 0-1
Nobber: D Hutchinson, S O Brien, E Fagan, B Cassidy, B Heffernan, P Meade, N Farrell, J Condra, T Murtagh, D Larkin, G Campbell, J Morris, S Meade, F McEntee, D Lambe. Subs: Brian Meade for Lambe, Aidan Shields for Larkin.
Most Read Stories