IFC: Donaghmore Ashbourne 2nd's complete great weekend for club
April 09, 2018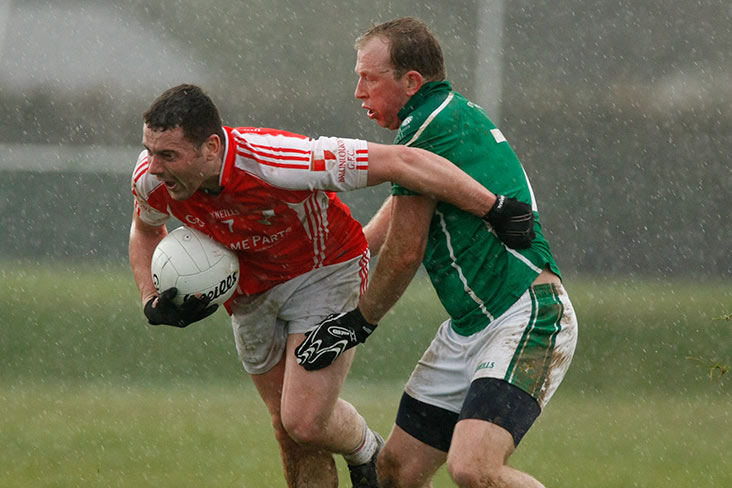 Ballinlough's Johnnie Reilly with Martin Lynch Donaghmore Ashbourne during the Meath IFC game at Sean Newman Park
Donaghmore Ashbourne 1-9 Ballinlough 0-11
Donaghmore Ashbourne 2nd team started preparations for this 1st round IFC game by warming up on a mini all weather Astro turf surface at Sean Newman Park Bohermeen. The clubs second string were hoping to follow their seniors after their narrow win over Seneschalstown.
The pitch was very wet and in truth barely playable and this was reflected in the amount of handling errors, dropped balls and 'accidental' collisions during the course of the game. Despite the unorthodox preparation it was the Moores who struck first with two points from play by Stephen Carton within the first 2 mins of the game with Ballinlough responding with a point from play of their own a minute later. The game ebbed and flowed for the next ten minutes with few chances until points from Sam Benville and Faolan Smyth in the 12th and 14th minutes extended the Don Ash lead.
Ballinlough struck back with a move resulting in a point which was quickly replied to by Smyth again raising the white flag. Ballinlough rallied and converted two frees in quick succession either side of a great stop by Danny McShane. Don Ash went down the field and Carton pointed again from a free. Ballinlough did not give up and pressed again earning a kickable free at the end of the half to leave the minimum between the sides at the break 6 points to 5.
Don/Ash struck first in the second half with a free kick from young Carton's trusty boot after 34 mins but Ballinlough rallied and fired off a brace of scores to keep in touch. The rain started to came down again and 41 minutes in, a Ballinlough attack broke down and Don/Ash countered at speed with good inter play between Sam Benville and David Carey setting up Carton to finish to the net. A couple of robust challenges from Ballinlough failed to slow the Ashbourne town side down and Ciaran Ellis tagged on another point from play to put Don/ Ash 1:08 to 0:07 ahead. Ballinlough responded and fired over another from play only to see it equalled by Kevin Fenton's flawless effort. 4 points ahead and 10 minutes to play Don/Ash were in control but Ballinlough did not give up easily. They managed to kick the next 3 scores to get within 1 of the eventual winners but they lost a man to a 2nd yellow which signalled the end of their day out.
Donaghmore Ashbourne were well deserved of the 2 championship points on offer and the whole team put in a good shift despite the heavy pitch and even heavier 'tackling'. Good preparation for the next challenge.
Donaghmore Ashbourne: Danny McShane, Alan Murtagh, Tadg Kelly, Chris Twomey, Iarlaith O'Donnell, Martin Lynch, Shane Rea, Declan Healy, Chris Brady,  Ciaran Ellis (0-1), David Carey, Kevin Fenton (0-1), Faolan Smith (0-2), Sam Benville (0-1f), Stephen Carton (1-4 2f). Subs: Eric Callaghan for Carey (45), Luke Wilson for Lynch (49)
Ballinlough: Derek Muldoon, Mathew Farrell, Padraig Muldoon, Robbie Farrell, Johnnie Reilly 0-1, Micheal Geraghty 0-1, Emmet Smith, Gary Reilly, Lorcan Maguire 0-1, Ronan McGuinness, James Baugh, Mark McCullen 0-1, Benji Smith, Sean Geraghty 0-1, Peadar Byrne 0-6. 
Most Read Stories