SFC: Clinical Tones too good for Moynalvey
April 09, 2018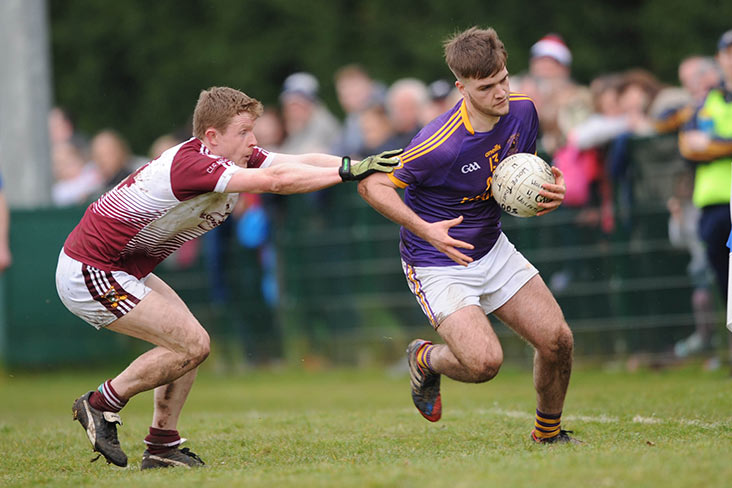 Moynalvey's Cathal McCabe with Saran Ó Fionnagain Wolfe Tones during the Meath SFC game at Skryne
Bhulf Tón 3-16 Moynalvy 0-10 
Bhulf Tón were, as the scoreline suggests, convincing winners in this first round game played in calm conditions in Skryne although a light shower shortly before the game meant underfoot conditions were greasy.
Moynalvey only managed one point in the first half, that came in the 8th minute courtesy of their most effective forward David Mc Loughlin by which time they trailed by 3, the Tones scores coming from Sarán O Fionnagáin, who fired over from close range having fielded a long delivery, a fine solo effort from Fiachra Ward and a free from Cian Ward. Tones dominated possession until the 20th minute by which time Cian Ward had added 3 further frees added to a fine left footed effort from Thomas O Reilly. Moynalvey sensing the game slipping away from them came more into the game but could not find the target and registered 3 wides in as many minutes. However Tones sealed the issue with two late goals just before the interval. Niall Mc Loughlin finished sublimely at the end of a sweeping move while Fiachra Ward added 1  01, the goal coming after he fielded Conor Sheppard's long delivery and beat the Moynalvey keeper and he followed with the point minutes later to leave the half time score Bhulf Tón 2 08 Moynalvey 0 01. Moynalvey although they had played second fiddle for the opening period would rue 8 wides.
Tones started the second half brightly and notched five points without reply to lead by 2 13 to 0 02 after 37 minutes. Niall O Reilly claimed the opening two scores, finishing off two sweeping moves. His brother Thomas providing the assist on both occasions. Cian Ward added the third point following good combination play while Niall O Reilly and Fiachra ward combined to set up Saran Ó Fionnagáin for his second point of the afternoon. The scoring burst was completed by a Cian Ward free from distance shortly afterwards. Moynalvey stirred in to life and replied with 4 points to which Tones responded with another Cian Ward free. Sarán O Fionnagáin then added a superb goal after fielding a pin point kicked pass from Cian Ward. County panellists Dan O Neill and Thomas O Reilly then combined for an O Reilly point to leave the score at Bhulf Tón 3  15 Moynalvey 0 05 with less than ten minutes remaining. In fairness to the Moynalvey team they remained competitive and added 5 points without reply whilst also blasting a penalty wide. Éanna Harrington completed the scoring for the Tones with a well taken point.
This was a rather one sided game but Moynalvey were short a number of first choice players and they will pose more of a threat later in the season. Tones were clinical in attack (they registered just 5 wides) and played with great team work and application. Dan O Neill and the two Harringtons were superb in defence while all the players in the full forward line had good outings. Niall O Reilly took his two points well while also supplying ammunition to the inside line. Stephen Corrigan's physical presence at mid field was crucial at times. Tones now prepare for St Colmcilles.
Bhulf Tón: David Nolan, Conor Sheppard, Dan O Neill, Eoghan Harrington, Niall Mc Loughlin (1-0), Stephen Sheppard, Éanna Harrington (0-1), Stephen Corrigan, Cian O Neill, Niall O Reilly (0-2), Thomas O Reilly (0-2), Padraic Diamond, Saran Ó Fionnagain (1-2), Cian Ward (0-7,6F), Fiachra Ward (1-2)
Subs: Caolán Ward (blood sub) for Éanna Harrington.
Moynalvey Report
Wolfe Tones had little trouble of disposing of a lacklustre Moynalvey in this Fairyhouse Steel Senior Football Championship Group C game played at a well presented Skryne on Sunday afternoon 8th April.

Moynalvey 0-10 Wolfe Tones 3-16

Wolfe Tones had the two points on offer in the bag come half time as they outscored Moynalvey 2-8 to a paltry point in the first half.

The Tones full forward line of Sarán Ó Finnigan, Cian and Fiachra Ward had Tony Kearney's charges three points to the good after six minutes, with David McLoughlin pointing Moynalvey's sole point of the half in the 9th minute.

A further 2-5, Cian Ward three frees, 1-1 from his brother Fiachra, a Thomas O'Reilly point and a goal from wing back Niall McLoughlin left the half time score read 2-8 to 0-1.  

Things didn't get any better for the men in maroon and white after the break, points from Tones' Niall O'Reilly, Cian Ward and O'Finnigan extended their lead to 2-13 to 0-1 eight minutes into the second half.

Substitute Shane Lenehan, David McLoughlin and Stephen Donoghue pointed for Moynalvey, with Wolfe Tones' points from Cian Ward and Thomas O'Reilly and a goal from Sarán O'Finnigan leaving it 3-15 to 0-5 after 50 minutes.

As Tones' took their foot off the gas Moynalvey/David Mcloughlin enjoyed a scoring patch as McLoughlin hit five points in the final 10 minutes. A bad day at the office was compounded with Moynalvey's top scorer McLoughlin sending a penalty wide of the posts in the 55th minutes.

A quick turnaround sees Moynalvey having to pick themselves up from this defeat to face Ratoath in round two, while Tones face St. Colmcilles.

Moynalvey: Ray Ryan, Darren Brennan, Robert Lawless, Cathal McCabe, Adam Murphy, Brian Harnan, Fearghal McCabe, Donal Smith, Eamon Walsh, Stephen Donoghue (0-1), John Donoghue, Cillian O'Sullivan, David McLoughlin (0-8, 2f), James Weldon, Anthony Forde.
Subs used: Shane Lenehan (0-1) for J. Donoghue, James Kelly for Weldon.   
Most Read Stories