SFC: Gaeils make amends for semi final loss
April 08, 2018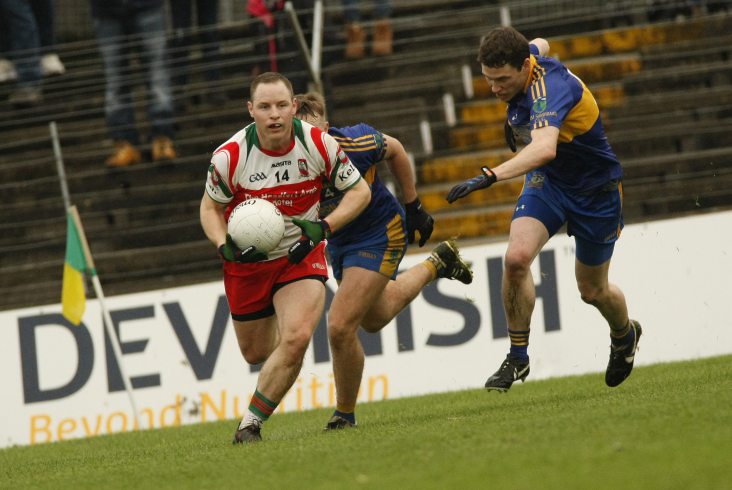 Gaeil Colmcille's Brian Hanlon heads for the Summerhill goal
Gaeil Colmcille 2-14 Summerhill 0-12
In a repeat fixture of last year's semi-Final, Gaeil Colmcille and Summerhill made the trip to St. Loman's Park, Trim after the pitch in Athboy was deemed unplayable. 
In a tense opening 15 minutes, scores were hard to come by with the sides level at 0-02 a piece, Brian Hanlon and Seamus Mattimoe on target for the Kells men. It would be all Kells In the remaining 15 minutes with The Gaeils scoring six unanswered points in a row Hanlon with three, and points from Liam Ferguson and substitute Stevie McManus who came on for the injured Johnny Quigley saw Kells go into first half injury time 0-08 to 0-02 to the good.
A fortuitous finish to the first half saw Barry Smith send a high ball into the full forward line caught everyone by surprise and hopped over the Summerhill goalkeeper and into the back of the net leaving Kells 1-08 to 0-02 ahead at the break. 
Summerhill got the opening score of the second half straight from the throw up saw Summerhill close the gap to 8 points. Kells kept the pressure on and two points from Mattimoe and one from Oisin Reilly extended Kells lead.
The game was killed off in the 39th minute when a well worked move landed in the hands of Liam Ferguson, who rifled the ball to the roof of the net to leave it 2-12 to 0-03. Summerhill started to find their range all hit 6 scores in a row but it was to be too little too late for last year's beaten finalists and it would be Gaeil Colmcille who pick up the first two points on offer of the championship.
 
Gaeil Colmcille: J Carry-Lynch, P Tormay, B Smith (1-00), J Muldoon, B Tormay, J Quigley, J Reilly, C Doogan, S Curran, O Reilly (0-02), M Barrett, L Ferguson (1-01), F Ferguson, S Mattimoe (0-03), B Hanlon (0-06). Subs: S McManus (0-02) for Quigley, C Keegan for Doogan, S Reddy for F Ferguson.
Summerhill Report
Summerhill 0-12 Gaeil Colmcilles 2-14
Summerhill GFC begin their Fairyhouse Steel Senior Football Championship  campaign in a wet St Lomans Pàirc in Trim. It was a youthful side that John Lyons selected with Conor Frayne, John Keane and Cian Devlin all awarded their first Senior Championship starts. 
While Summerhill started well in the opening minutes with John  Lavelle and Conor  Frayne points. The Gaeils got going with some fast scoring and pulled away in the latter part of this half. They scored an unfortunate goal in the final seconds of the first half when a high ball hopped over Tony McDonnells head into the net
Half time score Summerhill 0-2 Gaeil Colmcille 1-8
The Hill started stronger in the second half with Padraig Geraghty and David Larkin points. John Keane's shot on goal was mere inches wide. 
Summerhills troubles were further compounded with black cards on Dalton and Larkin. Well worked points by Padraig Geraghty and excellent scores by substitutes Conor Lyons and Kevin Ryan were not enough to bridge the gap . With more possession than the first half and better play making by Summerhill they did manage to reduce the deficit somewhat.
Next up for the Summerhill in two weeks is Skyrne.
Summerhill: Tony McDonnell, John Lavelle (0-1), Caolan Young, Ronan Ryan, Cian Devlin, Willie Ryan, Ross Ryan, Micheàl Byrne, John Keane, David Larkin (0-1), Barry Dardis, Liam Shaw, Davey Dalton, Padraig Geraghty (0-2), Conor Frayne (0-3). Subs:Kevin Ryan (0-1) for Davey Dalton, Conor Lyons (0-4f) for Liam Shaw, Iarla Hughes for Cian Devlin and Paddy McGrath for David Larkin 
Most Read Stories