FL Div 3: Bective on top in close encounter
March 13, 2018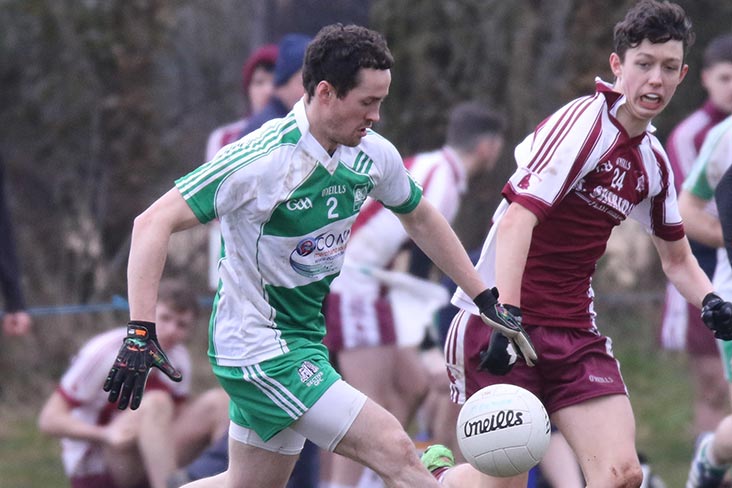 Bective's Ben Malone breaks up this St. Vincents attack during the Division 3 FL game at Bective
Bective 0-10 St. Vincents 1-6
Bective were determined to keep their unbeaten run intact but were stretched to the limit by a resilient St. Vincent's squad in relatively good conditions in Bective. 
The home side started well and attacked efficiently with points on the board after 13 minutes from Marty Mulhall (free), Craig Roche, Cathal McConnell, Mark O'Brien and a fifty from Marty Mulhall.  It seemed like a big win was on the cards for Bective and a repeat result of their 2017 league clash.  However, St. Vincent's had not read that script and pointed a free after 14 minutes and took the game to Bective with strong running and ball control. They followed up with a goal in the 17th minute when Bective, without their normal full backs, failed to secure a high ball and St Vincent's took full advantage.  They followed this with a point on 28 minutes and the teams go in level at half time.
After the break St Vincent's took up where they left off and played with high intensity and go ahead with two pointed frees in the 2nd and 5th minute. Bective responded to the pressure with two points from substitute Kevin Brennan in the 11th and 14th minutes and went ahead with a pointed free from Cathal McConnell after a foul on substitute Sean Keating. 
The next 11 minutes was a character testing encounter reminding us that the championship will soon be upon us. Both sides were guilty of frantic tackling and giving away frees. St Vincent's draw level on 28 minutes but went behind again to a Mark O'Brien point a minute later. The visitors drew level once more on the  on 31st minute only to lose out to a long range pointed free from Paul McCabe deep in to injury time. 
The game moved up and down the field a couple of times before the ref brought this tight encounter to a close, with Bective ahead with 0-10 points to St Vincent's 1-6.
Bective: Ciaran Breslin, Colm Barry, Craig Roche, Ben Malone, Colin O'Rourke, Jarlath Brennan, David Fitzpatrick, Paul Lyness, Ciaran Mc Connell, Mark O'Brien, Marty Mulhall, Paul McCabe, Michael Lyness, Brian Cantwell, Cathal Mc Connell.
Most Read Stories