FL Div 4: Narrow win for determined Boardsmill
February 27, 2018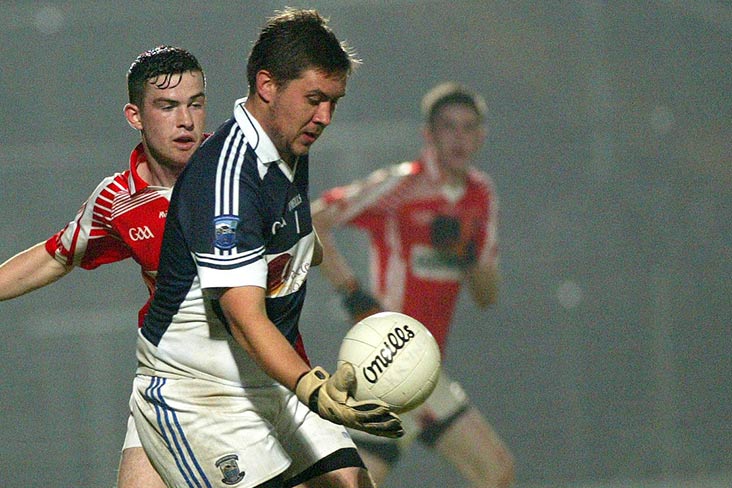 Boardsmill keeper Sean Dixon
Boardsmill 2-9 Kilmainhamwood 1-11
Boardsmill welcomed Kilmainhamwood on a sunny but windy Sunday morning for the 4th round of the A league.
It was the hosts that started brightest jumping into a 1-1 lead after 5 minutes. Veteran Keith Hamilton got the goal while Rory Gordon pointed. They proved to be the 'Mills' only scores as the visitors took over to lead by 1-8 to 1-1 at the break. That lead could have been biggers but for some great defending and numerous saves from the outstanding Sean Dixon.
Boardsmill had the wind in the second half and midfielder Danny Dixon set the tone for the 30 minutes with a point from the throw in. Hamilton added three points and a Stephen Gibbons goal had the home side back in contention. Sean Newman put Boardsmill in front with a good point only to see The Wood hit back with a brace. Boardsmill were back in front soon after with two splendid scores from Danny Dixon. With 10 minutes remaining it was all square again. Gordon put Boardsmill back in front with a fine point after good work from Liam O'Brien, the Wall brothers and Hamilton. Kilmainhamwood pressed for the equaliser but resolute defending from the home side kept them at bat and Boardsmill held on for a narrow win.
Best for the winners were Hugh Johnson, Danny Dixon, Sean Dixon, Rory Gordon, and Stephen Gibbons
Boardsmill: Sean Dixon, Liam O Brien, Cian Royston, Bertie McLoughlin, Connor Wall, John Mitchell, Cathal Wall, Danny Dixon (0-03), James Durkan, Sean Newman (0-01), Rpry Gordon (0-02) Thomas Leonard, Stephen
Gibbons (1-00), Keith Hamilton (1-03), Hugh Johnson. Subs: Jim Bird for Hugh Johnson, Jim Bird for John Mitchell, Jack Dixon, James Mitchell,Karl Flood, Donie Flattery
Most Read Stories