FL Div 2: Syddan stay top
February 26, 2018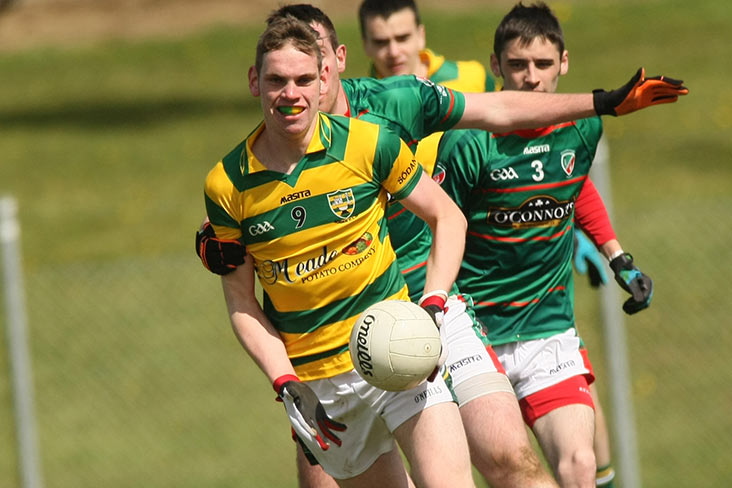 Syddan's Sean Clare
SYDDAN 2-10 CASTLETOWN 2-6

A GOAL at the start of each half ensured that Syddan continued their unbeaten league run at home to neighbours Castletown on Sunday.

Daire Rowe had the hosts off to the perfect start with a first minute goal from the penalty spot following a foul on Michael Fedigan as he made tracks towards towards the danger area.

That goal helped Syddan to within a point of Castletown at the break, 1-4 to 1-5, after the visitors had played with the stiff breeze in the opening half.

The home side never looked back after Sean Clare sent a stinging effort to the roof of the net within two minutes of the restart. Syddan's lead stretched to five points in the closing stages before a late Darren Finney goal gave Castletown a glimmer of hope.

However substitute Brian Dillon quenched any hopes of a Castletown revival with the last two points of the game.

Syddan created three goal chances in the opening eight minutes but only managed to convert one of them. Daire Rowe dragged an effort wide of the target on six minutes while shortly after, full forward Kevin Traynor blasted over the bar with only keeper Jonathan Ginnity to beat.

Castletown's first half goal also came from the penalty spot, converted by Kevin Ross after he himself was fouled. With Ross in fine form Castletown led 1-4 to 1-2 after 18 minutes. Daire Rowe replied with two pointed frees for Syddan before Ross from a free had Castletown ahead at the break.

Cathal Dardis added to Clare's goal early in the second half while Castletown's only score in the third quarter was from a free converted by Ross.

Syddan though edged the second half exchanges and were full value for their four point win.

SYDDAN - Ciaran Farrelly; Ryan Summersby, Ronan Mooney, Mark Fedigan; Jack Reid, Andrew Garland, Stuart Fedigan; Sean Clare 1-0, Cathal Dardis 0-1; Graham Garland, Daire Rowe 1-5 (1-0 pen, 4fs), Michael Fedigan; Cormac Rowe, Kevin Traynor 0-2, Padraic Dillon. Subs - Kevin Garland for Mark Fedigan 45), Michael Smith for Dillon (47), Brian Dillon 0-2 for Dardis (50), Peter Sheehy for Reid (60).

CASTLETOWN - Jonathan Ginnity; Noel Smyth, Gerard Farrelly, Stephen Duffy; Jamie McMahon, Evan Hoey, Shane Hoey; Francis Hoey, Damien Ginnity; Kevin Ross 1-4 (1-0 pen, 3fs), Robert Hoey, Declan Cribben 0-1; Darren Finney 1-0, Tommy Smith 0-1f, Wayne Donegan 0-1. Subs - Barry Smith for Donegan (33), Mark Kelly for D Ginnity (50).
Castletown Report
Castletown 2-6 Syddan 2-10
Castletown travelled to near neighbours Syddan on Sunday to contest round 4 of the A League.
It was the home side who had the better start after they were awarded a penalty which Daire Rowe converted after three minutes. Castletown got off the mark with a point from play from Declan Cribbin. Almost 11 minutes were played when Tommy Smith sent over a free to score Castletown's second point. A minute later Castletown were awarded a penalty of their own which Kevin Ross scored to put the visitors ahead for the first time in the game. Both teams traded points in the last few minutes of the first half with scores coming from Wayne Donegan and two from Kevin Ross, one from play and one from a free which meant the visitors lead going into half time. The half time score was 1-05 to 1-04.
Syddan started the second half quicker out of the blocks and had a goal within the opening two minutes to put them back in control of the game. The home side never lost their lead after that and pushed on with another few scores to leave Castletown trailing for the rest of the game. Kevin Ross and Darren Finney were the only two scorers of the second half with Kevin converting a free and Darren getting a goal with two minutes left on the clock, this was Castletown's final score to leave the full time score Castletown 2-06 Syddan 2-10.
Castletown: Jonathan Ginnitty, Noel Smyth, Gerard Farrelly, Stephen Duffy, Jamie McMahon, Evan Hoey, Shane Hoey, Francis Hoey, Damien Ginnitty, Kevin Ross 1-04 (1-0 pen, 3fs), Robert Hoey, Declan Cribbin 0-1, Darren Finney 1-0, Tommy Smith 0-1f, Wayne Donegan 0-1.
Most Read Stories