FL Div 1: County stars return as Ratoath get their first win
February 12, 2018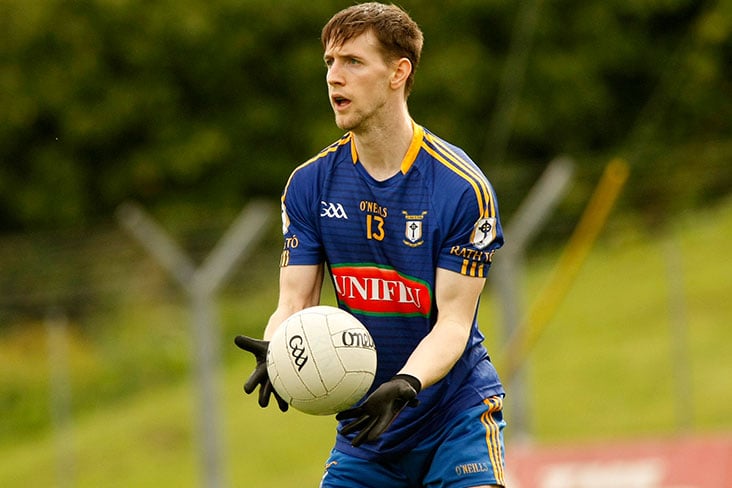 Ratoath's Bryan McMahon
Ratoath 1-15 Simonstown 0-4
Ratoath hosted Simonstown in round 3 of division 1 of the AFL on Sunday.
With the weather causing havoc with national league fixtures both sides were able to line out with their county stars.
A decent crowd showed up on a bright but cold day with snow on the air.
Ratoath got off to a positive start with Ben McGowan winning the throw in and knocking the ball down to his brother Daithi - this set the time for the game and indeed both McGowans were outstanding for the day.
Ratoath were dominant throughput the first half - county men Bryan McMahon and Eamon Wallace both very prominent and well supported by Connell Ahearne and the Rooney brothers.
Ratoaths young full back line were also impressive with Ryan Kelly and Ben Wyer benefiting from the presence of Conor McGill.
Tenacious tackling from Ciaran O Fearraigh and Brian ) Connor laid the foundation for some great counter attack.
Ratoath scored 11 points - 9 from play in the first half with Ahearne gabbing four and Wallace, McMahon and Conor Rooney adding 7 between them.
Meantime the backs held the county champions to just one point!
Half time - Ratoath 0-11 Simonstown 0-1
Ratoath were again dominant in the second half and with Ben McGowan particularly impressive in midfield they should have scored more - several wides and a fine effort from Bryan Mcmahon coming back of the crossbar the score line could have been far worse for the county champions
Simonstown managed 3 points in the second half but points from McMahon Rooney and Wallace and a super goal from Bryan McMahon Ratoath were to run out easy winners
While the 4 county men were very strong for Ratoath there was great performances from Ryan Kelly, Ben Wyer and the two McGowans in midfield - Connnell Ahearne with 4 points benefited from having Wallace and McMahon outside him
Ratoath's Man of the Match was Ben McGowan
Ratoath: Shane Duffy, Ryan Kelly,Conor McGill, Ben Wyer, Brian O'Connor, Brian Power, John Gillespie, Ben McGowan, Daithi McGowan, Conor Rooney, (0-4), Gareth Rooney, Ciaran O Fearraigh, Connell Ahearne (0-4), Bryan McMahon (1-4), Eamonn Wallace (0-3). Subs: Brian Daly for Ahearne, Andrew Gerrard for Kelly, Paul Flaherty for Gareth Rooney, Nathan Dunne for McMahon
Simonstown Report
Ratoath 1-14 Simonstown Gaels 0-4
Simonstown and Ratoath played out this contest in windy and cold conditions. This encounter had extra quality on display due to the postponement of the Meath and Cavan game. Simonstown were boosted with the comeback of Brían Conlon, Shane Gallagher and Padraig McKeever. However, Simonstown were dealt blows when Shane Gallagher hobbled off after  3 minutes and Brían Conlon was take off with an injury ager 20 minutes.
Ratoath dominated this contest and Eamonn Wallace was particularly impressive. Bryan McMahon and Wallace tormented the Gaels backline anfd their pressing and energy enabled Ratoath to dispossess the Navan men easily. The Gaels struggled with passing out from the back and in truth were second best in the individual battles across the pitch. Simonstown registered a signal point in the first half when James Kilcullen scored a sensational score from the edge of the sideline. The score at half time could have been wider but for the saves of Robbie Burlingham in the Simonstown net, Halftime score Simonstown 0-1 Ratoath 0-11.
Simonstown made 2 substitions at the beginning of the second half with Stephen Moran and Chris O'Neill being replaced by Eanna O'Donoughue and Nicky O'Brien. Simonstown struggles continued in the second half but they did manage to score three times through Nathan O'Brien and 2 Podge McKeever points. Ratoath's only goal of the match was a rocket that flew past keeper Robbie Burlingham.  The Gaels will need to improve in their next game against St. Pats.
Best for Simonstown Nathan O'Brien, Michael Gavin and Robbie Burlingham
Simonstown: Robbie Burlingham, Shane Gallagher, Stephen Moran, Mark Devlin, Brian McGrath, Neil Kane, Mark Gardiner, Roz O'Connor, Brían Conlon, Mark McCabe, James Kilcullen (0-1), Seán Conlon, Padraig McKeever (0-2), Chris o'Neill, Nathan O'Brien (0-1)
Subs used: Niall McMahon for Shane Gallagher, Shane Barry for Brían Conlon, Eanna O'Donoughue for Stephen Moran, Nicky O'Brien for Chris 'Neill, Michael Gavin for Néil Kane, Ben Hoey for Mark McCabe
Most Read Stories