FL Div 2: Syddan's good run continues
February 12, 2018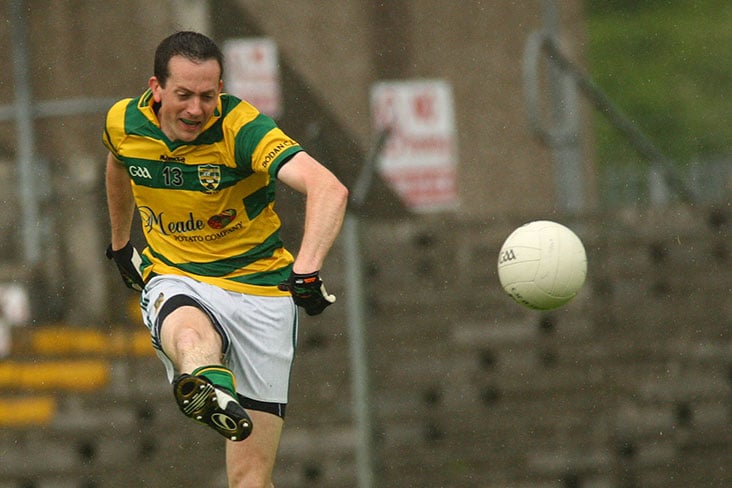 Syddan's Cormac Rowe
SYDDAN 3-11 BLACKHALL GAELS 1-10

Stuart Fedigan struck for two opening half goals to set Syddan up for victory and extend their unbeaten division two league run at Kilcloon last Sunday.

The visitors played into a biting wind in the opening half but boosted by those Fedigan goals were ahead 2-4 to 1-4 at the break. The wing back hit the opening goal on 20 minutes to leave his side leading 1-3 to 0-2, and he struck again approaching the break when first-timing a loose ball to the net.

That second goal was an immediate response to a goal at the other end, a scrambled effort from John Fagan which had Blackhall ahead for the only time in the match.

Daire Rowe (two) Gary Farrelly and Cormac Rowe contributed Syddan's points in the opening half.

The hosts were first off the mark in the second half from the impressive Sean Whelan but their next score didn't arrive until 20 minutes later when Alan Nestor fired over.

In that time Syddan shot points from Daire Rowe, Kevin Traynor and Padraic Dillon while Cormac Rowe accounted for a third goal. Those
scores effectively sealed victory for Syddan.

Sean Whelan took his tally of points to six before the end but Blackhall never threatened to make it a close finish.

SYDDAN - Ciaran Farrelly; Ryan Summersby, Ronan Mooney, Mark Fedigan; Kevin Traynor 0-1, Andrew Garland, Stuart Fedigan 2-0; Sean Clare, Cathal Dardis; Graham Garland, Daire Rowe 0-6 (3fs), Michael Fedigan; Cormac Rowe 1-2, Gary Farrelly, Padraic Dillon 0-1. Subs - Peter Sheehy for Clare (48), Brian Dillon for P Dillon (51), Ben Bashford for Mooney (56), Robbie Farrelly for G Farrelly (60).

BLACKHALL GAELS - David Ferris; Ciaran Nally, Dan Carty, James Kelly; Hugh Smith, Donnacha Tobin, Donnacha Healy; Patsy O'Brien, John Fagan 1-1; Kevin O'Keane, Sean Whelan 0-6 (3fs, 1 '45), Andy Brady 0-1; Paul Kelly, Robbie McGuinness, Alan Nestor 0-2.

Referee - Jason Plunkett (Clonard).
Most Read Stories