FL Div 4: Kilbride with plenty to spare
February 12, 2018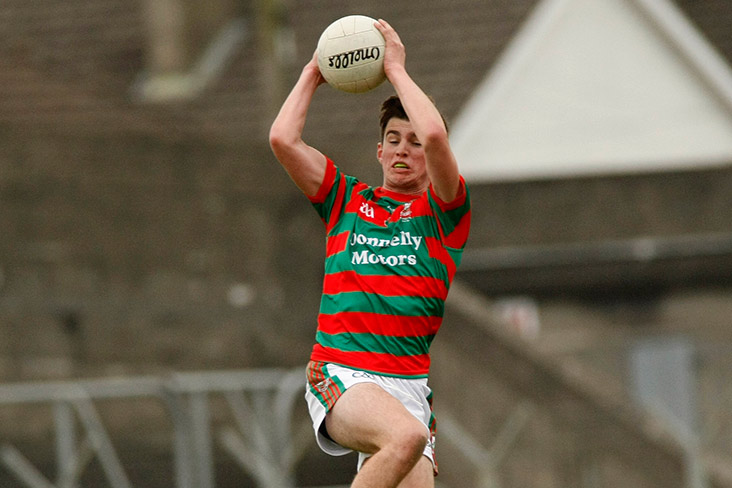 Kilbride's David O'Leary
With games falling victim through out the country this game was never in doubt and its down to the wonderful facilities that Clonard now have.
Clonard 1 -2 Kilbride 2-11
The big talking point ahead of the game, seeing that Meaths game was off, was would county star Adam Flanagan be in their starting 15.
Kilbride's midfield paring of David O'Leary and Cathal McKeown would need to be on their A game if the county man was present and this is what happened as for the next hour Kilbrides pairing had the better of the exchanges in the middle of the field.
Clonard started strong but Kilbrides defence were excellent and put a lot of pressure on the home side and there attackers found it hard as they kicked from distance as the wides accumulated
Kilbride were starting to find there feet, Paul Donnelly burst forward and got the visitors off the mark on 7 minutes. A Michael Farrelly free on 9 minutes made it 2 points to no score. Cadhla McKenna added another two minutes later and still no response from
Clonard. Kilbride were dominant and the midfield pairing of O 'Leary and McKeown were working extremely hard in the middle and were on top. Joseph Donnelly scored a fine point on 20 minutes after hard work from Cadhla McKenna who individually broken up another Clonard attack that allowed the sharp shooter to slot over. On 28 minuted Stephen McMullen fisted goal wards when he had time and space to gather an excellent pass from Ronan O'Leary when he out foxed the home sides defence and delivered a pin point pass from 30 yards but Stephen McMullen shot wide. Another point from Farrell on 29 minutes put Kilbride 6 up. Two late scores gave the home side hope as the half came to a close in a blizzard as the snow pelted down.
Half time Clonard 0-2 Kilbride 0-6
The second half was a real team effort from the visitors and it started in defence, strong showings from Kilbrides Paddy O'Neill (wearing the Kilbride colours after an absence of seven years after returning home from a stint down under) Dave Barron Jack Donnelly, John Bruton, Gareth Lynch and Peter Roche resulted in Clonard feeding off scraps. Kilbride did however ride there luck at times early in the second half when the post came to their rescue on 35 minutes. The winners won the resulting kick out and an excellent move saw Michael Farrells goal effort well saved from Clonards net minder. On 38 minutes the full forward was rewarded when he did find the net to put the visitors in a commanding lead with a fine finish. 
Kilbride were still celebrating as Clonard were rewarded with penalty for some bad handling and a rare error in the Kilbride defence as the ref pointed to the spot. Clonard found the net from the resulting kick to give themselves hope and with the aid of the wind a come back was possible but this would be there only score of the second half as Kilbride shut up shop as they took over in defence Another point from Joseph Donnelly on 45 as the hard working Ronan O'Leary set him up. Stephen McMullen registered his first on 51 and Donnelly again on 54 that brought his tally to three which saw Kilbrides lead now out to seven points. Another fine rob from Kilbrides midfielder David O'Leary in his own half setup another Kilbride attack that resulted in Stephen
McMullen slotting home when Michael Farrell brought out a fine save from Clonard's keeper and the rebound was swept home from McMullen
Kilbride weren't finished and a clever fisted point from the excellent Ronan O'leary on 56 and the last on 58 from Farrell saw Kilbride record an excellent away win in at times blizzard like conditions.
This was an excellent performance from the visitors which had four elements to it, a well organised defence, a mid field that ran the show, a forward line that is quick and hard working who knows where the posts are and the final one are subs that are hungry to impress when called upon.
Kilbride: Craig Manning, Paddy O'Neill, Dave Barron, Jack Donnelly, Peter Roche,  John Bruton, Gareth Lynch, David O'Leary, Cathal McKeown, Ronan O' Leary 0-2, Cadhla McKenna 0-1, Paul Donnelly 0-1, Joseph Donnelly 0-3, Michael Farrell 1-4, Stephen McMullen 1-1. Subs: John Smith for P O'Neill, Cathal Daly for P Donnelly, Craig Sheridan for C McKeown, Jamie McWeeney for J Donnelly, Colin Faughnan for M Farrell
Clonard Report
Clonard  1-02 Kilbride 2-11

Hosts Clonard squandered too many decent chances in All County League Division 4 clash at St Finian's Park.
A blinding snow storm during the first half didn't help Clonard  as they recorded scores from Mikey Mullen and Jason Dowdall to trail 0-2 to 0-6 at the break.

Clonard struggled to get back into the contest and despite Gary Raleigh's goal from a penalty they slumped to their second loss.

Clonard: P Sheridan, E Treacy, B O Reilly, P Coyne, A O Donoghue, G Foley, D McNevin, J Dowdall (0-1), A Flanagan, E Connolly, J Moore, J O Donoghue, K Darby, I Campbell, M Mullen (0-1)

Subs: S Dunne for A O Donoghue, G Raleigh (1-0) for D MCNevin, R Raleigh for E Connolly
Most Read Stories