FL Div 3: Sweet revenge for unbeaten Bective
February 12, 2018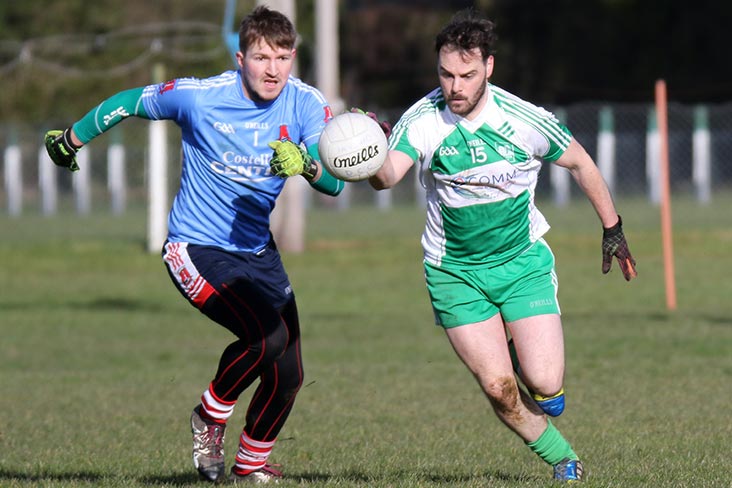 Bective's Sean Keating with Dunsany keeper Niall Flynn during the Division 3 FL clash at Bective
Bective 4-12 Dunsany 0-7
Bective, on home ground, were well prepared to avenge a "solid beating" dished out by Dunsany at their last meeting in 2017 in league competition. 
Bective started stronger and played with control and conviction, albeit against a very strong wind, with Marty Mulhall converted a free kick on 7 minutes.  This was quickly followed by a fine goal from Brian Cantwell on 10 minutes and he added a point one minute later. Bective lost Michael Lyness to injury and he was replaced by Ciaran Mc Connell. Dunsany pointed but Mulhall shot home a penalty on 13 minutes and added 2 points from frees. Mark O'Brien chipped in with a point on 17 minutes and followed this up with a third goal on 24 minutes. Dunsany finish the scoring with a point on 31 minutes to leave the half time score at: Bective 3-6, Dunsany 0-3.
The second half began with Bective, now playing into the wind, contined building their lead with a point from Mulhall.  Dunsany reply with a pointed free on 2 minutes, and again on 8 minutes. Still Bective dominated the exchanges and added points from Colin O'Rourke, Mark O'Brien and a point from play and a free kick from Paul McCabe. Dunsany complete their tally with 2 pointed frees.
This was a strong display from Bective and they now have 6 points out of 3 games.
Bective: Ciaran Breslin, Jack Grant, Diarmuid Rogers, Craig Roche, Colin O'Rourke, Jarlath Brennan, Dara Maguire, Paul Lyness, Kevin Brennan, Paul McCabe, Marty Mulhall, Mark O'Brien, Michael Lyness, Sean Keating, Brian Cantwell.  Subs introduced: Ciaran Mc Connell, Ben Malone, Mark Usher, Donagh Garvey, Colm Barry and John Moran.
Most Read Stories