FL Div 3: Newman fires Kilmainham to second win
February 12, 2018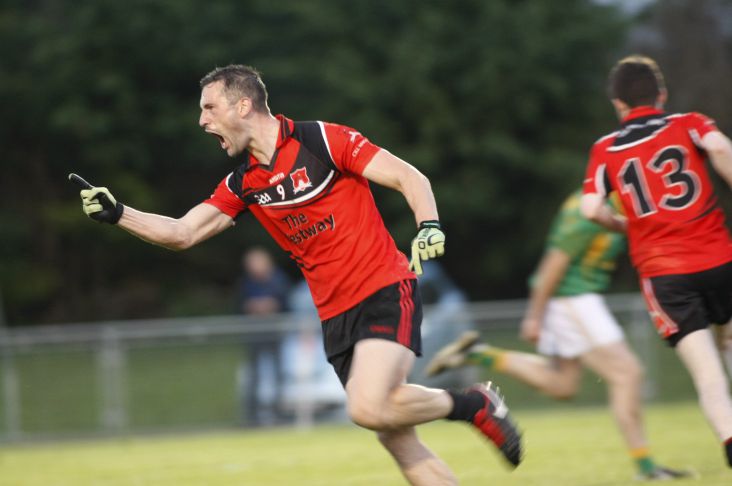 Kilmainham's Mickey Newman celebrates his second goal against Castletown in the IFC game at Moynalty
Kilmainham 0-12 Carnaross 1-07 
Kilmainham got their second win of the league campaign with a 0-12 to 1-07 win over neighbours Carnaross in a snowy Kilmainham. 
Kilmainham started brightly with a point from center forward Freddie Newman. Carnaross responded well with 2 points before the returning Mickey Newman pointed 2 from frees and another from play from Freddie Newman. Carnaross scored a goal in the 27th minute leaving them 2 points to the good going into half time before Seanie Mahon responded for Kilmainham leaving the minimum at the break 1-04 to 0-06.
As the skies began to darken, visibility was at a minimum but Kilmainham pushed on with 3 points from Mickey Newman (2 frees, 1 play). It was nip and tuck to the end with each team fighting hard for each ball as the snow began to fall. Kilmainham were aided by substitutes Shane Butler and Johnny Quinlan who got themselves on the score sheet to leave the final score 0-12 to 1-07. A great win for Kilmainham with great performances from Richie Brady and Darren O'Sullivan, who were both solid in defence. 
Kilmainham: Declan Nelson, Joe Mahon, Richie Brady, Darren O'Sullivan, Paddy Hennigan, Harry Newman, Ger Morgan , Conor Kilgallen, Mickey Newman (0-7, 5 frees, 2 from play), Seanie Mahon (0-01) Freddie Newman (0-02 1 free 1 from play) Andy Arkins, Mark Newman, Pat O'Sullivan, Shane Morgan.
Subs: Johnny Quinlan (0-01) for P O'Sullivan, Shane Butler (0-01) for Arkins, Dean Peppard for Mark Newman, Darren Morgan for S Morgan.
Carnaross Report
Kilmainham 0-12 Carnaross 1-07
Kilmainham took the spoils in this evenly contested local derby played in blizzard conditions on Sunday. Kilmainham held home advantage after the fixture was changed from Carnaross on Sunday morning.
Indeed the men in red and black began the brighter, registering the first score of the game. In response, Frank O' Reilly converted a free from the ground from a near impossible angle and rightfully received a rapturous applause from all supporters present. John L McGee doubled the Carnaross tally after Carnaross spurned a few guilt edge scoring opportunities. These spurned opportunities were punished by a more prolific Kilmainham attack when they utilised potent forward Mickey Newman to good effect, scoring 4 out of the next 5 scores. Charles Brogan collected a mishit kickout and ran straight at the Kilmainham defence and after a series of hand passes Niall McDonnell powered the ball into the back of the net. Kilmainham had the last say on proceedings when they registered the final point of the first half hour. The opening half was a keenly contested encounter played at a high tempo for February. Both teams attacked at pace and defended tigerishly with Carnaross edging it 1-04 to 0-06 at half time.
Kilmainham raced into a lead 5 minutes in, when they converted 3 scoring chances in the first 10 minutes. The second half then deteriorated into a war of attrition as the snowstorm dictated proceedings, ensuring scores were at a premium but mistakes were plentiful.  Frank O Reilly intercepted a pass and punished Kilmainham's sloppiness stemming their tide. O'Reilly then restored parity to the scoreboard converting a long range free. Both teams struggled for any form of fluency with the game in the melting pot. It was Kilmainham who dominated possession in the closing stages and converted 2 of their opportunities whereas Carnaross struggled to work the ball out of their own half with the snow pelting down. Carnaross committed men forward with time running out and John Brogan halved the deficit with a well taken score. Unfortunately Kilmainham tagged on the final score leaving the maroon and saffron men looking for a goal that never materialised.
Carnaross left the pitch disappointed to have nothing to show for their tremendous effort in horrendous conditions. Kilmainham ultimately offered more of a scoring threat, none more so than their talismatic leader Mickey Newman, who was imperious throughout. Carnaross will take some positives from this battle as their full back line fought valiantly throughout, with Roche epitomising this feat, despite it being his first competitive start for the first team. Frank O Reilly kicked some outlandish frees and was a constant menace throughout but ended up on the losing side. Carnaross will look to rebuild with a round 4 fixture against St. Vincent's.
Carnaross: Conor Kenny, Jack Roche, Peter S Farrelly, Peter Carpenter, Ian Donoghue, Tomas Plunkett, Stephen Flattery, Sam Reynolds, Charles Brogan, Niall McDonnell (1-0), Frank O'Reilly (0-5), Killian Porter, Decky Reilly, John L McGee (0-1), Michael Brogan. Subs: John Brogan (0-1) for Flattery (BC),  Paddy McDermott for Porter, Dillon Fox for Reilly, Shane Casserley for Charles Brogan, Dermot Mc Gee for John L McGee.
Most Read Stories