FL Div 1: Early goals put Tones back on track
February 12, 2018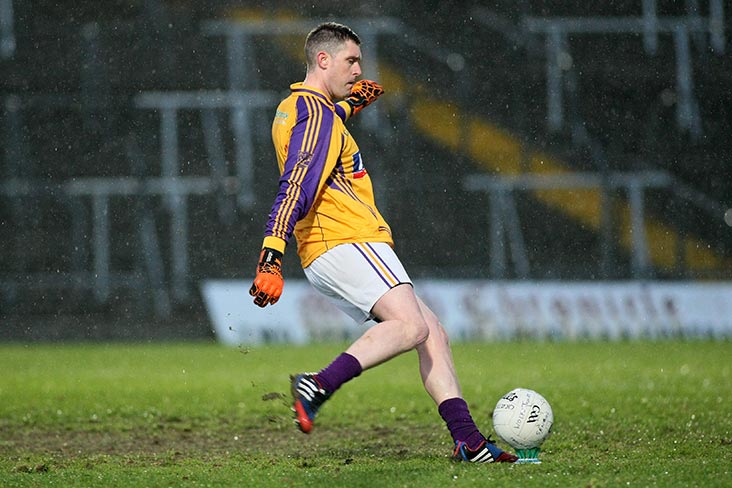 Wolfe Tones keeper David Nolan
Wolfe Tones 3-10 Summerhill 2-8
Tús maith leath na hoibre! Ar lá fhuar gheimhridh bhí tús iontach ag foireann Bhulf Tón agus bhíodar 3  01 in aghaidh 0  01 chun tosaigh tar éis deich noiméad.  
In bitterly cold conditions at Kilberry Wolfe Tones were comfortable winners having had a blistering opening 10 minutes which yielded 3 goals and they went on to lead comfortably at half time. Tones keeper David Nolan made a number of fine saves throughout the game and was unlucky to concede the first goal as he got down low in the 12th minute to save only to see Summerhill's Conor Lyons finish to the net.
This was the perfect response by Summerhill as they trailed at that stage by 3-1 to 0-2 as Tones threatened to run riot. Cian Ward had opened the scoring for the home side with a well taken goal in the 2nd minute following good interplay with Thomas O Reilly. Caolán Ward added Tones second major two minutes later followed by a pointed free. Sarán O Fionnagain scored the third goal shortly afterwards. Following the Summerhill score Padraic Diamond and Cian Ward (free) both added long range efforts  before  Cian Ward , Caolan Ward and Thomas O Reilly added further points to leave the half time score Bhulf Tón 3-7 Summerhill 1-3, Liam Shaw having landed a Summerhill free.
The second half saw Summerhill take the game to the Tones and although outscoring their hosts 1-5 to 0-3, Nolan's saves added to goal line clearances from Daniel O Neill and Shane Glynn kept them at bay to see the home side run out comfortable winners. The greasy conditions made the second half a test of stamina and determination for both sides. Due to the postponement of the Meath game Bhulf Tón were boosted by the presence of senior panellists Thomas O Reilly, Daniel O Neill and Shane Glynn and this trio contributed handsomely to the Tones cause.
Bhulf Tón: David Nolan, Oisín Mac Ghinneartaí, Shane Glynn, David Coleman, Niall Mc Loughlin, Éanna Harrington, Niall O Reilly, Daniel O Neill, Padraic Diamond (0-2), Thomas O Reilly (0-2), Cian Ward (1-4, 3F), Conor Sheppard, Caolán Ward (1-2, 2F), Saran O Fionnagáin (1-0), Fiachra Ward.
Subs: Alan Callaghan for Thomas O Reilly b.c (55)
Summerhill Report
Summerhill 2-8 Wolfe Tones 3-10
As other fixtures fell foul to the weather nationwide,on a bitterly cold day with scattered snow showers Summerhill made the trip to Kilberry. 
The return Kevin Ryan was a great boost to this team who are still suffering from some lingering injuries. Wolfe Tones welcomed back their county players for this encounter.
There were four goals scored in the first quarter of this game.Wolfe Tones catapulted into the lead with two quick goals in the first four minutes. Summerhill reply was a fine point following a well timed run by Kevin Ryan. Tones edged further ahead with another goal, however Summerhill's reward for their dogged attack was a Conor Lyons goal. Two points from Liam Shaw saw the the 'Hill' go in at the break trailing 3-7 to 1-3
Summerhill put in a far better shift in the second half. Excellent points by Liam Shaw and Diarmuid McCabe saw them claw their way back into the game. 
McCabe earned Summerhill a penalty, which was converted by Shaw to narrow the gap 2-5 to 3-9.  John Lavelle was unlucky with a goal chance with minutes to go that would have been a huge boost. Last years SFC finalists outscored Wolfe Tones 1-5 to 0-3 in the second half. 
While John Lyons men go away from this game with a 5 point loss they should be satisfied with their second half performance. 
Summerhill: R.McDonnell, J.Lavelle, C.Young, J.Keane, P.Geraghty, W.Ryan, I.Hughes, M.Byrne, R.Ryan, K.Ryan (0-1), C.Lyons (1-0), D.McCabe (0-1), C.Frayne, L.Shaw (1-6), D.Dalton. Subs: D.Feehily for C.Frayne 
Most Read Stories