FL Div 4: Moynalty on a roll
February 12, 2018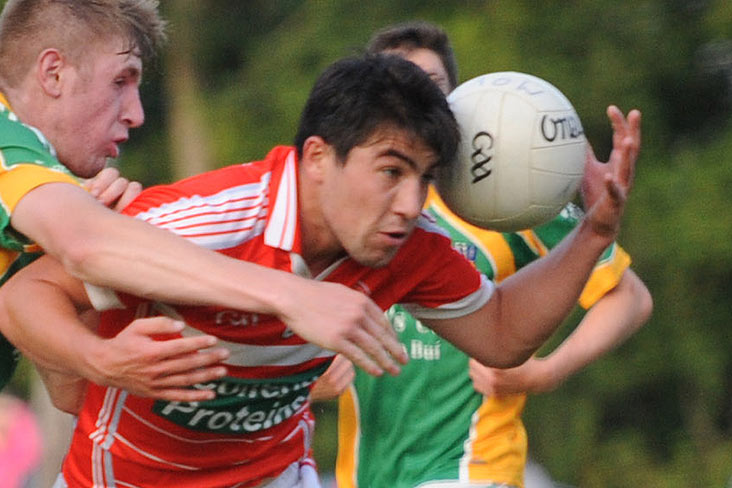 Moynalty's Paddy Byrne
Moynalty 3-06, Boardsmill 3-05
Moynalty made it two from two in the All County A League with a narrow win over Boardsmill in a cold snowy Boardsmill on Sunday 11th February. 
Michael Cahill got Moynalty's first point added to by a Paul Lynch point. Gavin Lynch then got a goal for the visitors. Boardsmill replied with two points. Paddy Byrne got a goal and a point, with Paul Lynch adding another point. The home side got two goals and a point just before the break to leave just the minimum between the sides. Half time score Moynalty 2-04, Boardsmill 2-03. 
Moynalty held that one point advantage to the end. Ollie Sheridan added a third goal while Paddy Byrne and Paul Lynch landed points. The home side hit the same tally as playing conditions deteriorate but it was Moynalty held on for a narrow win.
Final score Moynalty 3-06, Boardsmill 3-05. 
Moynalty scorers: Paddy Byrne 1-02, Gavin Lynch 1-00, Ollie Sheridan 1-00, Paul Lynch 0-03, Michael Cahill 0-01. 
Moynalty: Jonathan Lynch, Matthew Mc Kenna, Ronan Mc Mahon, Shane Farrelly, Cormac Kearney, Pauric O' Connor, Ronan Lynch, Nicholas Mc Kenna, Anthony Nevin, Gavin Lynch, Michael Cahill, Adrian Maguire, Ollie Sheridan, Paul Lynch, Paddy Byrne. SUBS: Alan Brogan For Michael Cahill, Barry Nevin For Ollie Sheridan, Carl Lynch For Adrian Maguire. 
Boardsmill Report
Boardsmill 2-4 Moynalty 2-5
Boardsmill welcomed Moynalty on a cold and snowy Sunday afternoon for the 3rd round of the league after a change of venue due to an unplayable pitch in Moynalty.
But like last weeks game Boardsmill will feel that they left this one behind them. It was the visiting side who started brightly registering 1-3 to no score within the first 10 minutes.
Boardsmill registered their first point through the talented Niall Durkin on 11 minutes. The energetic Cathal Wall was on the end of an oncoming pass from the veteran Keith Hamilton to cooly slot over Boardsmill's second. As the snow began to fall Bert Mc Loughlin found the oncoming Stephen Gibbons with a perfect pass, Gibbons laid the ball off to pacing Niall Durkin who smashed the ball into the net to close the gap. Moynalty responded with a goal of their own to extend their lead once more.
Niall Durkin narrowed the gap to two points when he fisted a Hamilton shot to the net. Durkin pointed a free on the stroke of half time to leave the home side trailing by the minimum at the break.
Moynalty dominated the early second half exchanges but resolute Boardsmill defending restricted them to a point. Boardsmill had numerous chances to go in front but with some wayward shooting and missed goals opportunities it didn't happen. Moynalty extended their lead to five points with their third goal. But that man again Durkin got in for his third goal and the gap was back down to two. Stephen Gibbons split the posts off the left boot to leave it a single point game.
The Mill had chances to get something from the game in injury time but could not get the equalising score and Moynalty held on for the win.
Boardsmill: Sean Dixon, Liam O'Brien, Cian Royston (0-00), Bert Mcloughlin, Cathal Wall (0-01), John Mitchell, Thomas Leonard, Danny Dixon, James Durkin, Stephen Gibbons (0-01), Fergal Flattery, Niall Durkin (3-02), Hugh Johnson, Keith Hamilton, Sean Newman. Subs: Neil McLoughlin for John Mitchell (17mins) Jim Bird for Sean Newman (45mins) Jack Dixon  for Thomas Leonard (50mins) Karl Flood for Fergal Flattery (55mins)
Most Read Stories