FL Div 1: Unbeaten Skryne run riot
February 12, 2018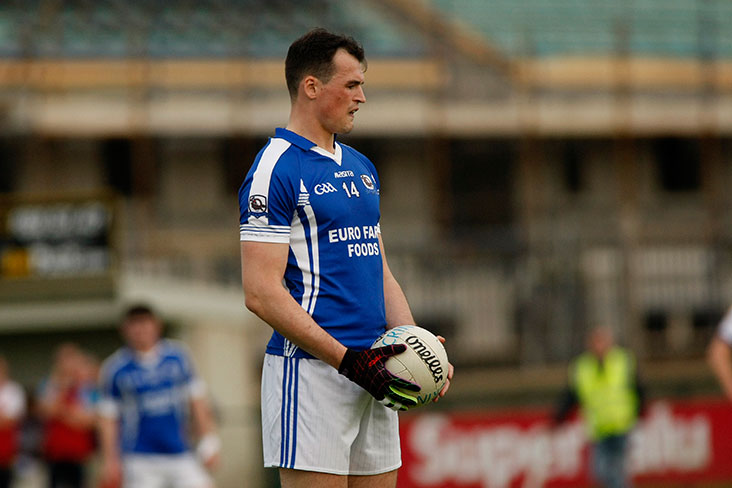 Skryne's Paddy O'Rourke
Skryne 2-26, Moynalvey 1-06
There was a distinct chill in the air this evening in Skryne with temperatures hovering around the 0 mark on a cold winters evening. However despite the Arctic weather, Skryne were on fire in this match and dominated Moynalvey from start to finish.
With a remarkable 1-11 haul for Paddy O'Rourke adding to his tally of 0-14 in the opening 2 rounds of the league, one would be forgiven for thinking that this was a one man show. However, the foundation for this victory was the speed, movement and hunger of the Skryne team as a unit. Ciarán Lenehan, Harry Rooney and after half time Michael Doherty were lording the midfield battle while the half-back and half-forwards hoovered up any breaking balls leaving Moynalvey starved of possession throughout. On the rare occasions that Skryne surrendered possession, they fought tooth and nail to win it back as quickly as possible. Skryne's defence were at their stingy best conceding only 3 points from play.
Skryne set out their stall early in this game and had established an 8 point lead after only 10 minutes with no less than 6 different scorers (Conor O'Brien, Paddy O'Rourke with 2 each and 1 each for Darragh Campion, Eoin Smyth, Mark Battersby and Ian Davis) getting on the scoresheet. Moynalvey made brief forays forward and at one point forced Ian Gillett into a smart save when he tipped away a goal bound effort. However, Skryne having picked up the rebound from the Fridge save, moved the ball swiftly up the pitch and Ian Davis converted one of his 4 points to punish the Moynalvey men for their wasted opportunity. Skryne continued their bombardment of the Moynalvey goal in the first half scoring point after point and racking up an unassailable lead of 0-17 to 0-04 at half time.
The onslaught continued in the second half with Paddy O' Rourke notching up the first 3 points of the half before Moynalvey registered their first score. Skryne added another 4 points from Ian Davis and big Paddy, while Moynalvey bagged a single from a free. At the midway point of the half a delicious ball from Declan Morley found Kevin Reilly in space. He slipped the ball through to Paddy O'Rourke who fired low at the goalkeeper. The ball broke into O'Rourkes path and he finished it with aplomb to the net for Skryne's opening goal. If Skryne weren't home and dry at half time, they certainly were now. Moynalvey did get a consolation goal late in the half when they converted a penalty when the Skryne defence which had stood firm throughout were deemed to have been a little over enthusiastic in this instance. Skryne cancelled out this goal with another from the boot of Ronan Mc Cabe who was set up by man of the match Paddy O' Rourke following a great pass from Conor O'Brien. 
Moynalvey were short a few of their top players, but Skryne on this form will be hard to beat regardless of the opposition. Full-time: Skryne 2-26, Moynalvey 1-06
Skryne: Ian Gillett; Robbie Clarke(0-01), Eoghan Greene, Declan Morley; Paddy Carpenter, Donie Ryan, Eoin Smyth (0-02); Ciarán Lenehan, Harry Rooney; Conor O'Brien (0-03), Bryan Davis (0-02), Darragh Campion (0-02); Ian Davis (0-04), Patrick O'Rourke (1-11, 4f), Mark Battersby(0-01)
Subs: Michael Doherty, Kevin Reilly, Stephen O'Brien, Barry Clarke, Ronan McCabe(1-00), Mark Harrington
Moynalvey Report
Home side Skryne had an emphatic win over visitors Moynalvey in this Div. 1 A League Round 3 tie played under lights at Skryne on Friday night 9th February. 
Skryne 2-26 Moynalvey 1-6
Having picked up two points last weekend against St. Colmcilles, Moynalvey were brought swiftly back down to earth with this demolition by high flying Skryne, who remain unbeaten after 3 rounds. 
From the off Skryne set the pace, racing into a 0-8 to no score lead after just 20 minutes, setting the tone for the game. 
James Weldon accounted for Moynalvey's first score in the 12th minute and by the time Weldon accounted for his sides' second score in the 20th minute, Moynalvey were 0-13 to 0-2 in arrears. 
An Eamon Walsh point and another from full back Darren Brennan was all Moynalvey could muster up in response to the home side's free flowing scoring efficiency, which saw the two points on offer secured by Skryne before half time, holding a huge 0-16 to 0-4 point lead at the break. 
The Skryne bandwagon rolled on in the second half, with former county player & full forward Paddy O'Rourke continuing with his rich vein of scoring form. 
Two second half points from Darren Brennan and David McLoughlin along with a James Weldon penalty in reply to Skryne's second half tally of 2-10 left the full time score reading 2-26 to 1-6.
Having just avoided being dragged into a league relegation battle last year, another tough league campaign looks to be on the cards this year for Moynalvey. Next up for Moynalvey is Donaghmore/Ashbourne. 
Moynalvey: Conor Egan, Brian O'Reilly, Darren Brennan (0-2), Conor Harnan, Shane Lenehan, Stephen Donoghue, Eamon Walsh (0-1), Donal Smith, Adam Murphy, Fearghal McCabe, Ciaran Ennis, Conor Shirren, Sean Duggan, James Weldon (1-2, 1p, 1f), David McLoughlin (0-1). 
Subs used: Dan Treacy for Harnan, Ray Ryan for Ennis, Scott Tuite for McCabe, Shaun Deering for Shirren.
Most Read Stories