FL Div 2: 'Loughs' late late show
February 12, 2018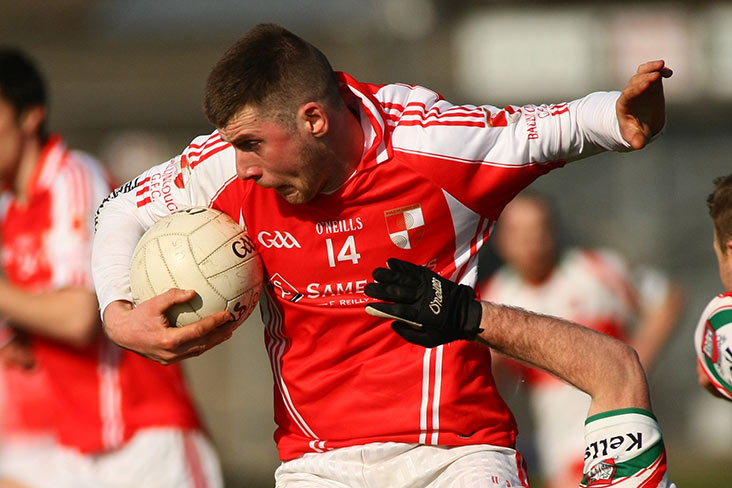 Ballinlough Mark McCullen
Two points deep into injury time at a cold Dunganny gave Ballinlough their first win in the All County League Division 3.
Ballinlough 2-10 St. Ultans 2-8
The winners went in at the break 1-6 to 0-4 in front. Brothers Mark and Tommy McCullen got the opening two points of the night. Ballinlough were well in control after twenty minutes with further points from Lorcan Maguire, Seanie Geraghty and a goal from Mark McCullen to lead 1-5 to 0-1. Padraig Coyle's charges raises three white flags as the Reds went in at the break five points in front.
Jack Tunney extended the winners lead early in the second half when his soccer style pull back hit an Ultans defender and ended up in their net. For the next 15 minutes Ultans dominated and narrowed the lead to a goal, 1-7 to 2-7. 
The introduction of Peadar Byrne had the desired effect for Ballinlough. The former county star put four points between the sides with a converted free. Ultans refused to give up and got their second goal and a pointed free had the teams all square heading in to extra time. Both sides had chances to take the lead but fine efforts from Byrne and Seanie Geraghty sealed Ballinlough's first win.
Ballinlough: Lorcan Gibney, Benji Smith, Robbie Farrell, Matthew Farrell, James Baugh, Michéal Geraghty, Johnnie Reilly, Gary Reilly, Lorcan Maguire 0-1, Kevin Byrne, Mark McCullen 1-1, Conor Briody, Jack Tunney 1-0, Seanie Geraghty 0-4, Tommy McCullen 0-2. Subs: Peadar Byrne 0-2, Paul Monaghan, Niall Farrelly.
Referee Gus Marty Dunderry
St. Ultans Report
St Ultans 2-8 Ballinlough 2-10 

Ballinlough just edged out St Ultans in an exciting finish. Gearoid Rennicks scored a free on 60 minutes to bring the sides level, which looked unlikely after being 8 points down early in the 2nd half. Ballinlough started the game brightly and led by 1-5 to a solitary Mark Allen free after 15 minutes. Ultans had created chances but were wasteful in front of goal but 3 points from play in the 2nd quarter from Ronan Breslin, Conor Smyth and Gearoid Rennicks closed the gap and Ballinlough led 1-6 to 0-4.

Ultans started the 2nd half brightly but were dispossessed in attack and Ballinough countered and a ball driven across the  square hit a number of bodies before ending up in the net. This left 8 between the sides. Mark Allen pointed with a high curling effort. Gearoid Rennicks pointed the from a free after substitute Paidin Boggins was fouled. Ballinlough got one back but midfielder Mark Allen found himself in space and finished well to the net. Darren Kavanagh came off the bench and drove the ball just over the bar to leave just a goal between the sides. Ballinlough extended there lead with a free going into the final 5 minutes but a powerful run and shot from midfielder Sean Herward reduced the gap to one. Ultans won a free on the 60th minute  and Gearoid Rennicks raised a white flag to leave the sides level.  Both sides had chances in the 5 minutes of injury time but Ballinlough finished stronger with 2 late efforts to secure their first win in the league.

St. Ultans: Cian Farnan, Declan Ball, Jason Bennett, Luke O'Reilly, Darren Mallon, Declan Galligan, Martin Dolan, Sean Herward 1-0, Mark Allen 1-2 (1f), Gearoid Rennicks 0-3 (2f), Cian Rennicks, Conor Smyth 0-1, Emmet Costello, Greg McKeever, Ronan Breslin 0-1 Subs Used Darren Costello, Darren Kavanagh 0-1, Paidin Boggins, Shane Dolan and Eoin McLoughlin

Ref: Gus Martyn
Most Read Stories