Walsh Cup round-up: Carlow, Laois, Meath and Offaly book early wins
December 30, 2017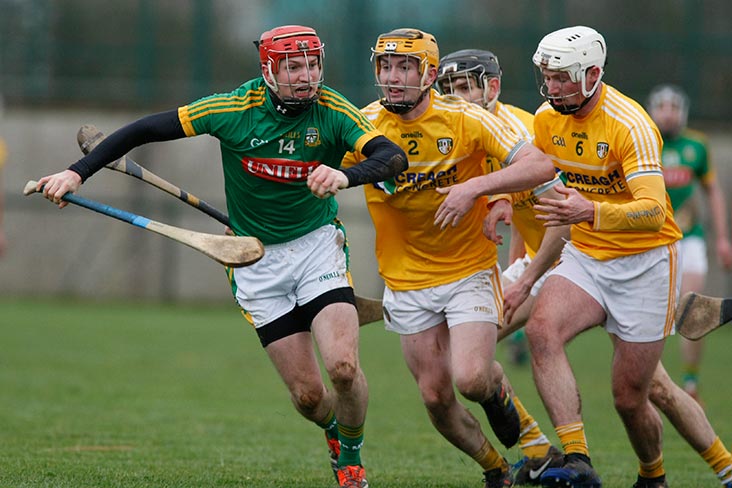 Meath's Adam Gannon with Conor Boyd and Paddy Burke Antrim during the Walsh Cup clash at Lomans Park Trim
Offaly came through a battle with Westmeath this afternoon in Banagher to ensure a winning start to their Walsh Cup campaign on a 2-15 to 1-16 score-line.
Colm Gath struck a pair of goals for the Faithful men, who led by 0-12 to 0-8 at the half, and they'd need both in the end after the visitors had staged a late rally in the second-half.
Westmeath got their goal through a long range effort from Robbie Greville, leaving three points in the difference with 16 minutes remaining, but they couldn't find the second major they desired and it was Offaly that held out for victory.
In Hawkfield, Laois had minimal fuss against Kildare in handing the 14-man Lilywhites a 1-16 to 0-9 defeat.
The O'Moore men had built up a 0-5 to 0-1 lead after 15 minutes when Kildare's Diarmuid Cahill received his marching orders for the hosts after an off the ball incident.
The victors went on to lead by 0-9 to 0-3 at the half and the game was over as a contest once 'keeper Enda Rowland smashed a penalty earned by Patrick Purcell to the home side's net.
Meath and Antrim served up an exciting contest in Trim which the hosts won by the slenderest of margins (1-17 to 0-19) and you can read the full match report here.
Neil Heffernan's last gasp point was what won it for the Royals after there'd been little to seperate the sides throughout the 70 minutes at Loman's Park.
Carlow had no problems against Wicklow as they hit the Garden men for four goals at Newatch Cullen Park.
Having led by 3-10 to 1-5 at the break, the Barrowsiders added another 1-8 to their tally in the second-half to win on a comfortable score-line of 4-18 to 2-11.
Offaly - C Clancy; P Rigney, S Gardiner, B Conneely; D Shortt, D Doughan, P Camon; C Molloy, D Egan (0-5, 3f); C Gath (2-2), C Egan (0-2), C Cleary (0-3); E Cahill, L Langton (0-2), O Kelly (0-1). Subs: S Dooley for E Cahill, C Mahon for C Cleary, J Quinn for P Camon, T Geraghty for J Quinn, D O'Toole for P Rigney.
Westmeath - P Carroll; S Power, L Varley, G Greville; A Craig, P Greville, D McNicholas (0-1); R Greville (1-0), N Mitchell (0-2); J Gilligan, K Doyle (0-2), D Egerton (0-1); A Devine (0-6, 5f, 1'65), C Doyle (0-2, 1f), J Galvin (0-2). Subs: S Clavin for K Doyle, N Conaty for J Galvin, P Maxwell for A Devine.
Referee - K Brady.
**
Laois - E Rowland (1-0pen); L Cleere, P Lawlor, J Phelan; J Kelly, J Ryan, C Stapleton; P Purcell (0-2), C Taylor (0-3, 1f, 1'65); S Downey, C Dwyer (0-2), A Corby (0-1); P McKane, R King (0-1f), C Comerford (0-2). Subs: L Delaney (0-1), E Lyons (0-1), P Delaney (0-2), D Hartnett, S Dunphy, B Conroy (0-1), C Collier, B O'Mara, E Cillin, C Phelan.
Kildare - P Dermody; P O'Sullivan, J Doran, D Brereton; D Cahill, M Moloney, K Whelan (0-1); C Bonus, B Byrne; E O'Neill, P Divilly (0-4, 2f), J Burke (0-1); J Sheridan, R Ryan, C Dowling. Subs: M Delaney (0-2f), P McKenna, B Cormack (0-1), S Lacey, C Dervan.
Referee - G Quilty.
**
Meath - S McGann; S Geraghty, D Healy, N Weir; E Marsh, K Keoghan, J Regan (0-7f); J Toher (0-2), C O Mealoid; J Kelly (1-3), A Forde, C McCabe (0-1); S Quigley, A Gannon, N Heffernan (0-4). Subs: J Keena, J Walsh, M Cullen, S Brennan.
Antrim - R Elliott; C Boyd, A Laffan, S Rooney; G Walsh, P Burke, D Kearney; C McKinley (0-1), N McAuley; C McCann (0-2), Conor Johnson (0-2), N Elliott; E O'Neill (0-3), N McManus (0-10, 8f), D McCluskey (0-1). Subs: J Maskey, D Murphy, C Carson.
Referee - A Devine.
**
Carlow - B Tracey; A Casey, J O'Hara, E Redmond; G Coady, D English (0-3, 2'65, 1f), R Kelly; P Abbey (1-2), J Murphy; S Murphy, K McDonald (0-3f), C Foley (0-3); J Doyle, R Smithers (1-0), T Joyce (2-2). Subs: M Kavanagh (0-1f) for J Doyle, C Nolan (0-1) for T Joyce, J Kavanagh (0-1) for P Abbey, E Nolan (0-1) for R Kelly, D Byrne (0-1) for S Murphy, C Wall for C Foley, D Murphy for K McDonald, S Brennan for G Coady, P Doyle for D English.
Wicklow - R Fitzgerald; J Connors, W Kavanagh, M O'Brien; G Byrne, J Henderson, O Furlong; J Byrne, C Moorehouse Jnr (0-1); E McCormack (0-2), G Connors (0-5, 2f), P Keane; S Germaine (1-1), A O'Brien (1-1, 0-1f), G O'Brien (0-1). Subs: J Doyle for J Connors, E Byrne for O Furlong, B Cuddihy for J Henderson, E Donohoe for P Keane, P O'Brien for C Moorehouse, D Moloney for J Byrne, G Connors for G O'Brien.
Referee - P Burke.
Most Read Stories