Ex-Mayo star McDonald steps into coaching role
December 28, 2018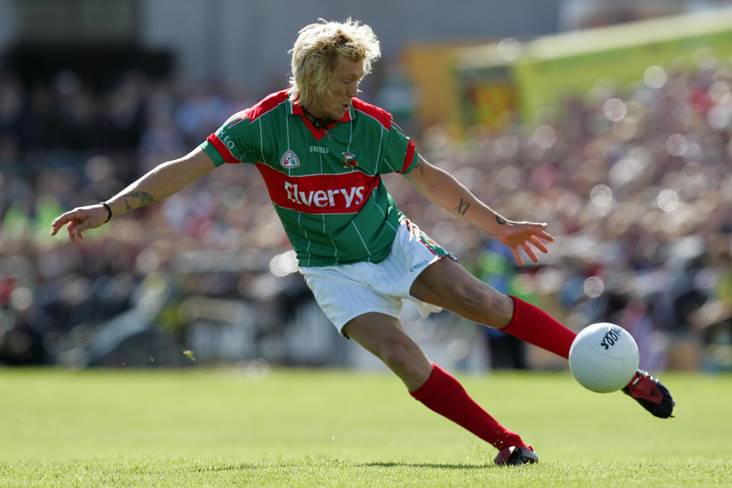 Mayo's Ciaran McDonald. ©INPHO/Morgan Treacy.
Former Mayo star Ciaran McDonald has taken on a coaching role that he hopes will see him nourish the county's future footballing talent.
Since the 'The Mayo Way' coaching plan was unveiled earlier this year, McDonald has been appointed head coach of the county U14 development squad and, speaking on The Mayo News Football Podcast recently, the now 43-year-old says he expects trust among the group to be the key ingredient to success.
"I'm probably as nervous as the players are," McDonald stated on the new role. "If we can have a centre in the middle of Castlebar where every seven, eight, nine, ten-year-old boy can look at those four walls and say, 'I want to be there someday' to his mother or father, that's the key.
"Until this, we'd did have that. 13-year-olds didn't know how to get into a Mayo jersey, what was their route there. They know now that there's a route. There's going to be a building, with numerous pitches, with a big Mayo GAA crest and they'll want to get inside those gates. That's the key to it.
"It's taken us a few weeks but they've finally realised how big it is, because it is, it's big to represent your county. It's big to hopefully to be the future of the green and red of Mayo. They're beginning to realise that and they're beginning to come out of their shell - shyness is a big thing. Any 14-year-old coming into a new environment, it's very hard to get a few words out of them.
"It's vital that we gain their trust; that they trust us and we trust them because no matter what teachings you do on the football field, if you haven't go their trust, it won't flourish."
Most Read Stories