Gerry Reilly Cup: Down advance
July 29, 2019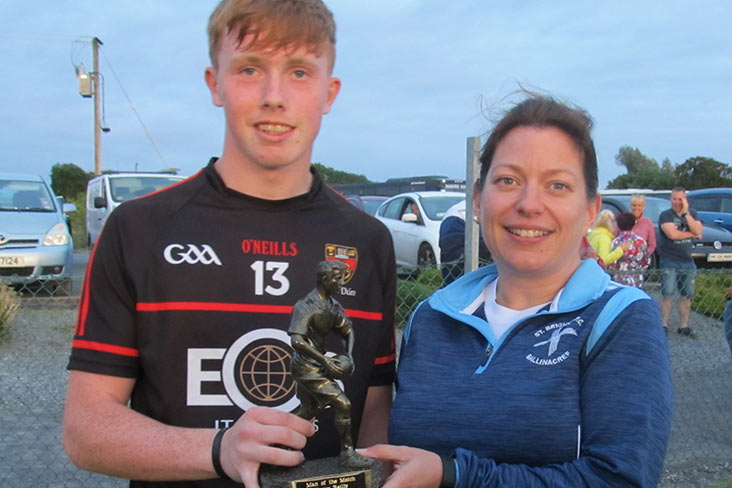 Down's Oisin Savage receives the 'man of the match' award by Kathryn Cooke (Briody Bedding - Sponsors of the Tournament)
Down 5-18 Louth 1-6
Down put in a masterful display in their win over Louth in the first of the Gerry Reilly Leinster U16 Cup Quarter Finals played in Millbrook, Oldcastle.
Down were 5 points up before Louth's first point. Louth narrowed the gap with a converted free from Danny Reilly. But then Down really took control with adding 2-5 to Louth's 0-1 before the break.. There was some terrific scores including a great move by Oisin Savage which resulted with Michael McNeill finishing to the net for Down's first goal
H/T: Down 2-10 Louth 0-3
Louth got the opening score of the half after Danny Reilly found the Down net from a rebound of the post. However from then on no matter how hard Louth tried, Down were unstoppable.
Down certainly have to be considered as favourites to lift the Cup this year. They now play Dublin in the semi-final and that's a game to look forward to and not to be missed.
Down's Óisin Savage was presented with the 'man of the match' award by Kathryn Cooke (Briody Bedding – Sponsors of the Tournament)
Scorers for Down: Oisin Savage (1-7,1f), Oran Cunningham (1-2), Michael McNeill, Odhran Murdock, & Tiarnan Ryan (1-1) each, Jamie Cahill (0-3), Fiochra McEvoy (0-2) & Jason Morgan (0-1)
Scorers for Louth: Danny Reilly (1-2, 2f), Kyle McElroy, Joe Comiskey, Emmet Murray & Brian Cafferty (0-1) each
Down: Oisin Treacy Bredagh; Aaron Norris Clonduff; Patrick McCarthy Burren; Fiochra McEvoy Saval; Finn Oglesby Bredagh; Jack HowlettCPN; Eoin McKernan Burren; Michael McNeill Dromara; Odhran Murdock Burren; Callum Rogers Kilcoo; Oran Cunningham RGU; Oran MageeBredagh; Oisin Savage Loughinisland; Jason Morgan Kilco; Jamie Cahill Mayobridge
Subs: Callum Grant Burren; Cormac Greene Ballymartin; Ryan Magill Burren ; Sean Downey Burren; Ryan Tumilty Drumgath; Eoin Killen An Riocht ; Aaron Murdock Burre; James Duggan Burren; Tiarnan Ryan Burren; Oran McCrickard Laitroim; Patrick Donaldson Bredagh; Shea O'Toole Loughinisland; Lee Murphy Bright; Ronan McLoughlin Glenn; Conor Madden CPN; Conn Murnin Teconnaught; Aaron Cole Burren; Adam Curran Kilcoo
Louth: Dylan Cassidy Dreadnots; Ruairí O'Hagan St Patrick's, Conn O'Donaghue Young Irelander's; Sean McQuaile Wolfe Tones; Mark Holohan St Fechin's; Sean Flanagan Wolfe Tones; Jamie Lee Dundalk Gaels; Cormac Malone Cooley Kickams; Enda O'Neill St Geraldine's; Tom Mathews St Kevin's; Beanán Corrigan St Nicholas; Callum O'Hanlon Cooley Kickams; Kyle McElroy O Raghallaigh's; Danny Reilly O Raghallaigh's; Mark Byrne Roche Emmets
Subs: Jordan Deegan Glen Emmets; Fionn Meagher Sean O Mahony's; Lee Grifferty O Raghallaigh's; Emmet Murray Newtown Blues; James Lambe Oliver Plunkett's; Cian Murphy Cooley Kickams; Brian Cafferty St Geraldine's; Killian McDonnell St Joseph's; James Smith O Raghallaigh's, 25 Eoin Brennan Wolfe Tones; Joe Comiskey Wolfe Tones; Oliver Clutterbuck O Raghallaigh's; Callum Smith Sean O Mahony's; Ben Corden St Patrick's; Conn O'Donaghue Young Irelander's; Shane Quigley Cooley Kickams; Oisin Breen Kilkerly Emmets; Conal Quinn Cooley Kickams
Ref: Peter Skelly (Meath)
Most Read Stories