Kehoe Cup round-up: Saffrons and Lake County set up final date
January 13, 2019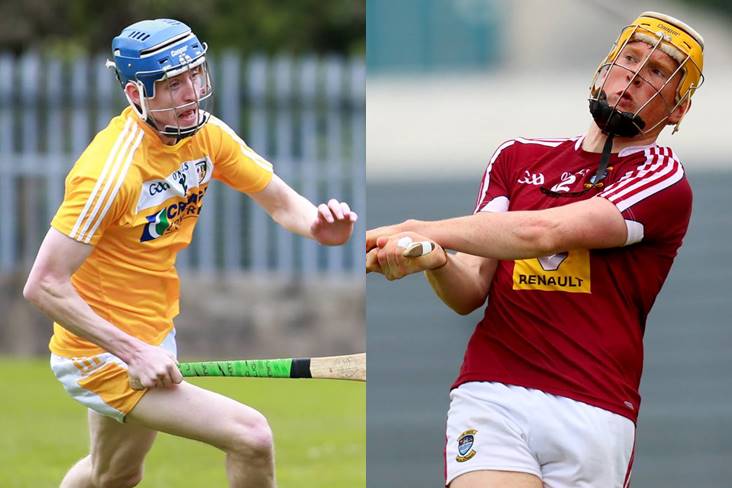 Antrim's James McNaughton and Niall Mitchell of Westmeath.
Antrim and Westmeath will contest this year's Kehoe Cup SH decider while Louth came out on top in the Shield final today.
The Saffrons got the better of Kildare by 4-20 to 1-19 in their semi-final fixture which was played at Abbottstown today.
James McNaughton helped himself to a hat-trick of goals while Keelan Molloy also raised a green flag for the winners who led by 3-10 to 0-8 at the halfway stage.
Meanwhile, Westmeath proved too strong for next door neighbours Meath at Kinnegad.
The Lake County recorded a 1-25 to 1-13 victory over the Royals.
Niall Mitchell netted their goal in the second-half against a Meath team that finished with 13 men.
Joe Quaid's side will have home advantage for next weekend's final against Antrim. Time and venue to be confirmed.
Louth took the Shield final honours courtesy of a 1-18 to 0-14 final win over DCU-St Patrick's at Darver.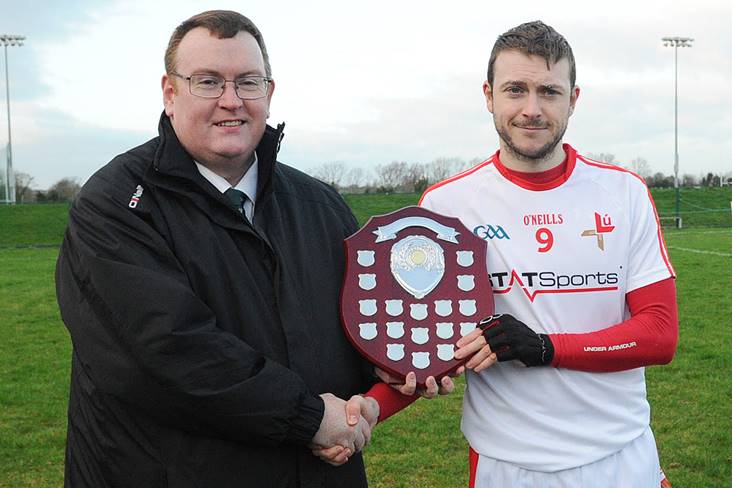 Louth captain Darran O'Hanrahan is presented with the Kehoe Shield.
Antrim - R Elliott; S Rooney, J Dillon, P Duffin; R Molloy, S McCrory, M Donnelly; C McCann, J O'Connell; N Elliott (0-1), J McNaughton (3-10, 0-4f, 0-1'65), N McKeague (0-3); C McHugh, K Molloy (1-3), C Clarke (0-1). Subs: K Rice for C Clarke, D McKinley (0-2) for J O'Connell, C Boyd for C McHugh, C Patterson for P Duffin.
Kildare - M Doyle; C Dervan, J Doran, J Doolan; S Christiansen, M Fitzgerald, D Cahill; P Divilly (0-1), A Kelly; B Cormack, B Byrne (0-11, 6f), B Deay (1-1); C Dowling, C Smith (0-2), R Casey (0-1). Subs: J Burke (0-3) for A Kelly, R Kelly for B Cormack, K Whelan for C Dowling, P Feerick for R Casey, A Kelly for D Cahill.
Referee - K Brady.
**
Westmeath - P Carroll; J Gilligan, T Doyle, N McKenna; J Bermingham, A Craig, G Greville; R Greville (0-1), S Power; J Boyle (0-2), C Shaw (0-1), A Devine (0-3); K Doyle (0-5, 2f, 1'65), N Mitchell (1-9, 0-8f, 0-1'65), D Clinton (0-2). Subs: S McGovern for A Craig, S Clavin (0-1) for J Bermingham, J Galvin for D Clinton, E Corrigan for R Greville, K Regan for J Gilligan, C Lynch for P Carroll, R Gillen for J Boyle, B O'Mara (0-1) for A Devine, D O'Reilly for G Greville.
Meath - C O'Riordan; H Smith, S Brennan, S Morris; J Keena, S Whitty, S Geraghty; M Healy, B Slevin (1-2, 1-0pen, 0-2f); C O'Sullivan, D Healy, A Douglas; S Quigley, A Nestor, J Regan (0-9, 8f). Subs: P Fagan for C O'Riordan, D Regan for H Smith, K Keena for S Brennan, J O'Sullivan (0-1) for S Morris, G Foley (0-1) for M Healy, M O'Grady for B Slevin, F Ferguson for C O'Sullivan, D Kelly for S Quigley, S Kelly for A Nestor.
Referee - J Heffernan.
**
Louth - D Connolly; P Challoner, M Lyons, A Smyth; S Kettle, G Smyth, A McCrave; J Costelloe (0-2), D O'Hanrahan; J McDonnell (0-1), D Kettle (0-3), C Minogue (0-1); P Cunningham, S Connelly (1-0), D Geoghegan (0-9, 6f, 1'65). Subs: C Deane (0-2) for J McDonnell, D Stephenson for P Cunningham, F Joyce for A Smyth, R McKeown for P Challoner.
DCU-St Patrick's - D Byrne; E Mulligan, C Caverley, J Redmond; J Doyle (0-1), D Whelan, N Doyle; T Lane (0-1), L Pender; D McCormack, J Byrne (0-9, 4f), B Murphy (0-1f); C O'Flaherty (0-1), M Doyle (0-1), D Fenlon. Subs: D Foley, K Fennelly.
Referee - B Nea.
Most Read Stories